Henderson Beach State Park Destin, Florida
Places Visited:
Florida: Henderson Beach State Park Destin, Beaches of South Walton & Top Sail Hill RV Resort/State Park located east of Destin.
Monday, October 21, 2002 We drove 50-miles from Pensacola to Destin's Henderson Beach SP. Henderson Beach SP. Site #33 50amp pull-thru $19.72 within walking distance to the worlds most beautiful beaches.
After spending a week at home having some repairs done to the motorhome we are on the road again. The frustrating dash air in the motorhome seems to be fixed. My mechanic is just as happy as I am. This last 7-hours of labor and $70 recharge of freon was on him, thank goodness. Joyce spent last week mailing shower invitations. We will be on the road for 13 or 14 days this time before returning to Pensacola to vote and get the house ready for the shower.
Although this will make the 3rd time we have visited Henderson Beach State Park recently we have not been able to do everything Joyce had on our list. Each of the other times we were evacuated from the SP because of Tropical Storms/Hurricanes heading our way. This time the emerald water is peaceful.
We spent an hour or so watching the fishing fleet return. Destin has a month long fishing tournament (October) and many fish were being weighed in today. An 80-pound Amberjack was the largest fish today. For those of you that do not know an 80-pound Amberjack is a BIG fish. Junior anglers weighed in a number of 20-pound snapper. The top red snapper stands at 34-pounds. We saw many large red snapper but none of the adults thought their fish would seriously challenge the 34-pounder so did not choose to have theirs weighed. So far the largest fish in the tournament is a 297-pound Warsaw grouper. If you were thinking of a fishing trip you would be hard pressed to top a trip out of Destin.
Did I mention that there is a big full moon out tonight? Is there anything better than a moonlit walk on the beach with the love of your life?
Tuesday, October 22, 2002 Henderson Beach SP. Site #33 50amp pull-thru $19.72 within walking distance to the worlds most beautiful beaches.
Joyce had a full day planned for us. She has been cutting articles out of Southern Living Magazine for years about quaint little places to shop and visit along highway 30-A (the Beaches of South Walton). A few short years ago this drive along the Gulf of Mexico was uninhabited except for the small hamlets of Seagrove Beach and Grayton Beach.. That has changed! This stretch of beach has been found. Today one upscale planned community abuts the next haute enclave. Upscale might not give the proper conation. BMW's and Mercedes are as common as fleas. It was here that I viewed my first Lincoln pickup truck.
At Seaside Joyce went "shopping" while I inquired about "minimum" prices of some of the residences. I was told that 3-beach front lots (40'x 80') remained and the cheap one was $1.9 M as in Million for the lot with 40' facing the Gulf. Logic will tell you that if you are going to spend that kind of jack on a lot you "must" construct a commensurate "cottage". I was recently informed that homes in Rosemary Beach cost $400 per-square foot for construction. I don't know what part of the country you are from but "upscale" homes in this area are regularly constructed for less than $70 per-square foot. Curiosity got the best of me as I picked up a free Seaside real estate magazine to see what was available. The cheapest was 1754 sq. ft. for $875K on the other end was a bungalow of 1980 sq. ft for a paltry $3.4M and "Pelican Perch" all of 3673 sq. ft. for only $3.5M. As I quickly scanned the offerings it looked like most were on the block for around $2.5M. Now mind you Seaside is not the ritziest community on the strip. Rosemary Beach is offering homes from .5M. Lots in Rosemary Beach start at $135K then you add your $400 per sq. ft. residence. Rosemary Beach's advertisement says "Rich in tranquility and flavored with West-Indies style architecture, Rosemary Beach's homes are set among the windswept vegetation and sugar-white beaches of Northwest Florida's magnificent coastline". To that I might add you might want to "keep on truckin" if you are not an Enron executive or one of their ilk. To say these new communities are pumping unbelievable money into the economy of this area would be a gross understatement.
Several signs caught our attention: On a million dollar cottage "Salty Sisters", we liked that one. On a business marquee "Give some people an inch and they think they are a ruler". On the back window of a pick-up truck " Tattooed White Trash". On the marquee of a dance hall closed for the season "Free beer tomorrow". Inside a locals restaurant "A man never gets in trouble for doing the dishes" and "Caution men Cooking".
The following classified advertisement caught our attention: Willing to trade - Spectacular panoramic vistas at Troon Golf's 63 championship holes at Eagle Ridge Golf Course await a Seaside owner willing to trade a week in Seaside for a week in the Galena Territory at Eagle Ridge Inn and Resort in Illinois. 4BR, 3.5BA. Passes to Owner's Club private pool and marina included. Pictures available. Call __.
That "Galena Territory/Troon Golf's 63" place must be something special!
We spent some time in the Gourd Garden located 2-miles east of Seaside on highway 30-A. The Gourd Garden is "The Nursery" supplying upscale residences around here with native vegetation plus a plethora of truly unique curios that make fancy women's hearts race uncontrollably. Gourds of every description hang from arbors throughout the grounds. >From smooth to gnarly large to small elegant to utilitarian the diversity is enormous. The Gourd Garden is first and foremost a roadside attraction with nursery and gardens, and curio shop rolled into one. If you are interested you can peruse many of the items from the comfort of your own home at www.gourdgarden.com. This quaint establishment does a booming business since most of these new upscale communities have covenants requiring native vegetation. Native vegetation does not require nearly as much water and does not need to be sprayed for critters. In short it is generally self-sufficient. Native vegetation also provides food for wild animals and birds. Flowering plants that attracted butterflies were the big sellers while we were there. It didn't hurt that monarch butterflies were migrating by the thousands along the coast and were covering every flower in sight.
Wednesday, October 23, 2002 Henderson Beach SP. Site #33 50amp pull-thru $19.72 within walking distance to the worlds most beautiful beaches.
It rained all day giving us an opportunity to get into a few good books we have recently purchased. We did go out for a Mexican supper around five although Joyce offered to cook. As we made our way back into the park tonight I asked as the ranger if they gave money back when it rained. The look on the ranger's face was priceless. Park Rangers are generally humor impaired, this one was no exception. In a very stern distinctly male tone he informed us that there were NO refunds for rain. I replied that I was just checking but thanks just the same.
Joyce and were discussing interesting people we have met on this trip. Bruce Cheves the emcee for Destin's month long Fishing Tournament qualifies for his uniqueness. He is the typical, 50-year old fish head. Clad in faded attire complete with beach thongs and omnipresent cigarette. Rough around the edges, a quintessential GOB (Good Old Boy). He was wired for sound and __kept up a constant chatter. He spoke continuously about various fishing tips all the while a cigarette hanging from his lips. He bantered with all the captains and mates that came within sight. Fetching females were harassed whether he knew them or not. The ones dressed like hootchie-mamas were particularly denigrated. Since he had the microphone with amplifier and big speakers there was no sense in giving his stuff back to him (you always lose to the one with the microphone). During slow times he would pick up a water hose and spray nearby pelicans or mallards. This gave him much amusement whereupon he would burst forth with a guttural chuckle much like Dracula upon spying another hapless victim. Even those of us that did not think squirting birds with water was particularly funny would burst out laughing at his sheer delight in tormenting the avian spectators. One of his fingers was wrapped in a paper towel. He explained that he had cut the tip end of his finger off mishandling a large red snapper. At one point he ask the crowd what they would do if stung by a stingray or jellyfish? The crowd responded with the local remedy of applying meat tenderizer. He agreed meat tenderizer was a good treatment but insisted urine was even better because it contained ammonia. The crowd roared with laughter. Of course the crowd wanted to know if he had "medicated" his finger. A little rough around the edges yes, but he won Joyce's heart as two junior anglers ages five and eight came in on a charter boat each with prize winning fish. He gave his full attention to these young boys as their fish were weighted. He ascertained their names, ages place of residence etc., in essence everything an emcee could do. These children were the center of attention as the crowd applauded. Then he had them stand with their fish and Miss Destin as the official Tournament photographer recorded their accomplishment. We have attended a number of fishing tournaments over the years in Pensacola where the junior anglers were all but ignored as they come to the docks with their catch. My hat is off to Bruce for taking time to make the young anglers feel special.
The month long tournament weigh-in is staged on the dock behind AJ's Restaurant. An eclectic assortment of people parade by and perch on blenchers to observe the weigh-in and listen to the dock maestro's constant chatter. Young mothers with babies, children on skates and skateboards, tourist and locals' parade by contributing fodder to the "mouth of the dock". If in the Destin area in October you should plan to stop by the weigh-in and participate in the weigh-in after all it is a "spectator sport" and be entertained by Bruce with his wit, wisdom, bravado and buffoonery.
Another interesting individual was the 2nd mate on a 40' commercial tuna boat. He was a clean cut gregarious individual that was more than glad to explain nuances of tuna long-lining to me. They had taken on a load of ice and were leaving in the morning on an adventure expected to last for seven to ten days. The big hydraulic spool on the bow was full of 17-miles of 800-pound test monofilament line. A single 671 GM diesel propelled the boat at 5-knots. Keeping expenses low was a priority. On the fishing grounds they deploy the 17-miles of "long-line" along the northern edge of the Gulf Stream. Mates attach baited hooks on 50-foot "snoots" (leaders) to the "long-line". They feel satisfied if they catch 5 to 8 tuna averaging 100-pounds each when they retrieve the line. The mate spoke of all they did to assure that each tuna was handled properly since individual tuna were graded when they returned to the dock. A top quality tuna fetched $8 per-pound while others were worth $5 per-pound. He did not want to discuss those that did not market for $5 dollars per-pound. It was extremely important that each fish be handled with utmost care. Gaffing was done to the head only so as not to injure any meat. On deck the fish was not dropped or thrown on the deck. The tuna is not allowed to flop around and bruise himself once on the boat. The $800 dollar fish is quickly eviscerated on a padded "V' shaped holding table, the cavity filled with ice where upon it is immediately placed below deck in a specially designed ice box and covered in ice.
Thursday, October 24, 2002 Henderson Beach SP. Site #33 50amp pull-thru $19.72 within walking distance to the worlds most beautiful beaches.
Joyce had a list of activities she wanted us to do today but changed her mind in favor of continuing the activities of yesterday. She also decided we were dining at Giuseppi's Wharf & Marina in Niceville for lunch. Giuseppi's is a somewhat upscale restaurant situated on a large bayou near the eastern gate to Eglin Air Force Base. In addition to inside dining Giuseppi's has outside dining on two decks and adjoining patio's. Joyce chose to eat on the patio since the weather was so nice and cool. Far away the thundering sound of freedom can be heard as Air force F-16's take to the sky. Seagulls chatter for dinner as they try to catch your cracker before it falls in the water. In the water schools of pinfish immediately devour any morsel that might reach the water. A gentle, salty breeze ruffles the otherwise slick calm bayou. A large barge is delivering a load of Chevron gasoline to the terminal next door. Fifty or more sailboats line the dock directly behind Giuseppi's. It is sad that those beautiful boats were made fast to the dock on such a beautiful day. In addition to the above Giuseppi's is a good place to eat. We will return.
Friday, October 25, 2002 We drove 5-miles from Henderson Beach SP to Topsail Hill SP & RV-Resort 15-miles to the east. Topsail Hill Preserve state park & RV-Resort a few miles east of Destin on highway 30A. Site #78 50amp back in, concrete pad with paved interior roads $31.68 a ½ mile walk or trolley ride through the SP to the world's most beautiful beaches.
We are not far from where we were staying in Destin. We just wanted to experience Topsail Hill RV-Resort. Many of our out of state RV'ing friends ask us about it so we decided to experience it first hand.
Topsail Hill is unique in more ways than one. Topsail Hill Preserve is a State Park with over 3-miles of gulf frontage. In addition to the Gulf front property the state has a large parcel of property (1650 acres) inland adjoining it. Somehow when the state acquired this property it also became owner of an RV-Resort complete with paved interior roads, concrete pads, 50-amps, cable and sewage at each site. This is NOT your normal "state park". The price reflects the amenities. Snowbirds are beginning to arrive. Snowbirds get much better rates when they stay for 30/60/90 or 120 days. If interested you can check them out at www.Topsailhill.com or 850-267-0299.
I heard a good schoolteacher joke today. One schoolteacher sends this note to all parents on the first day of school: "If you promise not to believe everything your child says happens at school, I'll promise not to believe everything he says happens at home."
We spent the afternoon walking on the beach. Then headed to Elmo's for supper and music.
From here we are headed east to Apalachicola and St. George Island. If you know of anything in that area that we should see or do please let us know.
Mike & Joyce Hendrix
Until next time remember how good life is.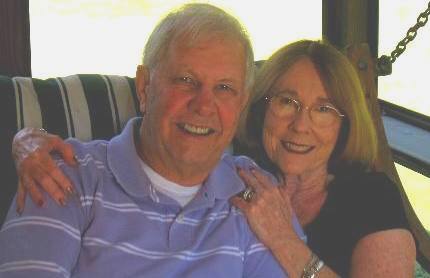 Mike & Joyce Hendrix who we are
We hope you liked this page. If you do you might be interested in some of our other Travel Adventures:
Mike & Joyce Hendrix's home page
Travel Adventures by Year ** Travel Adventures by State ** Plants ** Marine-Boats ** Geology ** Exciting Drives ** Cute Signs ** RV Subjects ** Miscellaneous Subjects
We would love to hear from you......just put "info" in the place of "FAKE" in this address: FAKE@travellogs.us
Until next time remember how good life is.