Bonifay, Florida Caverns SP in Marianna, Falling Waters State Park, Ponce de Leon Sorings State Rec area, Vortex Springs, De Funiak Springs & Marianna
Places Visited:
Florida: Bonifay, Florida Caverns SP in Marianna, Falling Waters SP, Ponce de Leon Sorings State Rec area, Vortex Springs, De Funiak Springs & Marianna
Friday, October 4, 2002 Drove 108 miles from Pensacola to Bonifay, Florida along U.S. highway 90. Florida Springs RV-Resort, Bonifay, Florida at intersection of I-10 and highway 79.
Our last trip was interrupted by Tropical Storm, Isidore. As you recall we were evacuated from Henderson Beach SP in Destin, Florida. We have been at home in Pensacola since then. As Isidore went ashore drenching Pensacola with more than 6" of rain Hurricane Lili was battering Cuba and heading into the Gulf. Lili made the third storm in a row to go ashore on the Northern Gulf Coast.
While in Pensacola I returned the motorhome to my mechanic since his last attempt at getting cold air to come out of the dash air only resulted in the motorhome spending a few days at his shop and me donating some plastic toward his beer fund or whatever he is doing with my cash. This time I left the motorhome with him for another 4 or 5 days. When I left his shop this time the dash air was cooling like a champ. However, when we hit the road this morning it was just circulating humid air. I finally calmed down long enough to call and break the news to them. While on the phone I vented a bit also. Venting is good for the soul. Without that outlet I think I would have a coronary. Oh well, enough of that. The ride was cool enough because it rained most of the way. Pensacola did not get much rain out of Hurricane Lili before it made landfall but now that it is located on the Arkansas, Mississippi border we are finally getting rain.
We headed to Bonifay looking for something to do. A pro-rodeo is in town this weekend and we thought this should attract some attention from far and wide. Most folks would travel I-10 from Pensacola to Bonifay but not us. We exited Pensacola on U.S. highway 90 and stayed on it all the way to Bonifay. Highway 90 parallels I-10 across the panhandle of Florida. Before I-10 it was the east/west route across the panhandle. Now almost everyone speeds by on the interstate. Joyce and I wanted to experience some of the small towns along highway 90 that have been bypassed in our headlong rush to get there faster.
Driving along highway 90 reminds us of the highways out west with the odd named small places most not large enough for a stoplight. Out of Pensacola we pass through Pace, Pea Ridge, then the metropolis of Milton, Harold, Holt, Milligan, then another metropolis in Crestview, Deer Land, Mossy Head, Alpine Heights, De Funiak Springs, Koeber, Argyle, Ponce De Leon, Westville, Caryville and finally our destination in Bonifay. The Spanish influence is evident in some of the cognomens. Other influences are not so evident, at least to me.
I do remember that Ponce De Leon was the Spanish explorer that discovered Florida around 1500 when he was searching for the Fountain of Youth. That explains the moniker for that town but where did Pea Ridge and Mossy Head come from? Can you imagine the conversation between Jim Bob from Pea Ridge when he meets Sally Mae from Mossy Head? "Say Sally Mae where you from?" "Why I 's from Mossy Head." As Jim Bob scratches his head I can hear him ask Sally Mae "by chance did they name the town after your beautifully coiffed noggin?"
When we arrive in Bonifay it was evident that a BIG event was happening. It was also evident that the big event had to do with horses. We watched the Grand Rodeo Parade that contained what must have been every horse and mule within 100 miles. It was a hoot. I think every girl in town that was not on a horse was on a saddle in the back of a pickup truck with a sign designating her as "little miss something". If they were not little miss watermelon, peanut, rodeo, Bonifay, Cottondale, Walton County, Jackson County they were the Junior miss of it, the pre-teen miss of it or the miss of it. If they were a Mrs. they drove the trucks with all these misses because the dads and brothers were following on horses and mules. In all fairness most of the mules were pulling buggies and there were lots of them. A good number of individuals were riding mules instead of horses. Grandmothers, rode in the truck bed with the little misses.
Did I mention that it was raining? It was! It was raining hard. That did not slow the parade down one whit. I guess the rain did not slow it down because all of the horses were several miles from their respective horse trailers and the only way to get to those trailers was along the parade route. Thankfully, the rain subsided and the parade continued for another hour or so. Did I say there were a lot of horses and mules and little misses and for every one left there was the ubiquitous four-wheeler? I would have said that everyone around here was riding a horse but all kinds of teens and pre-teens were riding four-wheelers. I guess that a four-wheeler is a mandatory accessory for pre-teens in these parts. Anyway, it appears that on this one day driver's licenses were not required to operate vehicles on the streets of Bonifay.
Later in the evening the announcer at the rodeo said that there were in excess of 450 horses in the parade not counting the mules. All of the horses and a few of the mules participated in the opening ceremony at the rodeo tonight. This rodeo was just a ho-hum old rodeo with no exciting sideshows like out west. I was looking forward to a good old mother's tag team greased pig wrestling contest in a mud pit. It was not to be. The only sideshow worth commenting on was the sheep dog demonstration. Someone drives a trailer load of sheep into the arena and turns them lose. Anyone who has tried to get a single sheep much less a flock of them into a pen knows it is a daunting task. For a few moments the sheep challenged the sheep dogs ability and authority. However, in short order the sheep dog proved he was in charge. After the sheep were pinned the dogs handler would take him to a far corner of the and do some kind of performance with a monkey riding on the sheep dog while some helpers were letting the sheep out of the pin and moving the pin to another spot in the arena. Then the handler would give the dog the command to put those sheep in the pin. Amazing, amazing, amazing is the only way to describe how efficiently that dog rounds up those sheep and puts them into the new pin.
Rodeo clown are renowned for the clean family jokes they tell to keep the crowd entertained between events. The only one I remember was when he started relating how one time two women had started fighting over him and how he was hollering for the police to break it up. The announcer broke in to ask him why he called the police. "Cause the ugly one was winning" was the reply!
Not everyone in the area was at the rodeo. Across town under a huge tent (approx 1-acre) in the middle of a pasture they were having a rodeo dance. The music started around 7:30pm and continued until 5:30am. The headline group was country music recording artist Chad Brock who did not start playing until 11:00pm. The place was packed with a totally different crowd than the rodeo. Most of the people were under 35 years of age. There were a few couples our age but most were younger, all were having a good time. We are not sure how many folks made it to 5:30am. Joyce called it quits around 1:00 and we headed back to the motorhome. Something tells me that most of the ones we left behind would be there when the sun comes up.
Saturday, October 5, 2002 Florida Springs RV-Resort, Bonifay, Florida at intersection of I-10 and highway 79.
We were going to do some sightseeing in some of the neighboring communities today but it became apparent to us that the Rodeo Parade we saw yesterday was just a warm-up for today's parade. Today Joyce helped me remember some of the titles of the Queens and Misses featured in the parade. It was even funnier with both of us looking for the most unique. Some of the ones we remember from today are: Teeny miss American rose queen, miss pre teen Independence, Little make-a-wish Dream World Queen, miss Bethlehem along with Jr. miss, the runner-up and little miss, miss Team Sunburst, miss Panhandle Love Bug, Peewee miss Cottondale, miss northwest Florida Sunshine, Jr. miss Fun Day, Firecracker Queen, Little miss Tiny Tot, the Two Toe Tom Festival Queen and float, Tiny miss Stars & Stripes and finally the Teeny miss American Rose Queen from 2001.
Small town parades are fun. People watching at parades can be more entertaining than the parade itself. We watched this parade from the middle of downtown Bonifay half way between the two traffic signals. We stationed ourselves in front of the auto parts store that was flanked by the local bank and the farmer's services store.
Shortly after the parade started a volunteer fire truck died in the middle of the street. For a while the parade just skirted around the stalled vehicle then a good-ol-boy arrived with a Dodge dually-350, attached a chain and pulled the fire truck through the remainder of the parade. That may have been a staged advertisement. An hour into the parade a train rattled through town cutting the parade in half. Go-carts, dirt bikes and three wheelers joined yesterday's four-wheel contingent. Also a section of kids on regular bicycles were added.
I notice that cooler redneck boys fly a Rebel Flag with a big green largemouth bass in the middle. I am not sure what the message is but it seems to be popular with the redneck crowd just old enough to have a driver's license. I know that I am not the first to make this observation but it bears repeating, "Fat girls don't need belly rings". Help me here; is it possible to ride a horse in a parade without a cell-phone?
With neither of us being equestrian people we just enjoy everything from a distance. However, we do have our favorites. Joyce likes palominos with their golden coat and light blond main and tail. I am partial to the appaloosa with the white-rimmed human like eyes and the small dark spots. Both of us like a spirited piebald all fixed up. These folks are as fussy with their ponies as many people are with dogs.
We chose to do the Rodeo Dance tonight and skip the Rodeo. Again the organizers had a variety of good bands playing under that big tent in the middle of a pasture. Ken Melons was the celebrity artist tonight. His best know hit is Juke Box Junkie I think. There were even more people tonight than last night. Where did they all come from? We headed home around 1:00 again tonight so we will never know how many of them made it until 5:30 in the morning.
Sunday, October 6, 2002 Florida Springs RV-Resort, Bonifay, FL at intersection of I-10 and highway 79.
For RV'ers traveling I-10 across the Panhandle of Florida looking for a good boondocking spot here it is. From I-10 take the Bonifay exit north .3 miles turn east at the Bonifay Inn. Immediately behind the Bonifay Inn is an extremely large paved area truckers use to drop off empty trailers. What more could you ask for? Wal-Mart stores at the Marianna and Cottondale exits do not allow overnight parking. The Chipley exit has a good roadside park to stop for lunch less than a mile south of the interstate (no overnight parking). Also a miles south of the Chipley exit is Falling Waters State Park complete with RV-campground with 30-amps and water and central dump station.
We toured the area in our Saturn today. Although we are less than 50-miles north of the world's most beautiful beaches this is red clay, rolling hills, farm and ranch country. Cotton and peanuts reign supreme although we saw some corn and sorghum/maize interspersed among cattle ranches and dairy farms. As we drove around the small towns we spoke fondly of friends that grew up in some of these places. In the town of Cottondale we though of Pat and wondered how she made her way to Pensacola from Cottondale. Later in Marianna we thought about Jenna and wondered where her childhood home was as we drove up and down side streets admiring all of the turn of the century homes with their camellia and azalea gardens. In Graceville we thought of Frank that spent some time taking classes at the Baptist Seminary there. Small towns have a charm all their own, no one seems to be in a hurry, stores close on Sunday, everyone knows everyone.
Although we stopped by Florida Caverns State Park in Marianna we did not time our arrival to coincide with a tour of the caverns so instead of waiting an hour for the next tour we headed on down the road. We decided to stop by Florida Caverns SP later in the week rather than wait around another hour.
We enjoyed Falling Waters State Park just south of the town of Chipley. Most of Florida's State Parks are appropriately named but none more so than Falling Waters. This is really a unique area that the state has preserved. We entered the park from a pine upland. >From the parking area we walked down a boardwalk into an unbelievable world of sinkholes. Sinkholes are common phenomena around Florida but these are different from others I have seen. As the boardwalk drops off the pine upland the pines quickly give way to hardwoods like white oak, Southern magnolia, sourwood, American beech, sparkleberry, dogwood and wild azaleas. The boardwalk meanders around many of the sinks giving you an amazing view down into the chasm 70 to 100 feet below. The sink with the waterfall is supremely unique. Most sinks form a cone but this one is a completely cylindrical shaft or chimney about 30 feet in diameter that drops over 70 feet straight down. A small stream deposits a stream of water out over the cylindrical, smooth walled chimney, hole where the water disappears into the Florida aquifer. I think this is surely one of Florida's most notable geological features, a surface stream and sinkhole complete with a waterfall disappearing into the aquifer.
Back on the boardwalk we walk around and gaze down into a variety these chimney shafts that lead through a serpentine tangle of small limestone caves to the Florida aquifer.
For RV'ers Falling Waters State Park would make a good stop over on your way to or from Central or South Florida. They have a nice enough 25 site RV-Park 30-amps and water including a centrally located dump station (850-638-6130).
The geology of Florida began many millions of years ago when Florida was a giant coral reef. Coral and shells deposited calcium-forming limestone. This limestone base covers much of Florida. Sinkholes, or sinks, are common in Florida. Their evolution begins when weak acids in rainwater seep through cracks in the limestone. The acid slowly eats away at the limestone beneath the ground, forming an underground cavern. If and when a cavern collapses the result is a sink. Some sinks are dry others are wet. The namesake sinkhole at Falling Waters State Park is particularly unique in that the underground cavern is fed by surface stream water. This would make a good game show question don't you think?
Monday, October 7, 2002 Florida Springs RV-Resort, Bonifay, FL at intersection of I-10 and highway 79.
We started out the day with a full schedule and accomplished most of it.
The first stop was Ponce de Leon Springs State Recreation Area in Ponce de Leon both honor the eponymous Spanish Explorer noted for his search for the Fountain of Youth. The spring is located less than a mile south of U.S. highway 90. It would be a nice place to take a group of middle school kids in the summer. A concrete retaining wall and small dam a few yards downstream have enhanced the natural spring area. The dam holds back enough water to maintain the depth necessary for swimming and other recreational activities in the one-acre impoundment.
Joyce and I were able to see a 5' diameter cavity in the limestone out of which flows more than 14 million gallons of crystal-clear water each day. The spring maintains a constant 68 degrees winter and summer. Over the years the upwelling flow has delivered white sand that covers the bottom of the swimming area around the spring and continuing down the spring run. Water from the spring connects to a series of creeks that flow into the Choctawhatchee River, Choctawhatchee Bay and finally into the Gulf of Mexico through the Destin pass some 40 miles to the south.
Vortex Springs is located 4-miles north of Ponce de Leon. Vortex Springs is popular with Scuba divers and swimmers alike. It is a privately owned spring with a small admission charge. Swimming facilities include several diving boards and a rope swing. The owners even have a small campground complete with 50-amp hookups. This would be a fun place to stop with a group of teenagers. In addition to the spring and swimming area they have go-carts (on an asphalt track), ATV riding trails, horse trails and nature walking trails. If you are interested check out: www.vortexspring.com 850-836-4979.
DeFuniak Springs was our next destination. DeFuniak Springs is known for three things, Defuniak Lake lays claim to be one of only two perfectly round lakes in the world. Add to this the rich and fascinating history including the winter home to Chautauqua and a major stop for the railroad in the 1800s and early 1900s. The perfectly round lake is something to behold. It is not your ordinary pond. It looks to me to be about ½ mile in diameter. Circle drive, another perfect circle sweeps around the lake. Stately old homes many of which are on the National Register face Circle drive, however, none are between the street and the water. That area has been preserved. The town of DeFuniak is situated north of the lake, as is the railroad that runs east and west between the lake and town.
This is where I learned more about the term Chautauqua than I ever imagined possible. Don't laugh so hard, what do you know about Chautauqua? What we discovered was that DeFuniak Springs was a hot bed of activity for the Chautauqua movement. At the height of the Chautauqua movement in the late 1800s and early 1900s the railroad brought thousands of "enlightened" individuals to DeFuniak Springs for the "winter" lecture series. Now let me see if I can explain Chautauqua.
In the 1800's public education in this country was lacking. Educated and enlightened individuals were experimenting with a variety of methods to expand their knowledge base. An assortment of adult-education institutions developed. Some of the most important of these institutions were study groups called lyceums. The members of a lyceum attended debates and lectures and held discussions. Another important educational movement was the Chautauqua (pronounced shuh TAW kwuh) movement. The original Chautauqua was promoted by members of the Methodist church as training for Sunday school teachers but quickly expanded to teach other subjects. The building for this was on Lake Chautauqua, New York. As they added summer school and correspondence courses a "winter" Chautauqua assembly building was constructed on the shores of Lake DeFuniak next to the railroad station in order to continue their lecture and concert series when it was too cold to do so in New York. This assembly building seated 4000. The Chautauqua program in DeFuniak continued from 1885 to 1922. Hurricane Eloise destroyed the auditorium in 1975. The word Chautauqua also referred to traveling groups that went from town to town presenting lectures and entertainment.
A drive around Circle drive takes you back into Victorian times. Elaborate architectural details were incorporated into the grand homes. The interesting mixture of architectural styles includes turrets, double verandas, classic fluted columns, gingerbread trim and window dormers. While taking the driving tour and admiring these old Queen Anne style homes mixed with classical Revival and Colonial Revival styles we could not help but think of our antique aficionado friends Jack and Barbara. Jack have you toured the homes in this area? If not we need to get together and do it some weekend. You and Barbara could teach Joyce and I some of the finer points of these architectural styles.
Our next scheduled stop was Vernon where we were going to visit an Ostrich farm and Cypress Springs. It was an interesting drive to Vernon but the Ostrich farm was out of business and Cypress Springs had recently changed owners and was temporarily closed.
As most of you know it does not take much to amuse the two of us. Some signs we have seen in the past day or two need to be shared. Pigeons for sale, "New African American Methodist Episcopal Church", and "we buy furs, hides and pecans" are the ones we liked best.
Tuesday, October 8, 2002 We drove 31 miles from Bonifay to Marianna, Florida along U.S. highway 90. Arrowhead RV-Park, Marianna, FL on Merritt's Mill Pond and U.S. highway 90
We moved the motorhome from Bonifay to Marianna this morning before setting out to accomplish Joyce's list of things to see and do. We are staying in Arrowhead campground located in Marianna on Merritt's Mill Pond. Those of you familiar with fresh water fishing in Florida will know about Merritt's Mill Pond. It has long been a hot spot for bluegills, crappie and largemouth bass. We plan to return here and do some fishing.
Our first destination was the small town of Greenwood located a few miles north of Marianna. They have some stately old plantation homes with magnificent yards plus Pender's store. We learned of Pender's store from a write up in "Hidden Florida" a 13-year old book. The heart pine floors and sturdy shelves date to 1869, when the place was built. Although Pender's no longer had the old cooler filled with soda we did get to rummage around a bit. The owner was the third generation of Pender to run the store. His great grandfather was the one that built and lived in the "Great Oaks" plantation home just south of Greenwood. What a story he had to tell.
This is farming country, mostly cotton and peanuts. Joyce and I stopped by the local peanut processing plant located in downtown Greenwood. The freshly dug green peanuts were being graded then loaded into dryers. I was fascinated by the operation and Joyce was good to let me watch it for a time.
The small town of Two Egg is located just 5-miles east of Greenwood. I have heard of "Two Egg" all my life. Now was my chance to actually see it. As you might expect Two Egg is NOT a major metropolitan area. I think the signs announcing entering and leaving Two Egg may be mounted on the same post. There was not a stop signal but there was a service station that sold soft drinks. Mr. Pender told us a story about how Two Egg got its name but I had a hard time following it.
This is our 5th day in the area and some things are have jumped out at us. First, most of these people are not in a hurry. That trait does not extend to overloaded logging trucks. Logging truck drivers in these parts are practicing for the Florida dirt track championship. Next we have noticed that virtually all-common folk have the obligatory pecan trees and catalpa trees planted in their yard. It seems that every house and mobile home has at least two of each.
Our last adventure of the day took us to Jim Woodruff Dam 20-miles to the east on highway 90. The dam is at the confluence of the Flint and Chattahoochee Rivers creating an impoundment known as Lake Seminole. The Apalachicola River emerges from the dam and makes its way to the Gulf of Mexico.
This paragraph is for my RV friends traveling I-10 across the Florida Panhandle. There are a number of RV-Campgrounds in this area that you could use. Since all of us are attracted to campgrounds with different accommodations thus recommending one campground over another does not work well. Here is what is available: In Marianna there are two good campgrounds, Arrowhead a private campground with 30-amps, sewer and cable for less than $22 and the Florida Caverns State Park Campground for $18 with 30-amps and water. In Chattahoochee there is a private campground, in town and the Corps of Engineers has a nice campground a few miles north of town on Lake Seminole for $16 per-night. If you are in a hurry stay in the private campground otherwise the Corps of Engineers campground (30-amps & Water) would be nice. In Sneads there is Three Rivers State Recreational Area with a good campground but it is located a few miles north of town so if you are in a hurry this would probably not be the place. All of these are within a few miles of I-10.
Until next time remember how good life is.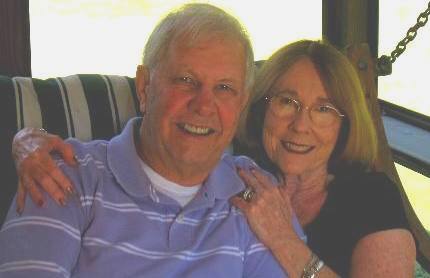 Mike & Joyce Hendrix who we are
We hope you liked this page. If you do you might be interested in some of our other Travel Adventures:
Mike & Joyce Hendrix's home page
Travel Adventures by Year ** Travel Adventures by State ** Plants ** Marine-Boats ** Geology ** Exciting Drives ** Cute Signs ** RV Subjects ** Miscellaneous Subjects
We would love to hear from you......just put "info" in the place of "FAKE" in this address: FAKE@travellogs.us
Until next time remember how good life is.