Melbourne, Florida
Places Visited:
Florida: Melbourne
Monday, August 12, 2002 Land Yacht Harbor; Melbourne, Florida.
One thunderstorm after another pounded us last night. We were close to floating away by dawn.
Joyce and I took Pop's to lunch again then spent some time sightseeing in the Melbourne area.
We picked Pop's and Joyce's Sister up and headed up to Coco Beach to take a sunset boat ride on the Banana River. When we got there they had cancelled the 6:30 cruise so we did a little sightseeing then we headed back to Joyce's Sister's home in Indialantic (Melbourne Beach). We agreed that the captain had made a good call as the weather deteriorated to the point lightening was filling the sky.
Tuesday, August 13, 2002 Land Yacht Harbor; Melbourne, Florida.
Joyce and I toured the campus of Florida Tech. They have a botanical gardens on campus that features over 200 varieties of palm trees. We enjoyed the entire campus as much as the botanical garden. They have been planting palm trees for a LONG time on the campus and continue to add to their awesome display. Joyce and I arrived on campus around 8:30am but even then it was hot and muggy. It has rained every day we have been here and the ground is saturated. Moisture is oozing from the ground; humidity has to be approaching 100%. By 9:30 we can stand it no longer and retreat to our Saturn and turn the air conditioner on full blast. We tried to find the Turkey Creek Sanctuary advertised to be on Port Malabar Road in Palm Bay. It may be there but we could not find it. That was excuse enough to take Pop's to lunch.
We spent the entire afternoon at the motorhome as thunderstorm after thunderstorm rocked the area. We may float away yet. This place is only a foot or so above the water table. School kids are boogie boarding in their yards. If you have never heard of a "boogie board" just think of it as a snowboard for wet places.
Wednesday, August 14, 2002 Land Yacht Harbor; Melbourne, Florida.
This was our day to tour Kennedy Space Center and that we did. We arrived at the Space Center Visitors Center by 9:00 am and stayed until nearly 5:00 pm. There is so much to see and do yet so little time to experience it all. Over 75% of the individuals touring the Space Center were foreigners. That struck me as odd. It seems that the foreigners have more respect and admiration for American accomplishments than we do. Joyce and I both discussed that it was embarrassing for us personally that we had not visited the Space Center before, and we live in Florida. Even worse we did not bring our Son to tour it.
For those that have not experienced the Space Center it is one of the things you should do especially if you visit Florida.
In addition to rockets and spacecraft the Space Center is a wildlife refuge. Twelve eagles nest on the Space Center property and the tour guides take you by one extremely large eagles nest. Alligators are easily seen in the lakes, ponds, ditches and streams. Wading birds of all description are also in abundance.
We ate at the Cove on Satellite Beach just south of the Space Center. This is a place that we recommend. They had live music, a dance floor and great food. It goes without saying that Joyce picked this place. Most of you know why, don't you? (Party Animal)
By the time we got back to Melbourne thunderstorms were rocking the area and rain was coming down in sheets.
Thursday, August 15, 2002 Land Yacht Harbor; Melbourne, Florida.
Joyce wandered the local mall while Pop's and I ate lunch together. Joyce's sister picked her up around 5:00 and they went to eat and, and, and --------, well they got back around 9:00 saying they had a good time talking.
Thursday, August 15, 2002 Land Yacht Harbor; Melbourne, Florida.
We awoke to rain, no thunder just hard rain. Folks in the RV-Park are saying we brought the rain with us and want to know when we plan to leave. They are not complaining since they will take all the rain they can get. Lakes in the central part of the State are in need of recharge. The daily rain will help recharge the aquifer. In this area of the world when the aquifer gets low it leaves unfilled holes in the limestone that underlies this area. The limestone gives away and things like highways and buildings fall into the resulting sinkhole. During dry periods sinkholes make the afternoon news on a regular basis.
Friday, August 16, 2002 Land Yacht Harbor; Melbourne, Florida.
We did not do anything worth writing about.
Saturday, August 17, 2002 Land Yacht Harbor; Melbourne, Florida.
We picked up Joyce's dad and headed to Cocoa Beach to catch a 10:30 am boat cruise along the Banana River. We chose to drive over to Indialantic Beach and catch highway-3 up to Cocoa. Highway-3 is also called Banana River Drive on the Island. Once highway-3 crosses the Banana River it runs north on a tropical peninsula with the Banana River on the east and the Indian River on the west. Luxurious homes with exquisite tropical landscaping adorn this route. Eye popping estates and manicured lawns made the route one that we wanted to experience both ways.
This area is famous for Indian River Citrus. Many of the citrus groves are being sold to make room for housing developments. Somewhere along the southern end of highway-3 we spotted an avocado orchard. This is the first avocado orchard either of us has seen.
It turns out that we were the only ones on the boat cruise. Lucky us. The captain and tour guide was full of information. We learned to identify Red, Black and White Mangrove. We actually did learn to identify each. After we learned to recognize them the Captain quizzed us throughout the remainder of the trip.
We saw numerous manatees munching vegetation along the way. Ospreys were abundant as were great blue herons and little blue herons. Wood storks were feeding in one yard. The two-hour cruise was great. We plan to do it again when we return in January or February since the wildlife will be completely different. The only thing we missed seeing was an alligator but they are so common around here that not seeing one was a fluke.
Sunday, August 18, 2002 Land Yacht Harbor; Melbourne, Florida.
This is our last day in Melbourne where we have been visiting with Joyce's Dad. After lunch we all went to a Cajun Festival complete with authentic Cajun food and live music. All of us had a good time listening to the music then it was time to take Pop's home and grab some groceries.
Tomorrow we are leaving here with plans to stop by the small town of Oviedo just north of Orlando to visit with friends before continuing on to O'Leno State Park just north of Gainesville, Florida.
Until next time remember how good life is.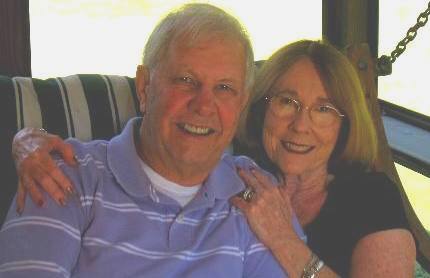 Mike & Joyce Hendrix who we are
We hope you liked this page. If you do you might be interested in some of our other Travel Adventures:
Mike & Joyce Hendrix's home page
Travel Adventures by Year ** Travel Adventures by State ** Plants ** Marine-Boats ** Geology ** Exciting Drives ** Cute Signs ** RV Subjects ** Miscellaneous Subjects
We would love to hear from you......just put "info" in the place of "FAKE" in this address: FAKE@travellogs.us
Until next time remember how good life is.