St Joseph State Park, Cape San Blas, Payne's Prairie State Park, Gainesville, Sanford & Melbourne in Florida
Places Visited:
Florida: St Joseph State Park, Cape San Blas, Payne's Prairie State Park, Gainesville, Sanford, Melbourne
Monday, August 5, 2002 St. Joseph Peninsula State Park, Cape San Blas, Florida: Site #61
We watch a wall of puffy white cumulous clouds building offshore as we head out on a long walk down the beach. By the time we turn around and head for home the front edge of the bank of clouds are turning black and rolling. It looks ominous, much like the leading edge of a cold front moving through in winter. Just as we get back in the motorhome we hear the first clap of thunder.
The beach has changed so much since we were here this winter. Currents and wind have deposited about 50 yards of sand on the beach. Last winter storms had eroded the beach so that the strip of true beach was only 30 to 40 yards wide. Boardwalks over the dunes accessing the beach are covered with sand up to the handrails. It is amazing to see what nature gives and takes away. The beach is truly a dynamic area that is subject to every whim of nature.
Tuesday, August 6, 2002 St. Joseph Peninsula State Park, Cape San Blas, Florida: Site #61
We got up early and drove back to Panama City (63-miles) to visit with Mike's parents and accompany his Dad on a doctor's visit. We had a good visit then drove back to Cape San Blas and had dinner with Pat & Louie and another couple that had driven over from Pensacola to spend the weekend with them. Pat treated all of us to her renowned scallop hors d'oeuvre then we ordered a large pizza. When we left their place it was LATE! As we passed Eagle Harbor in the State Park 5 adult deer were feeding on sea oats half way up one of the massive snow- white sand dunes. Deer and sand dunes present an antithesis in my feeble mind.
Wednesday, August 7, 2002 Payne's Prairie State Park; Gainesville, Florida. Site #10
As we passed by Louie and Pat's place this morning we beeped the horn on the motorhome on the chance they would be on the deck enjoying an early morning sip of Java. They were not. I suspect all were inside preparing for the days scalloping adventure.
When traveling on highway 98 through Perry we always want to stop at the Chaparral Steak house and buffet for lunch. They have the best country cooks around. One of the cooks fixes okra (a southern thing) like Joyce's Dad and it is out of this world. In addition to the okra they had fresh butter peas, divine potato casserole, squash and onion casserole and a host of other veggies and entries. After eating seafood every day for the past week vegetables were a welcome respite.
Between Cape San Blas and Perry US highway - 98 hugs the coast passing through one small destitute fishing village after another. In Carrabelle we get a good chuckle at their famous Police Station. It is a telephone booth. I do not know if it is a "public" phone booth or not. It looks to me like it "WAS" a public phone booth but is now exclusively the "Police Station". Instead of having AT&T or some such markings Carrabelle Police Station is painted in large red letters on every glass wall of the booth. The local police car is sitting beside the phone booth. If you look up the city of Carrabelle on the Internet you will see where they lay claim to the "worlds smallest Police Station" or some such. You can see that it does not take much to amuse the two of us.
Leaving Perry on US highway 27 heading to Gainesville all vestiges of the coast are left behind and the landscape quickly becomes a mixture of dairies and chicken houses. We pass by Ichetucknee Springs State Park where we want to stop on our way back home and take a tube trip down the river. If anyone has done this we would appreciate some more information. O'Leno State Park is located a short distance away and we would appreciate some info on this State Park also. We are thinking about stopping overnight at O'Leno on our way back home.
By mid-afternoon we are set up in Payne's Prairie SP and have called Bruce Hoffman and old high school friend. Bruce is a prominent local attorney in Gainesville. His wife Anthe works for the University of Florida.
The ride through Payne's Prairie State Park winds around century's old live oaks with bright green resurrection fern growing epiphytically on the massive branches forming a canopy over the road. When we were here in the winter the resurrection fern was brown due to lack of rain. Now that the area is receiving almost daily rain the ferns have "resurrected" and literally radiate.
After a short visit with Bruce and Anthe in their palatial estate we headed off to dinner at one of "Gatortowns" finer establishments. A good time was had by all.
We did not see any wildlife in the State Park, which is unusual.
Thursday, August 8, 2002 12 Oaks RV Resort 6300 SR 46 West Sanford, Florida. 32771 (407) 323-0880 Site #10
Driving South out of Gainesville we pass through Ocala noted for beautiful horse ranches and pastureland. Another 40-miles to the South, around Tavares, we start seeing orange groves and lakes. This is northern metropolitan Orlando.
We stop at an RV-Park located in Sanford, 20-miles North of Orlando.
We have friends living in Oviedo (19-miles southeast of the RV in Sanford) that own the local Chick Filet franchise so we drove over to his store to surprise him. Once there we learned that he was visiting his brother in Pensacola this week. Talk about coincidence! Oh well! We may catch up with him on our way back home in a week or so. Instead of surprising James we got the surprise when his employees informed us that he was in Pensacola for the week.
Back at the motorhome we make contact with Dale and Cheryl, friends living in Orlando that are expecting us. Cheryl wants to come to Sanford to join us for dinner instead of us driving into Orlando. Consequently, they visited us in Sanford and we dined at Otter's Riverside Restaurant on the banks of the St. Johns River in Sanford. We had a good time but the food was terrible and the restaurant was NOT overlooking the river. Sometimes we hit a home run and other times we strike out. This was definitely a strike out. The best thing they served was the sweet ice tea. We talked way too long especially since Dale had to be at work around 5:30 in the morning.
Joyce and Cheryl are so much alike. They are wild about being grandparents. They dote on their children. They just plain think alike. Dale and I were both aircraft electronics technicians in the Navy back in the late 1960's and have kept in touch all these years.
Friday, August 9, 2002 Land Yacht Harbor; Melbourne, Florida.
Joyce started feeling domestic last night and announced that she was going to do laundry this morning before heading to Melbourne. I thought that was a marvelous announcement since, without it, I was going to have to schedule a shopping trip for skivvies. The domestic bug must have been powerful because she set the alarm clock to get her up and into washing clothes. By 9:30 we were on our way to Melbourne. Using our GPS and Street Atlas mapping program Joyce navigated us along a series of back roads all the way from Sanford to Land Yacht Harbor RV-Park in Melbourne. By driving on back roads we are able to view the countryside at a leisurely pace.
We spent the afternoon and evening visiting with Joyce's Dad.
Saturday, August 10, 2002 Land Yacht Harbor; Melbourne, Florida.
It rained most of the day while we visited with Joyce's Dad.
Sunday, August 11, 2002 Trek mileage starting36, 525 Land Yacht Harbor; Melbourne, Florida.
It rained all day again while we visited with Joyce's Dad.
Mike & Joyce Hendrix
Until next time remember how good life is.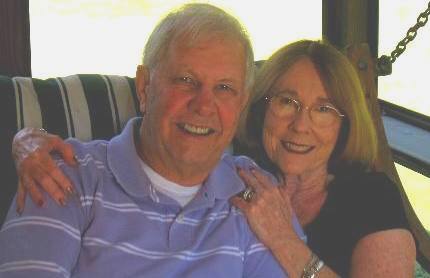 Mike & Joyce Hendrix who we are
We hope you liked this page. If you do you might be interested in some of our other Travel Adventures:
Mike & Joyce Hendrix's home page
Travel Adventures by Year ** Travel Adventures by State ** Plants ** Marine-Boats ** Geology ** Exciting Drives ** Cute Signs ** RV Subjects ** Miscellaneous Subjects
We would love to hear from you......just put "info" in the place of "FAKE" in this address: FAKE@travellogs.us
Until next time remember how good life is.