Ft. Davis, Alpine, Big Bend, Marfa, Study Butte, Lajitas, Presidio
Places visited: Texas: Ft. Davis, Alpine, Big Bend, Marfa, Study Butte, Lajitas, Presidio
Wednesday, May 16, 2001 Davis Mountain State Park Davis Mountain, TX
Today we decided to drive the 75-mile scenic loop out of Fort Davis. This loop comprises a surprising variety of scenery. It starts out on Texas 118 heading west toward McDonald Observatory following cottonwood-lined Limpia Creek. Before reaching the Observatory we stumbled across a large solar park, a state of the art research facility exploring the viability of different solar power technologies. We stopped by and chatted with two gentlemen who worked at the facility. They explained each of the arrangements to us. One was a solar powered "water pump". It was using solar power to run a water pump. This particular experiment was a success since a real windmill costs in excess of $10,000 to install new where as the solar power installation was less than $6,000. Solar power was also more reliable than wind. Another experiment was not so successful. It consisted of what looked to me to be 10 acres of solar panels. They worked but the investment vs. the wattage output did not compare to wind powered generators. They told us about some wind power generators we would see down the road that generated 20 times more electricity per dollar invested than the solar panels. Down the road we spotted twelve of these tall structures that supported modern wind turbine generators. The towers are 140' tall with blades 65' long. The twelve turbines supply six megawatts of power. Impressive! The men we talked with said that they were the wave of the future. Plans were being made to install these wind turbines all over west Texas. It sounds like Texas is going to supply the country with electricity as well as oil. There is sure plenty of wind out here.
At the entrance to McDonald Observatory Texas 118 is at 6,791' and is the highest paved road in Texas as well as east of the Rockies. We drove on up to the Observatory and toured the visitor's center then got back on with the scenic drive.
After leaving the Observatory we started the slow decent toward the plain below. Off to the northeast we could see the Buckhorn Volcanic Caldera. For those of you not into geological terminology a caldera is the remainder of an ancient volcano where the inside collapses. While at the higher altitudes we could see pinon and ponderosa pine trees.
After exiting the mountains and firmly in the valley we turned south on Texas 166. About 15 miles down the road we go right by 7,746' Sawtooth Mountain. Next we passed Mt. Livermore that peaks at 8,382'. Then Texas 166 bears east and runs along the Old Overland Trail to Fort Davis. Along the way we see cattle and herds of pronghorn antelope grazing near the highway. During a large portion of this scenic drive we were in open rangeland with cattle roaming across the road i.e., no fences.
We ate dinner at Black Bear restaurant, part of the Indian Lodge complex located inside Fort Davis State Park. The best part of Indian Lodge was getting to walk around in the lobby. Indian Lodge is a rustic place built in the 1930's by the CCC. There was a large fireplace on one end with original furniture built in 1933 by CCC labor. The grandeur of the 18" stonewalls and large wooden beams give the lobby a western rustic appearance. If you are in the area and eat at Indian Lodge's Black Bear restaurant make sure that you ease over and view the lobby.
Today was a good learning experience for us. We saw our first pronghorn antelope, javelina (peccary) and cactus wren. Additionally, we are now able to identify the say's phoebe, western kingbird and canyon or brown towhee. Although neither of us are real "birders" we do enjoy watching them and identifying them when possible. Every day we are learning several new birds.
Thursday, May 17, 2001 Davis Mountain State Park Davis Mountain, TX
What a day! We got up early to join a group that was banding birds in the state park. They were a really nice group. Several of the leaders were elderly locals that were eager to share local knowledge with the group. After the banding broke up and the temperature started to rise we got in the Saturn and headed toward Alpine, Texas 22 miles south of Fort Davis. Along the way we stopped by to tour the Chihuahuan Desert Research Facility. The Chihuahuan Desert is located mostly in Mexico but stretches north into Texas from the Pecos River on the east into southern New Mexico and a small piece of southeastern Arizona on the west. The entire Texas Big Ben region is part of the desert. It is the highest and wettest desert in North America with over half above 4,000 feet elevation. There is one plant of the desert that is an indicator plat. If it is present you are in the Chihuahuan Desert. That plant is a type of agave (century plant) called lecheguilla. According to information at the research facility, deserts have less than 10 inches of rain annually. Most of this area gets between 10 and 15 inches per year even in the drought years. There appears to be a discrepancy. When I ask about the apparent discrepancy clerks at the counter just go da, good question, I never thought of that, no one has ever ask that before. I can't understand how hoards of people going through an interpretative center can read one display explaining one thing: That a desert is a place getting less than 10 inches of rain annually. Then two displays down reading about the official rainfall received in each city in the desert, with most cities getting between 10 and 15 inches per year and not question it. Oh well! I guess the area is part of the Chihuahuan Desert because that indicator plant is present despite the rainfall discrepancy. For those of you that may be interested Chihuahua is the Mexican (state?) that most of the Chihuahuan desert is located in.
While at the research facility we were treated to a self guided tour of the facility where they were growing several hundred different types of cactus and other desert plants. Each of these plants has beautiful flowers.
As we continued our journey to Alpine we crossed over a volcanic mountain that gave us spectacular views as we ascended into the alluvial plain just outside of Alpine. It got up to 100 degrees today. That is hot, but in the dry air it is like 85 back along the Gulf Coast. If you can get in the shade you can be relatively comfortable.
In Alpine we toured the Museum of the Big Bend. This Museum displays a great collection of memorabilia, photographs, and rocks of the area. If passing through Alpine this museum is a must see.
We had read it before but one particular display finally brought home the dates Spanish explorers were in the area. One particular Spanish explorer was ship wrecked on a Texas Barrier Island and spent eight years working his way over land to get to the Spanish settlement he knew about in Mexico. The thing that finally sunk in with me was that he did this around 1550. That is 300 years before Anglos started settling eastern Texas in the 1850's. The Wild West with stagecoaches and pony express stuff was the 1880's. That Spanish explorer was some kind of dude to be wandering around out here for 8 years and he obviously lived to tell about it. I tip my hat to him.
When the desert sun starts to bear down on you it does not take but a short time to start realizing that the big funny hat you see on Mexicans ain't so funny any more. Instead of looking funny it begins to look like a neat necessity. Where can we get one? Can we get one big enough to shade our entire body?
Between Alpine and Fort Davis is a large pull out or picnic area situated in the shade of hundred year old cottonwood trees. This is a perfect boondocking place. A large fifth wheel was already set up under the cottonwoods when we returned to Fort Davis. The pasture area adjacent to the picnic area is noted for deer and turkey viewing. So if you decide to stop by this place be sure and look for them out your living room window.
When we got back to the motorhome there was a note from some friends we had met in the park several days earlier. They were going to see the mystery lights at Marfa tonight and would be by to get us at 8:30. We were pooped from getting up so early to join the bird banding but did not want to miss experiencing the Marfa Mystery lights with this group. We quickly got ready and headed out with the six of them. They were all Baptist from a small Texas town between Dallas and the Louisiana border that were in the same Sunday School Class. It is amazing how much fun a group of people can have looking for mystery lights that never did appear. We were not the only ones out in a viewing area in the middle of NO WHERE looking out to the south toward Mexico where supposedly unexplained lights would dance around. There were at least a hundred others. The best part of the night came when an eastbound train out of Marfa headed our way. Although the track runs down the north side of highway 90 we had all arrived after dark and did not know where the tracks were. As the train got closer it appeared that is was going to run right through the viewing area. While trying not to appear too concerned people started shuffling their feet to see if they could feel the railroad tracks. Joyce was the one who finally blurted out "does anyone feel the tracks"? Around 11:00 it got so cold we gave up on the Marfa Mystery lights and headed home. It was so hot at 8:30 when we left to view the mystery lights that the women had packed cold drinks in coolers. As we left the viewing area everyone was talking about stopping in Marfa for hot coffee or hot chocolate. The temperature in the desert changes drastically after the sun goes down.
Friday, May 18, 2001 Davis Mountain State Park Davis Mountain, TX
We slept late this morning and decided to take the day off to rest and recuperate from having too much fun. It reminds me of the country song "There's no such thing as too much fun". I used to agree with him but there comes a time when a body needs to slow down. Today was that day.
In keeping with our venturesome spirit we are trying new foods every chance we get. We purchased some quince preserves the other day. Having never heard of a quince before it was time to look it up in the dictionary. Before you laugh, do you know what a quince is? Have you ever heard of it? Anyway, Webster says it is: "the fruit of a central Asian tree (Cydonia oblonga) of the rose family that resembles a hard-fleshed yellow apple and is used especially in preserves, also a tree that bears quinces". Now you know. In our opinion the fruit on the label looks like a pear and the preserves taste a bit like pear preserves.
Mike spent several more hours working on the distribution list problem. About half of the people on the distribution list are receiving it the others are not. The problem is within my software and how it is handling addresses. I am becoming a computer geek. At least as of today I know which addresses are NOT getting the travelogue. I tried a fix putting all of the "problem addresses" into another distribution list and modified it then sent travelogue # 7 to them. I had already sent it to everyone but now know that these did not receive it. Saturday we will make a trip into town and see if we can bum a modem connection. I have been using the Chamber of Commerce but they will be closed on Saturday. There is a private RV-Park in town that advertises modem connection in the office. That is where I will start begging. We met a man in town for the "Texas Star Party" that was staying at that park. He liked it because of the modem connection, laundry, and location since it was in downtown Fort Davis. He could easily walk to everything in town.
Saturday, May 19, 2001 Davis Mountain State Park Davis Mountain, TX
This was another relaxing day for us. We went into Fort Davis to piddle. Joyce spent several hours visiting all of the little shops. Mike sent e-mail. I have been having such a terrible time with my distribution list not sending the travelogue to about a third of the addresses on the list. At first I could not tell who was getting it and who was not. Finally, I realized who was getting it and who was not. I made another distribution list yesterday that contained all of the addresses that had not been receiving the travelogue. This morning I was sending travelogue #7 to those that had not received it when I sent it the first time. I did not get an error message this time. Halleluiah!!!! At last! When the new distribution list appeared to work properly I went back to the Saturn and copied travelogues #4, #5 & #6 to the new distribution list. Then it was time to return to the modem hookup and actually send them. With that accomplished it was time to join Joyce in "looking" at stuff in shops. Where is my good friend Less when I need him?
Let me take this opportunity to give a plug for my modem connection. The Butterfield Inn and gift shop will let you use their phone line to download e-mail. They have a good gift shop and a nice motel. They also have homemade fudge. I can't say enough good things about this establishment. They are wonderful.
Friday and Saturday were also utilized to read up on what to see and do in and around Big Bend National Park where we are headed Monday morning. Having familiarized ourselves with what we wanted to see and do we turned our attention again to the book on Texas Roadside Geology. We even purchased another Roadside Geology of Big Bend National Park book that has a color picture and identifies the mile marker of each geological phenomenon they are explaining. How we wish that we had two good friends with us Barbara Reynolds and Suzie Kisner. They are/were both excellent dedicated middle school science teachers. Without them along we are relying on the Roadside Geology books to interpret what we are seeing.
How many of you remember studying the three main classes of rocks? They are the igneous, metamorphic and sedimentary. Igneous rocks are solidified from molten material or magma. Metamorphic rock forms from pre-existing rock by changes in temperature or pressure. Sedimentary rocks are consolidated layers of sediment. In the Hill Country we mostly saw sedimentary limestone formed when the area was a shallow ocean. Fossilized seashells are evident throughout this limestone. In the Davis Mountains we are seeing where ancient volcanoes erupted with a layer of ash on top of the sedimentary limestone followed by hot magma flowing over the ash. When the hot magma flowed over existing rocks the heat caused changes in the existing rock creating a small layer of metamorphic rocks.
Another neat thing we are seeing is where volcanoes "punched through" the sedimentary limestone covering the area creating "intrusive rock" (igneous rock emplaced into other, pre-existing rock). The igneous rock (formed from molten magma) is harder than the sedimentary limestone thus erosion wears away the limestone exposing the igneous rocks on mountaintops.
Why didn't I study this hard in school? Actually, I did study in the science classes it was the English classes I slept through.
Sunday, May 20, 2001 Davis Mountain State Park Davis Mountain, TX
This was another day of sleeping late, reading and going to church with friends. Last night we wandered over and spent several hours fellowshipping with the friends we had viewed the Marfa Mystery Lights with. It seems that all of us had located the Baptist church in Fort Davis and were intending to attend the 11:00 worship service. We laughed that with this many visitors we will outnumber the congregation.
Worship Service at the First Baptist Church of Fort Davis, Texas was great. We sat with our friends. For the most part it was a normal Baptist worship experience with the exception of the female Minister of Music. I am not so sure about these conservatives letting a female be Minister of anything. Possibly they are bending. They did not have a choir whereas most Baptist Churches have at least a few in the choir loft. I did notice that the crusty old ranchers were singing like songbirds. That made up for not having a choir. Today was Senior recognition day for the ONE and only senior graduating from high school. He was from the town of Marfa 21 miles south of Fort Davis. Life in small town, small church America is so different that big city, big church life. First Baptist Church of Pensacola where we are members will have 35 to 40 seniors recognized on senior recognition day. Their total Sunday School attendance was 60 today. Some times our Sunday School class has 60 in attendance. We are so different yet so much the same, we all love the Lord. The pastor was excellent. His sermon was from 1 Samuel 23: 1-14. It had to do with whether we ask the Lords guidance before we make decisions. David did. Why don't we? Good question. Especially when we sing the song "Wherever He Leads, I'll Go". How are we going to know which way he wants us to go if we are not asking? The preacher was powerful.
The congregation was warm. Many greeted us. It was a truly wonderful experience.
After church we joined our friends for lunch at The Hotel Limpia Dining Room. It was an outstanding dinner and the price was right. For those of you not familiar with the area the Hotel Limpia is the "highfalutin" hotel in town, though there ain't much "highfalutin" about it.
We spent the rest of Sunday reading and telephoning parents and children. The only place in Fort Davis our cell phone would work was on the scenic overlook located inside the State Park. The scenic overlook towers above Fort Davis and the State Park and is a switchback riddled steep drive from our motorhome. We keep making this journey to the top in order to get one then the other.
Monday, May 21, 2001 Big Bend motor inn & RV-Park Study Butte, TX
We headed south on Texas 118 to Study Butte today. While on the way out we are spotted by our new friends (all 6 of them in the big Pick up truck). They come over to say by and wish us a good time. They were headed to Alpine for a morning outing. We stopped off at the Chamber of Commerce to download e-mail. It was at this time Mike realized the inverter (the electrical contraption that converts 12v battery power to 110 volts) was not working. It had been working up until just a few minutes ago because I had just used my back up camera as we left the State Park and I watch it on the TV, which runs on 110 volts. We reset every circuit breaker we could find both in the motorhome and on the inverter box all to no avail. We go ahead and download e-mail then head south to Alpine on our way to Study Butte. Troubleshooting electrical or any other problem is something that time will work with you on. I was thinking that I would think of something by the time we arrived in Alpine if not the cell phone would work and I would call Safari technical support and see what they recommend.
We stopped at the True Value Hardware store on the way into Alpine to get a hummingbird feeder and some cable fittings I needed to repair our auto-stop. While there our friends (all 6 of them in the big Pick up truck) drive up to see if we need help. Isn't it a small world? Aren't friends wonderful? Something tells me we will see them again somewhere in our travels.
After we filled up with diesel and propane Joyce went grocery shopping while I called Safari technical support. Before Joyce got in the front door Safari had told what the problem was. The inverter plugs into a 110-volt outlet located in the compartment. The outlet is a GFI outlet (Ground Fault Indicator or Interrupter). The red button in the center of a GFI outlet pops out like a circuit breaker if it senses a grounding problem and interrupts power to the outlet. For some reason it had popped and was easily reset with a push of that little red button. Things were going good for us this morning despite offering a challenge or two. I had been looking for a good hardware store for over a week and we had found one and fixed our small mechanical problem.
Before we head we filled up on propane. We only needed 12 gallons. This was a pleasant surprise since we have been gone for 50 days. The 80 miles from Alpine to Study Butte winds through grassland and brushy desert. It is accented by a succession of volcanic mountains. Then you descend into the mining towns of Study Butte and Terlingua.
Someone has purchased the town of Lajitas. This same someone has torn up the old RV-park and is constructing a new one. We had been warned of this and followed several people's advice to use the Big Bend Motor Inn in Study Butte as our RV-Park. We are happy with it since it comes with full hookup complete with 50amp service and cable TV. After settling in we got in the Saturn and headed into the National Park. Several friends have told us not to miss eating at the Lodge/restaurant in Chisos Basin inside the park and watching the sunset. The basin area provides glorious views of the sunset spreading across the desert through a "window" in the surrounding mountains. It is that break or window in the mountains that makes the breathtaking view of the sunset that we were able to enjoy while eating supper at the Lodge. We feel so blessed to have friends that would tell us to experience this. It was a 45-minute ride back and we did not arrive until 10:00.
Tuesday, May 22, 2001 Big Bend motor inn & RV-Park Study Butte, TX
We slept late, downloaded e-mail and made phone calls before heading out on scenic highway (Texas 170) to Presidio through Big Bend Ranch State Park. Texas Farm Road 170 is also called The River Road and El Camino Del Rio depending on who is speaking. National Geographic has proclaimed this stretch of the Texas FM-170 to be one of the most scenic highways in the United States. Many friends have told us not to miss this drive. Today was our day to do it.
We started in Study Butte pronounced "Stewdy Butte". This small town is located a short distance from the west entrance of Big Bend National Park. Approximately 4-miles down the road is the ghost town of Terlingua. It was the hub of a huge mercury mining area. Even though it is referred to as a ghost town some of the buildings are still occupied. Fifteen miles down the road is the Barton Warnock Environmental Education Center. This is a museum and desert garden operated by the Texas Parks and Wildlife Department. The museum and its displays were magnificent. We spent over two hours reading the displays and viewing a super video of the area. Their bookstore is the finest we have seen in the area. Barton Warnock is a MUST SEE when visiting the Big Bend.
Barton Warnock is on the outskirts of Lajitas. Lajitas never has been a "real" town, in that individuals always have owned it. Lajitas has just changed hands again. The permanent population is approximately 150 most of whom are involved in the tourism industry. We visited the landmark Lajitas Trading Post a business in continuous operation since the early 1800's. It stocks general merchandise and still serves people from both sides of the Rio Grande. The Trading Post is famous for one of its residents, Clay Henry, Jr., who happens to be a beer-drinking goat and the post's unofficial mayor. We viewed Clay Henry, Jr., and took his picture. I contemplated purchasing a beer for him then decided I was too cheap. A picture and story were good enough.
A quarter mile west of the Trading Post is a sign pointing to a parking area down by the river. We parked the Saturn there and walked to the river where a nice young man in a rowboat ferried us across the river. Once on the other side we had to walk several blocks up the gravel road to the SMALL town of Paso Lajitas, Chihuahua, Mexico. Yes we crossed the border between the two border towns like everyone else. We were heading across the river to eat lunch at the Dos Amigos. We had been told by locals to get #19. We were also told that if no one was in the restaurant that we should go next door where the cook lives. When we got there we walked through the restaurant asking if anyone was there. No answer! After a bit we went next door and got the cook. We were not disappointed. Number 19 turned out to be the Platillo Mexicano (I think it is Spanish for a lot of everything) that turned out to be 2-enchiladas, 1 flauta, 1 taco, 1 tostada, 1 chile relleno, 1 frijolesy arroz, a bowl of salsa and a bowl of HOT green pureed chile peppers. Joyce ordered three tacos then proceeded to eat half of my plate. I am not going to tell you what this cost because it was sinful. Outside the restaurant was a fenced area with several ostriches. Goats were running free and in fenced areas. We were in Mexico. What an experience. No one spoke any English. After eating we headed back to the rowboat and our ride back to the United States. The boat ride cost one dollar each for the round trip.
After eating we continued the trip to Presidio. Dramatic contrast is the predominant feature of the River Road. As you would suspect the road follows the sinuous Rio Grande to Presidio as it passes through colorful erosional features of limestone and volcanic rock. At times it follows the lush green floodplain then just as quickly it ascends to the top of canyons where the Rio Grande squeezes through narrow vertical walls. The entire drive is through the Chihuahuan desert and is studded with creosote bush, mesquite, ocotillo and myriad of cactus. Each bend in the road presents another awesome vista. One canyon climb was up a 15% grade then down another 15% grade on the other side. Signs warn everyone about this grade. RV's are advised not to try it. Crosses placed all along the road stand as mute testimony to those who tried and shouldn't have. A steady succession of cliffs, canyons and arroyos create exciting western vistas at every turn. Ever so often you get a glimpse of an old abandoned adobe structure and wonder about its past occupants.
Wednesday, May 23, 2001 Big Bend motor inn & RV-Park Study Butte, TX
If you are not familiar with the Big Bend you can to to this website:
http://www.virtualbigbend.com/new/window_basin.html
It should give you a good idea of what to expect from Big Bend NP.
Everything we have read says to take the scenic drive to Santa Elina Canyon in the early morning light. The Santa Elina Canyon drive is deep inside Big Bend National Park. The Rio Grand River has cut 1,500 feet through sheer rock creating Santa Elina Canyon. One side of the canyon is in the United States (Big Bend National Park, Texas) the other is in Mexico. In places the Rio Grande is compressed down to only 30 feet in width. We hiked the 1.7-mile trail back to the canyon. It was good exercise since the trail started at the river then ascended for about 600 feet before returning to the river again. At the end of the trail we were far enough back into the canyon where direct sunlight had a hard time penetrating. Only when the sun is high in the sky can it shine down on the river between the canyon walls.
We saw two coyotes today. Both were loping down the road about 6 hours apart. We still have not heard them at night.
Joyce and I think that the drive to Santa Elina Canyon is much more scenic than the River Road Drive from Study Butte to Presidio.
We also drove down to Rio Grande Village and checked out the campground area. It looks to be a nice enough place for birders in the spring. Other than birding and hiking I am not sure what one would do to occupy there time for very long. Joyce did not want to cross over into Mexico at Boquillas to eat supper so we headed back to the motorhome in Study Butte.
Mike & Joyce Hendrix
Until next time remember how good life is.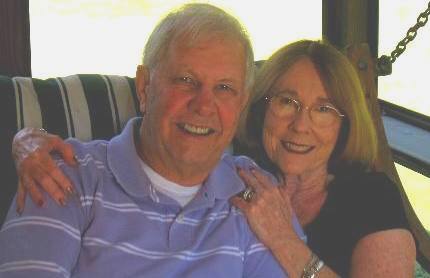 Mike & Joyce Hendrix who we are
We hope you liked this page. If you do you might be interested in some of our other Travel Adventures:
Mike & Joyce Hendrix's home page
Travel Adventures by Year ** Travel Adventures by State ** Plants ** Marine-Boats ** Geology ** Exciting Drives ** Cute Signs ** RV Subjects ** Miscellaneous Subjects
We would love to hear from you......just put "info" in the place of "FAKE" in this address: FAKE@travellogs.us
Until next time remember how good life is.