Sonora, Junction, Monahans, Balmorhea, Pecos & Ft. Davis
Places visited: Texas: Sonora, Junction, Monahans, Balmorhea, Pecos & Ft. Davis
Wednesday, May 9, 2001 South Llano River State Park Junction, TX 1-915-446-3994
This was our day to do something different. Neither of us is particularly interested in caves and caverns. However, the Caverns of Sonora are about 60-miles west of here and are acknowledged by experts to be "the most beautiful known cave in the world". We were not disappointed. It is privately owned and the owners are serious about protecting the cave and what is in it. Your tour group is limited to 12 so the group leader can watch everyone and make sure that no one touches anything. As we leisurely strolled with our guide we witnessed a subterranean wonderland filled with glittering, crystal-like stalagmites and stalactites. Sixty million years in the making, these delicate formations are still active and continue to change shape and size at their own unhurried pace. According to the National Speleological Society the Caverns of Sonora are "considered to be one of the most beautiful and unusual caves in the United States and are a stunning example of some of nature's most awe-inspiring creations. In addition to the cave they had six or so peacocks strutting around the premises as well as a group of barn swallows with nests under the eves of the main building, all things considered it is a pretty neat place.
For RV'ers traveling west on I-10 the cave is located about 6-miles south if you take exit-392. There is an RV Park at the caverns and plenty of parking. The rate for water and electricity was $13.00. They did not provide a dump station since they do not want it seeping into the cavern, a good idea, in my opinion. There is a dump station on I-10 at the rest area about a mile east of exit 392. So it does not make much difference. I mention this since it may be a good lunch stop or overnight opportunity for anyone passing through the area.
Texas, with over 1.1million goats, produces 92% of the country's mohair which translates into 42% of the world supply making Texas the greatest producer of mohair in the world. Sonora is proud of its title as the center of the world's mohair trade. The area around Sonora where the mild, dry climate and hilly, brushy terrain is particularly well suited for raising Angora goats due to their dry, mountain origin. Angora goats are named for the area around Ankara Turkey where they originated.
I am beginning to wonder about Texas "cowboys". We have seen few cattle in the past two weeks. I would think that Texas "goatboy" would be more appropriate. Goatboy, sounds like a geek in the 3rd grade so I suppose they will continue to call goat ranchers cowboys. Anyway, goats are endemic around here. They are going to have to import cows for the rodeo this weekend unless they are going to rope goats.
If you are into wool or textiles the historic Eldorado woolen mill established in 1939 is still working and offering tours. Eldorado is a few miles north of Sonora. You can observe how wool is processed from the raw fiber start to finish. The mill still creates those beautiful long lasting blankets of the past.
In the park there are hundreds and hundreds of black chinned humming birds. Most of the campers have multiple humming bird feeders and all are filled. They all say they are putting out a quart of sugar water in each feeder each day. Folks it takes a lot of humming birds to drink a quart of sugar water each day. Some of these folks have five feeders. We are enjoying strolling around the park watching the humming birds, deer, turkeys, jackrabbits and cottontails. We hear some bob white quail but have not seen them yet. I am not sure that we will ever adjust to hearing turkeys gobble instead of roosters crow in the morning. It is really weird to hear them gobbling out your window at sunrise.
Thursday, May 10, 2001 South Llano River State Park Junction, TX 1-915-446-3994
What a beautiful day, the sun is shining, the turkeys are gobbling and the bobwhites are bob whiting. How can there be so many bob white's yet you never see one? There was an unbelievable cacophony of birdcalls this morning with bobwhites, turkeys and several unidentifieds competing for airtime.
We set out today to explore Junction, Texas. Junction is located at the confluence of the North and South Llano Rivers, thus the name Junction. We toured a local historical museum that had a good collection of frontier day's memorabilia. Junction appears to be the last of the real water for a while. Other towns to the west of us depend on wells I think. Sonora 60 miles west of Junction only has well water. In fact the town sprang up around a well. Water is precious in this area.
For RV'ers passing through the area, Junction is located about a half mile south of I-10 and has a variety of good eating establishments. The main street is very large (mostly 4 lane) and an easy drive for RV's. There is a city park on the east end of town at the foot of the big bridge. The city advertises that they have free overnight parking in the park. We investigated the park and found that they indeed do have plenty of space for RV's to park for the night right along the river. There is enough room on the pavement for 30 or 40 rigs to spend the night right on the river. We did not see any water or electricity although I am sure there was water available somewhere in the park. RV'ers looking for the park should stay on Main Street (both exits off I-10 take you down main street). The park is located on the northwest corner of the bridge so turn north at the bridge and work your way to the river. There are a number of ways to end up in the parking area and each is RV-friendly. Let me know if you stay there.
We visited a bird and game viewing station this afternoon. This is the first time we have done this so it was interesting. We were the only ones in this little house with a big picture window looking out over a constructed waterfall in an opening near several large oak trees. In addition to the oak trees there was heavy cover all around us. We were not there long before a group of six turkeys came walking down the trail and fed right in front of the viewing window. In addition to the turkeys there were a large variety of birds and a fox squirrel that entertained us for an hour or so.
Friday, May 11, 2001 South Llano River State Park Junction, TX 1-915-446-3994
There is a certain serendipity to the way today worked out. We were just relaxing at the park office watching multiple families of barn swallows swoop in and out feeding their young in nest under the porch roof. In addition the porch has several humming bird feeders with swarms of black chinned humming birds stopping to feed. The action is nonstop. The next thing we know a young lady drives up with binoculars draped around her neck and wants to know where to view birds. We offer to show her the bird blind we were in yesterday. Shortly after we arrived in the viewing station another lady arrived. The two ladies were expert birders and were able to identify bird after bird that stopped by to give us a view. Amazingly Joyce and I can now identify eight to ten birds that were unfamiliar to us a day or so ago.
One of the birders was so excited about the bat-watching excursion she had participated in a day earlier. She told us about Frio Cave 5-miles south of Concan, Texas. She said that the cave was on private property and cost $10.00. To make arrangements for the adventure you need to call Neal's Lodge. They meet you at the gate and take you to the cave where 17-million bats emerge at dark. She described how the seats were as close as you dared get to the mouth of the cave. She said they flew out within a foot or so of your face if you wanted to get that close. She watched them fly out from 8:30 until 9:30 and said that they were still pouring out when she left. We will try to work this in on our way back home in the Fall.
We went to the annual PCRA (Professional Cowboys Rodeo Association) Rodeo in Junction last night. It was a hoot. Back in Pensacola when we go to a rodeo all the city slickers are there in their "cowboy" outfits. Here they have real cowboys since that is all there is around here. Everyone is dressed in "blue" jeans (not any of the colored ones). Everyone had a long sleeve shirt on, except a handful of other tourist including us. Of course they also sport their cowboy hats and boots. Most men have a 2" diameter circle in their left rear jeans pocket where the ubiquitous can goes.
The clown had a mannequin with a Bill Clinton head that he propped up with a broomstick. The bulls would attack it and he would whoop and holler with some good jokes. When he first brought the Bill Clinton prop out he told the audience that he had a special guest with him tonight and that men probably better keep an eye on their daughters and wives and possibly their sheep and goats. The audience really responded when he uncovered the Bill Clinton head on the mannequin. The other good joke the clown came out with had to do with someone stealing all of the toilets from the local police station. The official report said that the "police have nothing to go on".
It is always interesting to pay attention to local radio announcers since they will give you a flavor of the areas mindset. Although this is a Republican stronghold the local radio shows have had fun poking fun at some Florida Republicans. Last Tuesday, while we were in Kerrville they had a local election. The voter turnout was light and the radio station was running a contest to see how they could increase the turnout. The winner was a caller who suggested that they invite Kathleen Harris "the Florida election lady" to give a makeup seminar at the voting hall. Then yesterday the radio was announcing that Florida Governor Jeb Bush had signed a law banning the voting machines that caused all of the problems in the Presidential election. Part of the new law also put a limit of 6 pounds of makeup on Kathleen Harris.
The town of Junction has about four of those old "mom & pop" motels that used to be along highways before interstates. One of them has a big sign out front with a really big sign that says "AMERICAN OWNED". This same motel also advertises heavily on the local radio station with the same "American Owned" message. The name on the motel is an obvious "European" sir name. Does this imply that the people of India or is it Pakistani decent, that seem to own and operate many of these "mom & pop" motels are not "Americans"? Anyone care to comment or clarify?
After the rodeo we went to a dance the pavilion next door. We had a good time but were told that the "big" dance was Saturday night and we should not miss it. We noticed a couple about our age and when we approached them learned that they are from Houston and building a ranch home in Junction. They were enjoying the dance as much as we were.
Saturday, May 12, 2001 South Llano River State Park Junction, TX 1-915-446-3994
What a great day to be alive! Amen!
After a big night last night at the rodeo and dance we slept late this morning. Turkeys woke us this morning gobbling outside our window. Once the kids camping in the park over the weekend woke up and started running up and down the streets we were able to get back to sleep. The turkeys moved for cover when the kids started moving. We had saved today for Irma's. Irma's is a restaurant in Junction that all the locals rave about. It is a bakery and lunch place. They make a hamburger on a fresh baked specialty bun that is hard for two adults to eat. The hamburger is what we had been told to order and split between us. It was good advice. A group of young cowboys in town for the rodeo was sitting at the table next to us. They each took half of their hamburger out in a bag laughing that they were just not man enough to eat the whole thing. The cowboys were also raving about some of the pastries. We thought it odd that cowboys were raving about pastries so Joyce purchased some to see if their taste were as epicure as Mrs. cognoscente. If in Junction Irma's (1907 & ½ Main Street) is highly recommended. One of the boys T-shirt had the following message: "If winning ain't everything hold my BUCKLE while I kiss your girlfriend". Texans are proud of their belt buckles and rodeo buckles obviously have special respect.
After eating we stopped by Jeff's Taxidermy & Guide Service to view his show room at 1501 Main Street. Jeff is a very personable young man and an excellent taxidermist. His show room is filled with exotics hunted in the area. After spending time with Jeff we can now identify the Axis deer, Aoudad, Blackbuck Antelope, Fallow deer, Sika deer, Red Stag, Catalina Goat, Ibex Goat (hybrid), Mouflon sheep, Corsican sheep, Black Hawaiian, 4-horn sheep, Wart Hog, wild boar, Buffalo, Eland, Wahatusi Bull, Scimitar Horned Oryx, Red sheep and Texas Whitetail Dall. Of course Jeff had plenty of plain old turkey and Texas Whitetail deer. Jeff explained to us that Texas actually had more of these exotics than the countries they originated in. One of them has actually been imported back into its native country from Texas in a restocking program. Several are actually endangered in their original homeland but are thriving on the game ranches of Texas. Although this is not an advertised tourist shop it should be. What a showroom Jeff has. If you are looking for a guide service for any of the exotics listed above Jeff is the man to put you in contact with the guide and or ranch specializing in one of the above plus others that may not have been on display. You can reach Jeff at 915-446-4252 or mailto:jeffstax@swtexas.net or www.huntinfo.com/diamondback.
Sunday, May 13, 2001 Monahans Sandhills State Park Monahans, TX 915-934-2092
After a big time at the rodeo and dance afterwards we slept late this morning to recuperate. Since our time in South Llano State Park was up we pushed west on I-10 all the way to Fort Stockton before turning north on Texas 18 to Monahans, Texas and Monahans Sandhills State Park. We have read much about this park and what it has to offer.
Our trip consisted of 205 miles on I-10 with only three towns of any size Sonora, Ozona and Fort Stockton. These towns have populations of around 3,000 each so the 205 miles along this strip of I-10 is sparsely populated. Ozona, with a population of 3,460 sitting at an altitude of 2,348 feet has the distinction of being the only town in the entire county. The county is one of the nation's top wool producers with more than 2,000,000 pounds marketed annually. Ranching and oil is their livelihood. Once in Fort Stockton we turned north on Texas 18 for another 56 miles to get to Monahans Sandhills State Park.
We could have just driven down I-10 oblivious to what we were passing but we wanted to make this trip a learning experience. Several friends of our suggested that we purchase "Roadside Geology of Texas" a book that describes different Geology you view driving Texas roads. It is an excellent book to give regular people with just a passing interest in geology just enough information to make it interesting. When reading the section of Roadside Geology that takes us on I-10 from Junction to Fort Stockton there were a number of terms that we needed to learn they are as follows:
Mesa:/Butte: A hill that rises abruptly from the surrounding area and has sloping sides and flat top. Buttes never have had trees on them, while mesas have had or still have trees on them.
Draw: Another word for arroyo: A dry gully or a rivlet: stream
Arroyo: A dry gully.
With that out of the way I can began to describe topography along the stretch of I-10 we were traveling. I-10 follows the Old Spanish Trail that started in San Antonio then through Bandera and Sonora as it made its way to San Diego. Remember that the Old Spanish Trail was used in the 1500's and 1600's by Spanish explorers and Native Americans before the Anglos started settling the area in the mid 1800's. This area we passed through today is real west Texas desert country where they only get about 14" of rain each year compared to 30" in the San Antonio area. According to Roadside Geology of Texas the limestone rocks that form the Hill Country and this area are the same. The Hill Country has rounded mountains where as this area has sharp edge mesas and buttes. The difference is the amount of rainfall. Rain creates the only erosion thus this area has not received nearly the erosion that the Hill Country has experienced. Since we had read the Roadside Geology book we knew what to expect and look for as we traveled west. How exciting to watch for the different things and actually have a basic understanding of what we are seeing. Today's topography changed from the western edge of Texas Hill country where there were permanent rivers to west Texas desert. Shrubs north of Fort Stockton are only waist high. The rounded hills have given way to mesas and buttes. When we exited I-10 at Fort Stockton and headed north on Texas 18 we lost the hills and mesas. The land was flat and the vegetation was mostly only knee high. We were transversing the Pecos River Valley. While on Texas 18 we did cross over the Pecos River. Back east the Pecos River would hardly classify as a creek. The part we crossed over could almost be jumped across without getting your feet wet.
We spent the night in Monahans Sandhills State Park. The park consists of 3,840 acres of sand dunes up to 70 feet high and is part of a dune field that extends about 200 miles south of Monahans and north into New Mexico. Some of the dunes are stabilized by vegetation, grow and change shape with prevailing winds. Walking the roads through the park and viewing the dunes from the roads made us think of sand dunes along coastal beaches. Much of the vegetation looks similar. However, when we climbed to the top of the dunes that did not have any vegetation the view looked like those desert movies of the Sahara Desert. The dunes are so different from the flat scrub desert area of the Pecos River Valley we transversed to get here. In just a few short hours at Monahans we had experienced as much of Sand dunes as we wanted to.
Monday, May 14, 2001 Balmorhea State Park Balmorhea, TX 915-375-2370
We traveled about 90 miles to the southwest today. First we traveled 42 miles to the southwest on I-20 reaching the town of Pecos where we intended to spend time in their Museum. When we arrived the museum was closed in spite of advertising that said they were open on Mondays. Oh well, we could tell it was a good museum but we will miss it this trip. Around the corner from the museum was a tamale shop that another RV'er had said was so good that people drove from near by towns to get the tamales. We had planned to order one tamale each. Tamales in his place were not sold individually so our choice was between a dozen and a half dozen. We chose the half dozen. They were good and we recommend them. Real Mexican Tamales, what an experience.
>From Pecos we headed south on Texas 17 through the Pecos River Valley. It was as flat an area as we have ever seen. Pecos is known for oil, gunfighters and cantaloupes. Pecos cantaloupes are grown in irrigated fields and are the delight of gourmets throughout the United States. Their exceptional taste derives from the combination of alkali soil, desert sunlight and altitude. These cantaloupes enjoy comparable status with Maine lobsters and Georgia peaches.
One of the famous gunfighters of Pecos was Clay Allison the "Gentlemen Gunfighter". It was said he earned the title because he "never killed a man who didn't need killing." Clay was a Confederate spy that got captured but he escaped by slipping his unusually small hands through the manacles. Small or not, Clay Allison's hands were adept enough with a six-shooter to outdraw and kill 20 men. He died when he was pitched off his wagon and crushed under the wheels. They disagree whether or not he was sober. His grave is in the park area downtown.
Texas 17 south of Pecos traverses flat sand and gravel deposits laid down during the Ice Ages by streams flowing out of New Mexico highlands to the north. Talk about flat land this is it. All along the road are the fields where they grow the cantaloupe. Our destination is Balmorhea State Park a few miles south of I-10.
Balmorhea State Park preserves a unique oasis in the desert. San Solomon Springs has provided water for travelers for thousands of years. Artifacts indicate Indians used the spring extensively before white men came to the area. The park's main attraction is a large (77,053 sq. ft.) artesian spring pool that is open daily and fed by San Solomon Springs. The springs also fill a cienega (desert wetland) and the canals of a refugium for a wide variety of endangered species. The pool differs from most public pools in that it is 1 & _ acres in size, 25' deep, has a constant temperature of 72 to 76 degrees, and no chemicals are added. The 875 thousand gallons of water that flow into the spring each hour completely change the water in the pool every 4 hours. Scuba divers as well as swimmers enjoy the 3 & ½ million-gallon pool.
This park, like most, Texas State Parks is full of wildlife. Shortly after arriving a roadrunner came scampering down the road right in front of our RV. Later we saw our first spotted ground squirrel. All kinds of orioles and flycatchers inhabit the cottonwood trees around the pool and cienega. We witnessed a spectacular sunset then watched over 250 bats emerge from a picnic tables Spanish terracotta roof. We missed the javelinas that come to a certain part of the park to feed every night at dusk. Oh well we can not fit everything in. Ain't life tough?
Tuesday, May 15, 2001 Davis Mountain State Park Davis Mountain, TX
We are still in flat land with mountains just a few miles to the south and west of us. While we are at an altitude of 3,320 feet Balmorhea State Park is located at the base of these sizable mountains. Today we are heading to Fort Davis to stay at Fort Davis State Park. From there we plan to do day trips to Marfa, Alpine, Fort Davis and Marathon. All are located within 40 miles. We are traveling south on Texas 17 as it follows the old overland trail or Old Spanish Trail. This part of the trail was established in the late 1840's. When Anglos were looking for a route to California they followed the Old Spanish Trail. Once at the Pecos River a decision had to be made on how to get past the Davis Mountains. There was a northern route and a southern route. These parted around the Pecos River and joined again near El Paso. I-10 more or less follows the northern route. We were following the southern route to Fort Davis. From Fort Davis the southern overland route turns west as it passes the southern end of the Davis Mountains.
In Fort Davis we toured the "Overland Trail" museum. The museum itself was good but the man operating it was great. He explained to us that the overland trail mail system utilized mules instead of horses because of their stamina. Mules could go 10 miles between water stops. Horses could barely make 8 miles. Mules were changed every 50 miles. Buckboard wagons traversed the road instead of the larger 2,000-pound wagons. Buckboards were all animal power could manage. The city of Fort Davis has the longest unpaved stretch (1.7miles) of the Overland Road still in use. This unpaved section of the Overland Road is lined with many original adobe structures dating to the 1870's, most of which are still in use. The city of Fort Davis sits at an altitude of 5,000 feet and is the highest town in Texas. Highway 118 heading west out of Fort Davis is the highest paved road east of the Rocky Mountains. The town of Fort Davis sprang up to support the Army Fort that was established to protect California gold seekers and migrating settlers traveling the road from bandit attacks and Indian raids. Fort Davis was an important outpost until railroads replaced stagecoaches and the military mission ceased to exist. Fort Davis was closed in 1891.
In Fort Davis State Park we took skyline drive up to the scenic overlook above the RV-Park. From the vantage point at the scenic overlook it appears you can see forever, especially across the flat plain that stretches to the south. We could see an enormous building in the distance. We asked the man in the Overland Trail Museum what it was and he explained that it was a 40-acre indoor, hydra phonic tomato farm with a tempered glass roof. He said that there was an almost identical building that grew flowers of some kind out to the southeast.
Mike & Joyce Hendrix
Until next time remember how good life is.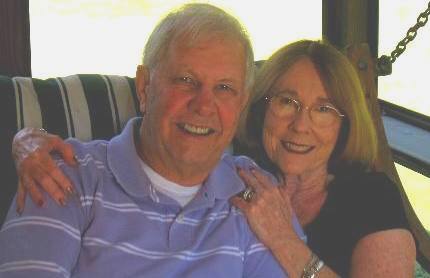 Mike & Joyce Hendrix who we are
We hope you liked this page. If you do you might be interested in some of our other Travel Adventures:
Mike & Joyce Hendrix's home page
Travel Adventures by Year ** Travel Adventures by State ** Plants ** Marine-Boats ** Geology ** Exciting Drives ** Cute Signs ** RV Subjects ** Miscellaneous Subjects
We would love to hear from you......just put "info" in the place of "FAKE" in this address: FAKE@travellogs.us
Until next time remember how good life is.