Kerrville, Bandera, Hunt, Medina, Vanderpool & Junction
Places visited: Texas: Kerrville, Bandera, Hunt, Medina, Vanderpool & Junction
Thursday, May 3, 2001 Kerrville-Schreiner State Park Kerrville, TX
Thursday was set aside as a sightseeing day. We headed out in the Saturn to drive the scenic loop suggested by several locals including the couple we ate lunch with at First Baptist in Fredericksburg, Texas last week. The scenic drive went west out of Kerrville on Texas 27 to Ingram then Texas 39 to Hunt then 21 miles to the southwest following the South Fork of the Guadalupe River to Ranch Road 187 south to Vanderpool then east on Texas 337 to Medina and finally Texas 16 north back to Kerrville. This was a scenic drive encompassing arroyos, craggy canyons, summit assents, myriad river crossings, ridge rides, switchbacks, majestic vistas ranging in elevation from 1,400 to 2,150 feet above sea level and multiple exotic game ranches complete with African and Australian game animals in abundance not to mention the ubiquitous North American white tail deer and native turkey. Cypress trees are a familiar sight winding through the valleys as they line the riverbanks with their magnificent canopy. We passed one particular cypress tree with a circumference in excess of 20 feet today. What a remarkable tree. Along the way we visited Lost Maples State Park a canyon featuring the largest maple forest in Texas. We did not see more than 20 cars in the entire 80-mile ride. Unbelievable!
Friday, May 4, 2001 Kerrville-Schreiner State Park Kerrville, TX
We took in the Riverside Nature Center in downtown Kerrville then headed to the YO Ranch Hotel and Convention Center. We were told that the lobby of this Hotel/Convention Center was spectacular and should not be missed. The lobby did not disappoint us; it was a splendid display of big game animals and western artifacts. The game animals were particularly awesome. While there we ate lunch. Joyce has bagged me with another fancy restaurant complete with cloth napkins and tablecloths. J Oh no! It was Mike that wanted to eat in this one!
Friday nights are supposed to swing in Bandera, the cowboy capital of the world. We ate dinner at the Cabaret Dance Hall, which is Texas 2nd oldest dance hall. Their entertainment for the night was not that hot so we moved to the Silver Dollar Bar down the street. What a hoot. We got a taste of true cowboy Texas in this place. It was PURE TEXAS. What more can I say, we wanted to experience it and we have. It was only one step above Luckenback; certainly nothing has changed inside this place since the early 1900's.
On Saturday nights the Cabaret Dance Hall usually has a noted Texas band. These bands are one step below being national names. If you are in the area and are interested in watching some up and coming country group you might give them a call at 803-796-8166 to see what is scheduled for Friday and Saturday nights.
Saturday, May 5, 2001. Kerrville-Schreiner State Park Kerrville, TX
We took another 160-mile scenic drive today. More scenic vistas and tons of wildlife were the order of the day. Deep, enfolding canyons, pattering streams, high mesas and curving cliff walls of limestone are just a sample of this intriguing terrain. We saw a tom turkey that strutted on the side of the road long enough for us to stop and video it. There are so many wild game ranches with exotic species out here that the exotics actually run wild. Just riding down the road you can expect to see a variety of African antelope scamper across the street. When we stopped to watch deer, antelope, emus or whatever there was almost always a meadowlark sitting on a fence post singing his heart out. Once reaching Vanderpool we decided to turn north for a few miles and visit Lost Maples State Park again. This time we noticed the humming bird feeders. Black chinned hummingbirds were as thick as honeybees around the feeders. The ranger told us that they had to fill the quart feeders every day. Several miles south of Lost Maples State Park is a country store that had several hummingbird feeders hanging under two huge live oak trees. The Black chinned hummingbirds were unbelievable at these feeders literally hundreds of them were buzzing around.
There must be eight or ten different variety of deer running loose in the countryside. They vary in size from small to large. The area is also loaded with the large axis deer or red deer. I cannot tell the difference but they are dark in color and about the size of a normal horse. We stopped and talked to a rancher who told us that exotics were all over and that wild emus were as common as feral hogs. We stopped in Medina at Love Creek Orchards Cider Mill, Country Store and Bakery. Medina is the apple capital of Texas and Love Creek Orchards was the "Gift shop Extraordinaire". Joyce remarked that this place had "Macklyn" all over it. (Please excuse us if you are one of the readers that do not know Macklyn) Besides all kinds of cutesy "stuff" they were producing pastries that one would imagine being available in apple country. Medina claims to have a "micro climate" that enables them to leave apples on the tree until they are ripe thus producing apples with 40% more sugar than store purchased apples. Of course we ate apple strudel and had some apple cider before continuing our journey.
Along the way we stopped in Bandera to eat at the O.S.T (Old Spanish Trail) restaurant, the Old Spanish Trail refers to a famous route started by missionaries and used by Spanish explorers and settlers that ran through Bandera. Back in the 30's and 40's the O.S.T. restaurant was also a dance hall. They display a variety of interesting decor including wagon wheel chandeliers, trophy elk, and a display of spurs, Texas longhorns and a saddle bar you can belly up to and have a meal. The saddle bar is the most unique, it consist of saddles mounted where you would usually find bar stools. What a hoot. I tried to get Joyce to "belly up" to the bar on one of those saddles. She just laughed and gave me one of those looks. Hey guys, you know the "LOOK" don't you. Go strait ---And do not pass go!!!!! You know the one!
For those of you planning to visit the Kerrville Bandera area and looking for the most exciting drive we would suggest the drive between Medina and Vanderpool on 337 as the one having the most diverse wildlife. However, if you have more time you should consider the "loop" starting in Kerrville west on 27 to Hunt then follow the river to Vanderpool (39 & 187) then east to Medina on 337 and north to Kerrville on 16.
Sunday, May 6, 2001 Kerrville-Schreiner State Park Kerrville, TX
We got up early and went to the First Baptist Church of Kerrville's contemporary worship service. We did not meet anyone and cannot remember what the message was about.
New neighbors moved in next to us today. They are from Houston and spend a week in Kerrville-Schreiner State Park every year. They love the wildlife in the park. In fact they love it so much that they say they feed the deer over 600 pounds of corn during the week they are here. This is in addition to several hundred pounds of wild birdseed and what looks to be a 100-pound bag of peanuts. The peanuts are special for the scrub jays. She says the wild birdseed is for the doves (morning, white wing and Inca) and quail. She also has several humming bird feeders. The deer that were with us earlier in the week hid during the weekend when the park was full of barking dogs and children running wild. Most of the weekenders headed out shortly after noon so things calmed down and the deer and other wildlife have discovered the bonanza next to us. We can sit in our motorhome and watch a zoo stop by.
During our afternoon walk we spotted our first jackrabbit. Their ears are SO BIG and pink with black tips. They are so much larger than the eastern cottontail.
Monday, May 7, 2001 Kerrville-Schreiner State Park Kerrville, TX
We decided on another 170-mile scenic drive today. Our route today was to the west of Kerrville where we spent most of the day riding on top of the Edwards plateau. This area is more arid than the land at the bottom of the plateau. Although we were only a few miles west of where we have been doing our sightseeing the terrain and topography were markedly different. Most ranches in the area have a combination of cattle, goats and sheep, and in addition to that mixture approximately 50% have exotics. We continue to be amazed at what kind of creature we will see next. No we have not seen an elephant but if one were in the middle of the road it would not seem out of place. Everything else you see on the Discovery Channel seems to be roaming the area. On top of the plateau there were more arroyos and fewer streams. The few creeks were small and obviously feed the larger rivers like the Guadalupe, Pedernales, Frio and Medina. If you are in the area of Garner State Park or South Llano State Park you should seriously consider a sightseeing trip encompassing Ranch 335 and Ranch 336. Some locals told us that this drive was considered to be one of the top three motorcycle rides in the country. We can believe it. It is totally up and down gripping the side of every canyon in the area.
Tuesday, May 8, 2001 South Llano River State Park Junction, TX 1-915-446-3994
We moved 62 miles west to South Llano River State Park in Junction, Texas this morning. It was an easy ride on I-10. We usually do not like to travel on the interstates but I-10 was the only practical way to get to Junction. I-10 did not have much traffic on it today. In fact it was like a leisurely drive in the country. The attraction at South Llano River State Park is turkeys. During the winter the park is a roost for over 800 turkeys. Once spring arrives most of them spread out in the Hill Country. The State acquired the property knowing that it has been a traditional roosting place for Hill Country turkeys for generations. The park is located on river bottomland along the South Llano River. The bottomland is forested in five or six hundred acres of mature wild pecan trees. In addition to the pecan trees there is a variety of pastureland with tall grasses and flowers. The State Park does not allow visitors during the winter when the turkeys are concentrated on the roost according to park literature. We did not get to see 800 turkeys today but we did see our share. They just roam the park like doves and sparrows. The park is also home to jack rabbits and cottontails.
Mike & Joyce Hendrix
Until next time remember how good life is.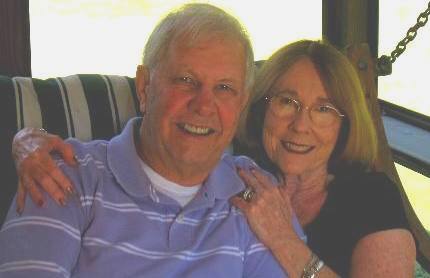 Mike & Joyce Hendrix who we are
We hope you liked this page. If you do you might be interested in some of our other Travel Adventures:
Mike & Joyce Hendrix's home page
Travel Adventures by Year ** Travel Adventures by State ** Plants ** Marine-Boats ** Geology ** Exciting Drives ** Cute Signs ** RV Subjects ** Miscellaneous Subjects
We would love to hear from you......just put "info" in the place of "FAKE" in this address: FAKE@travellogs.us
Until next time remember how good life is.