Fredericksburg, Blanco, Luckenbach & Kerrville, Texas
Places visited: Fredericksburg, Blanco, Luckenbach & Kerrville, Texas.
Thursday, April 26, 2001
I called Delorme the manufacturer of my GPS receiver this morning. If I send them my broken GPS they will ship me a NEW one for $75 plus shipping. We packaged up the broken one and sent it off. Sometime next week I will have to provide them with an address for them to ship me a new one. Providing an address where we will be in a week or so will be a challenge.
Although we have not discussed traveling with GPS and a laptop with Street Atlas 8.0 (SA8) software it is time to do so. GPS with SA8 is as addicting as air-conditioning. Knowing exactly where you are at any given time is totally awesome. Equally as awesome is the ability to have at your disposal a map of every street and cow path in the United States at your fingertips. Most promotional literature will provide an address. All Joyce has to do is type in the address and the "find" feature will mark the location on the map with a colored star. There are so many uses for the GPS and SA8 that we will feel lost until our unit is back with us.
We drove to Fredericksburg today. On the way we stopped by Luckenbach, Texas. Luckenbach remains, as it always has been --- one unpainted general store that also serves as a beer tavern, and a traditional rural dance hall. That is all there is, there ain't no more. None of the buildings have ever had a coat of paint applied. If you are wondering where you have heard of Luckenbach it is the subject of an enormously popular country-western song by Willie Nelson and Waylon Jennings that made the name known virtually worldwide. (Some of you won't even know who Willie and Waylon are and as such will probably not remember the song----- your loss) Luckenbach was hard for us to find since the GPS was inoperative and souvenir thieves swipe the road signs as fast as they can be replaced. When we visited three cowboys were picking guitars and singing. Each sang while the others played along. They were really good. We understand that Sunday afternoons usually find impromptu groups of musicians performing underneath the huge live oaks.
In Fredericksburg we found an RV-Park for this weekend, mailed the GPS, toured a Pioneer Museum Complex, and strolled through Schwettmann's emporium, ate lunch, and visited Wal-Mart where we used our Debit Card to get some cash. The Pioneer Museum Complex featured an original 1849 house the first settlers in Fredericksburg built. The same family occupied the structure consistently from 1849 until the 1940's. Of course the original limestone building was added on to many times. A wooden floor was added to the original buildings dirt floor. The stone floors used in the construction of other rooms still remain. One building detailed the construction of the old wooden wagon wheels. I was amazed that the "hub" was seasoned with the bark on for 2 to 8 years. The oak spokes were seasoned for 8 years. All kinds of specialized equipment is involved in constructing a wagon wheel. After completion of the wooden part the wheel it is delivered to the blacksmith to have the steel tire attached. It absolutely amazes me that those wagons had wooden spindles that the wooden hub rotated around. How on earth did they keep them lubricated? How did they keep abrasive sand and grit out? How long did the wooden hub last?
The Pioneer Museum Complex includes the Kammiah family home and store, a smokehouse, blacksmith shop, log cabin, schoolhouse and other out buildings. One of the most interesting outbuilding is the Sunday house. These spare cottages were built in town and the farmers used them on weekends when they came to attend church.
Schwettmann's emporium was in my opinion an eclectic assortment of items destined to festoon the walls of some posh restaurant.
The influence of early Germans can be seen in the town's neatly maintained buildings and homes, and in the tender, yeasty breads and confections produced at a variety of Main Street bakeries.
Once back at Blanco State Park for the night we met our neighbors who we had sat next to while listening to the guitar pickers in Luckenbach. It turns out they were former members of Park Cities Baptist Church in Dallas, Texas. It was nice reminiscing about Jim & Margaret Ann Pleitz, Paul Royal and Clyde Bizzell. One funny thing he told us is that the big shot that replaced Pleitz did not last long; he just was not pastor enough to fill those big shoes. I told him that the shoes had not been filled back in Pensacola either. It was a good conversation about some wonderful people. For those of you reading the travelogue that do not belong to First Baptist Church in Pensacola, Florida the above will not mean much to you as the individuals were Pastor and staff members that moved from Pensacola to Dallas years 25 or so years ago.
Friday, April 27, 2001
Mike has a terrible sinus infection that is going to require antibiotics. This is our first attempt to get medical attention on the road and we were both a bit apprehensive about what to do first. However, it turned out to be as easy as pie. We called my personal Physician back in Pensacola and he called in an antibiotic to the Wall-Mart in Fredericksburg.
While in Fredericksburg Mike dropped Joyce off in the Main Street shopping district to go wild while Mike went off to get a haircut and get the car gassed. How is that for a good way to kill and hour or so? Joyce has been in every shop on Main Street and has taken me back to the "good ones" (you guys know what those are). Less, I needed you to accompany Joyce for me. While holding down a bench outside one store I remarked to the man next to me that Joyce was just looking because we were in a motorhome and if we purchased anything we had to dispose of something. He grinned at me and said, "partner I got you beat, my better half and I are on that Gold Wing". For those of you that do not recognize what a "Gold Wing" is the best I can do to describe it is a $25,000 or more Harley Davidson motorcycle. They were from Amarillo, 7 hours to the northwest, and were touring the Hill Country staying in B&B's. He told me they left their motorhome at home for this trip. They enjoyed riding down country roads with the wind in their faces enjoying the flowers and scenery. As the couple got on the Gold Wing and puttered off I though it would be a COLD day in Texas before Joyce got on the back of a motorcycle for a 7 hour drive with me.
One of the unique things about touring the country in a motorhome is the inability to collect cute knickknacks. We have both seen things that we really liked and normally would have purchased and taken home. However, we have weighed our motorhome fully loaded and are keeping our weigh under the maximum allowable. Therefore when one of us sees something that we really want the other one always smiles and says, "What are your throwing out?" It is a cute saying but very realistic. We are both getting good at just telling each other how much we like the item, spending a few moments admiring it, then moving on.
We both visited and toured a wildflower seed farm. This place was MUCH more than a wildflower seed farm. They had multiple large buildings selling Texas souvenirs all the way from Rocks to wine. Several busloads of older citizens were grabbing everything in sight. Outside two men were preparing a chuck-wagon meal over an open fire. They were baking pies in Dutch ovens, beans in 5-gallon cast iron pots, potatoes for potato salad and a variety of other things including brisket and sausage. Mike watched the cooks prepare for feeding several hundred guests over the open fire. It was interesting to say the least. In addition to seeds the farm grew fresh cut flowers for arrangements.
Back at the motorhome Mike is running a temperature of 101.6. I am very thankful that Joyce persuaded me to call Dr. Whibbs this morning. Since this is Friday I would not have gotten him until mid-day Monday.
E-mail has been easy to download at Blanco State Park this week. Why can't it always be this easy?
Joyce is getting a cult following. Half of the e-mail received today encouraged Joyce to never cook again. Many extolled her with "Go Girl" and other encouragement. Trust me folks, Joyce does not need encouragement to drop cooking from her list of possible things to do or think about. So feel free to encourage her all you want. It certainly won't affect me more than a couple of times in the next year.
It can't get any better than this, can it?
Saturday, April 28, 2001 Fredericksburg RV Park 305 E. Highway St. Fredericksburg, TX 78624
It is Saturday in the Hill Country so we are out of the State Parks once again. It seems that the State Parks especially in the Hill Country are enormously popular places and reservations are made far in advance. However, weekdays are wide open. We would have stayed at the Lady Bird City Park in Fredericksburg but they were full to overflowing with a wood carvers group. To be accommodating they had allowed some of them to double up on spaces. I think he said they had 190 spaces and 220 RV's with some sharing spaces. Hill Country RV Park right next to Wal-Mart was full but had a sign saying that they had no hook-up spaces available. We did not ask price of the no hook up. Full hook-up there was $14 while we are paying $23 and Lady Bird was $18. Lady Bird had mature shade while the others did not. To us Lady Bird would be our choice since we do not require the amenities that the more expensive private parks charge you for. We just appreciate water and electricity although it is not necessary all day every day since we are completely self contained.
The trip from Blanco was an easy 45-mile trip over beautiful country roads in the motorhome. After getting set up in the Fredericksburg RV Park we set off to see the Fredericksburg Butterfly Ranch & Habitat. This was a pretty neat place. They had a fairly large screened in flying room with a good variety of Texas butterflies represented. Throughout the enclosure were 3 to 5 gallon pots containing host plants (host plants are the ones that butterflies lay their eggs on and the emerging caterpillar feeds on). After a day or so in the screened room the host plants are covered with a fine mesh and moved to another house. This house is where the caterpillars feed (devouring the foliage on the host plant). Caterpillars are voracious eaters consuming a thousand times their body weight during the 2 weeks they are in the caterpillar stage. Once the caterpillars form pupas' workers move them to hatching - viewing display cases. Surprisingly this exhibit was attracting mostly adults. The proprietor said that she expected her clientele to be children but that it turns out that the 50's to 70's age group are the most interested. She seemed to be most surprised that a good many of them had never seen a caterpillar turn into pupae or pupae transform into a beautiful butterfly. While we were there the senior adults were transfixed in front of the viewing cases where the pupas were struggling to become butterflies. This is an enjoyable stop for those interested in such. The shop is located 508 West Main, Fredericksburg, Texas 78624. mailto:deborah@livebutterfly.com Phone 803-990-0735. They sell butterflies for release at special events. They also sell pupae for individuals that want to watch the transformation from pupae to butterfly.
The next stop was an herb garden. Not much to say about other than it was a pretty neat place to walk around.
The Texas Guild of wood carvers were having a big shindig at Lady Bird City Park that was open to the public so we decided to give that a try. There was not a lot of excitement around the place. However, there were a lot of people learning to carve.
To finish off the afternoon we visited the Fredericksburg Winery. Neither of us like wine so we did not partake in the tasting but did enjoy the education part of the tour. Did you know that 96% of the wine produced in Texas is consumed in Texas and that consumption represents less than 40% of the total wine consumed in the state? Texas wineries appear to have an untapped market waiting for their product.
Here is a good Lawyer Joke I heard today. Don't we all just love lawyer jokes? A big-city lawyer was representing the railroad in a lawsuit filed by an old rancher. The rancher's prize bull was missing from the section through which the railroad passed. The rancher only wanted to be paid the fair value of the bull. The case was scheduled to be tried before the Justice of the Peace in the back room of the General Store. The attorney for the railroad immediately cornered the rancher and tried to get him to settle out of court. The lawyer did his best selling job, and finally the rancher agreed to take half of what he was asking. After the rancher had signed the release and took the check, the young lawyer couldn't resist gloating a little over his success, telling the rancher, "You know, I hate to tell you this, old man, but I put one over on you in there. I couldn't have won the case. The engineer was asleep, and the fireman was in the caboose when the train went through you ranch that morning. I didn't have one witness to put on the stand. I bluffed you!" The old rancher replied, "Well, I'll tell you, young feller, I was a little worried about winning that case myself because that darned bull came home this morning."
I hope you like that one because it is extremely hard for me to remember jokes.
Saturday night is supposed to be one of the times to "experience" Luckenbach, Texas so tonight was our night for the experience. When we arrived around 7:30 there was a high fluting wedding in process. The actual wedding had just taken place in a picturesque setting under some centuries old oak trees. The bride and groom were emerging from a high end ($800,00 plus) Prevost coach (note I did not refer to the Prevost as a mere motorhome). The reception took place in the dance hall in Luckenbach, which is across the street from the building we are headed to. There are only two buildings in Luckenbach and both are active tonight. Parking for both are in the same field.
When we were here earlier in the week the impromptu guitar pickers were all playing inside the small building. Early on most of the action was outside under the oak trees. Perhaps a hundred or more people were milling around. A group of men were tossing washers, a game somewhat like horseshoes. Another group was huddled under an oak tree sitting on a variety of old oak tree trunks that had been cut into 18-inch lengths. When a 30-inch diameter log is cut into 18-inch sections the result is a very sturdy piece of yard furniture. Most of these "seats" looked like they had been here since Moses was a baby. The ever-changing group was playing one song after another on their guitars and banjos, participants came and went depending on the song. Audience members sang along when they knew the words. Everyone was having a good time. I was amazed at the amorphous way things were just happening. Luckenbach on this night was an eclectic group composed of college kids, professional people, a group of young people from Austin, all in all a truly cross section of Anglo Americans. As the night wore on a younger group of musicians started playing some modern country songs inside. Joyce and I migrated from under the old oaks to the building where we spent the rest of the night. We met a couple our age from Tyler Texas that were staying in the Luckenbach B&B located about a mile from here. They said their place was advertised as "Rustic". It was! They were staying in the old smoke house that had been converted into a room. When they arrived at the B&B there was a huge pet pig all dressed up in trousers lounging in the living room. That was their first clue that this was really going to be an experience.
There must have been something in my Dr. Pepper and Joyce's coke because both of us started singing along. Singing along just isn't me. We really enjoyed the night. Joyce remarked on the way home that she really appreciated meeting the couple from Tyler because they were a couple she could relate to.
The highlight of Joyce's night was when she eased up to the bar to get another coke and a cowboy we had been talking with earlier in the night told the bar keep give the lady in red a coke on him.
What we will remember most about Luckenbach is the rustic appearance, spontaneity of the musicians, variety of people making up the crowd, and the history of the place. Where else in the middle of NO WHERE would such a group of people assemble for the sake of having a good time? Only in Luckenbach.
A sign nearby proudly says Luckenbach, Texas population 3. I ask the bar keep to identify them. She told me they were not here. A cowboy standing nearby told us that one of them did not really live there but only maintained it as a residence so his drivers license and such would say Luckenbach, Texas.
That same cowboy bemoaned the way things were today. Ranchers could not make a living raising livestock whether it be cattle, goats, sheep, camels, llama, emus or ostrich. He told us as a young man he was a cowboy on the King Ranch in South Texas. He told us about riding for a complete day without crossing a fence. Another cowboy explained the Great Pyrenees dogs we had seen guarding the goats earlier in the week. He said that ranchers put these dogs with the goats when they were just puppies. The ranchers were careful to not show the puppies any attention. The dogs grow up thinking they are goats. They just think that they are the biggest and baddest goat. In the role of Biggest and Baddest they assume the role of protecting the heard. Even as adults the dogs do not receive any attention from the rancher. If a coyote happens along looking for an easy meal he is going to receive the LAST surprise of his life.
Sunday, April 29, 2001 Fredericksburg RV Park 305 E. Highway St. Fredericksburg, TX 78624
We slept late then got up and attended services at the First Baptist Church in Fredericksburg, Texas. This was a fairly normal Southern Baptist Church except they had a young lady as the minister of music. This is something Joyce and I fully back. However, I know the conservative wing of the Southern Baptist Convention must be having a conniption. It does my heart good to see a prosperous congregation spurning the hegemony of the conservative wing of the Southern Baptist Convention.
The youth of the church were putting on a dinner after the service in order to raise money for a mission trip they were taking to Mexico this summer. Of course we stayed and fellowshipped with several families. It is so enjoyable to spend quality time with locals.
Later in the afternoon we took a ride in the country north of Fredericksburg to Willow loop road. Willow loop road is a very small paved road through private ranch land. There were no fences along the road on this 13-mile stretch of scenic vistas. The only fences were the ones separating each rancher's property from his neighbor. Cattle crossings were in place across the road and the fences went right up to the cattle crossings. Signs were posted at the beginning of the highway that ALL of the property along this stretch of road was private property and it was unlawful to stop on the side of the road or to park in the road. A few hundred yards down the road we understood what the signs were referring to. We had entered open rangeland and would spend the next 13-miles dodging livestock. What a ride composed of one indescribable vista after another.
Monday, April 30, 2001 Lady Bird Johnson Municipal Park Fredericksburg, TX.
This morning we moved our RV to Lady Bird Johnson Municipal Park then headed to the Admiral Nimitz Museum and The National Museum of the Pacific War. Wow! What a poignant and stirring journey in time. Both of us experienced an absorbing lesson in history. As we viewed this window on a war and an era I could not help but stand in awe at the achievement of so many brave individuals yet at the same time question other actions.
Admiral, Chester Nimitz is undoubtedly a great and patriotic American. Chester Nimitz is the Grandson of German immigrants who settled Fredericksburg in the 1850's. It is amazing to me that anyone born in the frontier town of Fredericksburg, Texas in 1885 could end up graduating from the Naval Academy in 1905. What an achievement. The Museum is located in the old Nimitz Inn constructed of sun-dried brick in 1852 and operated by the Nimitz family when it was the last real Inn between San Antonio & San Diego on the old stagecoach route. Chester Nimitz is a true American success story if there has ever been one.
By the 1940's the world was at war with Germany, Italy and Japan. Two great German Americans, Eisenhower and Nimitz, lead the United States military forces. Japanese Americans were rounded up and relocated to internment camps for the duration of the war, though not a single instance of subversion by Japanese Americans was recorded.
Now comes the QUESTION:
Why were the Japanese Americans and German Americans treated so differently?
Feel free to explain or comment Mailto :info@travellogs.us
Changing the subject did you know that the "MALE" wedding ring was almost unknown before WWII? More newly married soldiers and sailors than ever before headed overseas wearing the symbol of their promise to remain faithful and to return home. How is that for a piece of trivia?
The National Museum of the Pacific War had two totally awesome dioramas. In the first one you are on the deck of a Japanese submarine off the coast of Pearl Harbor viewing lights along the coast the night before the infamous attack. Next to you on the deck of the mother submarine is one of the "mini" two-man submarines the Japanese used in the attack on Pearl Harbor. The "mini" submarines were delivered very close to Pearl Harbor by larger "mother" submarines. The nighttime disengagement or launching of the mini submarine from the mother sub is what you are experiencing in this diorama. The sound effects of the waves splashing against the hull and the flickering lights on the shore make this presentation. One of the two Japanese on board this submarine was captured the day after the Pearl Harbor attack and became the first Japanese prisoner of war. The Submarine grounded on the coast and is now a museum exhibit in Fredericksburg, Texas. And as Paul Harvey would say, "Now you know the rest of the story".
The other diorama was an airfield scene on Guadalcanal, where you are standing the middle of a maintenance area with two mannequins discussing the day's activities complete with eye and hand movement. It was a professional diorama with surrounding mountains, jungle and ocean painted on the walls. A real period aircraft was being worked on under camouflage netting by more mannequins. Then the Japanese start bombing. Bright lights flash as the bombs land all around you, loud speakers in 55-gallon drums also heighten the bomb effect.
Tuesday, May 01, 2001 Lady Bird Johnson Municipal Park Fredericksburg, TX.
The German influence in Fredericksburg is everywhere; from the symmetric buildings to the squeaky clean yards. We have enjoyed pronouncing the German surnames and enjoyed the accents yet we had not sampled the baked goods produced by the Main Street Bakeries. In order to experience this we had to get up early and head to town before they sell out and close for the day. We chose Rebecca Rather's, Rather Sweet Bakery for this morning's experience. Rather Sweet is located in a courtyard behind the house where Fleet Admiral Chester Nimitz was born. The easiest way to find it is to find the Historic marker on Main Street announcing that this is the house Admiral Nimitz was born in then follow the aroma that waifs on the morning breeze. It will lead you to Rebecca's Bakery where she explains each of the fresh-baked fruit pastries awaiting your selection. I was more interested in the sausage and cheese scone. That looks like food for real men, and it was. If you visit Fredericksburg make sure that you sample the baked goods offered by one of the local bakeries, Rather Sweet has a courtyard where you can sit and enjoy your selection.
Our next stop was Fort Martin Scott Frontier Army Post. Fort Martin Scott was an active U.S. Army outpost for five years, from 1848 to 1853. Its function during that time was to house, train, and supply soldiers working on scouting and patrolling missions in the areas west and south of Fredericksburg. In those five years, the fort and its inhabitants made a significant impact on the social and economic life of Fredericksburg and the region. Things were happening so fast in the migration west that the fort was abandoned and the troops moved to newer forts established further west.
Joyce wanted to walk through the wildflowers at the Wildflower seed farm once again so that stop was added. Walking through acres and acres of wildflowers is a truly relaxing experience.
Back at the motorhome Joyce is cooking.
Wednesday, May 2, 2001: Kerrville-Schreiner State Park Kerrville, TX
We packed up this morning and moved 24 miles south to Kerrville-Schreiner State Park in Kerrville, Texas. The State Park is located on the banks of the Guadalupe River in the city of Kerrville. Deer are abundant in the park. We spotted our first "road runner" this morning. It was running along just like the cartoon character. We made arrangements with Delorme to ship the GPS to the State Park. Now we will be staying here until the GPS arrives.
Our entire afternoon consisted of sitting on the picnic table beside our motorhome feeding corn to deer. We have a 50-pound bag of corn and we fed about half of it to them. They come in groups of 12 to 15 to eat for a few minutes then go lay down in the grass and cedar trees about 100 feet from us. There must be several hundred deer passing through. None of them eat out of our hands but they do feed within 10 feet of us. We put out a bucket of water and they are drinking out of it. Sitting at the picnic table and looking into the woods it is so neat to see the twitching ears. The only way to spot the deer in the grass when they are lying down is to watch for them to flick those big ears. From where we sit we can see the flicking ears of 15 or 20 deer. The others have moved just out of sight to bed down. For a moment the ones feeding will move on and we will be all alone except for the ones watching us in the woods. Then like the fog lifting on a cool morning a new group wanders in from across the road. Scrub jay and white wing dove are also stopping by to eat peanuts and sunflower seeds.
I have no idea what we can do tomorrow to top our afternoon today.
Does it get any better than this?
p.s. I think Joyce is cooking again tonight. (3 nights in a row, are we going for a record!)
Mike & Joyce Hendrix
Until next time remember how good life is.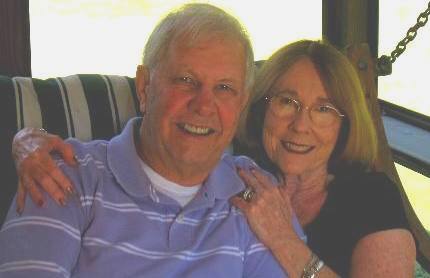 Mike & Joyce Hendrix who we are
We hope you liked this page. If you do you might be interested in some of our other Travel Adventures:
Mike & Joyce Hendrix's home page
Travel Adventures by Year ** Travel Adventures by State ** Plants ** Marine-Boats ** Geology ** Exciting Drives ** Cute Signs ** RV Subjects ** Miscellaneous Subjects
We would love to hear from you......just put "info" in the place of "FAKE" in this address: FAKE@travellogs.us
Until next time remember how good life is.