Florida Panhandle
Places Visited: Florida Panhandle.
Monday November 5, 2001 Wal-Mart Dothan, Alabama
We spent the day driving our motorhome along country roads from Seneca, South Carolina to Dothan, Alabama. The drive through Georgia was mostly through hardwood forest and farms. As we enter Alabama we began to see cattle and hay operations. The hardwood forest gave way to pine trees.
Tuesday November 6, 2001 Magnolia Beach RV-Park Panama City Beach, Florida 32408
We drove south on highway 231 from Dothan, Alabama to Panama City Beach, Florida. The area around Dothan is peanut country. Joyce and I are not able to recognize peanuts in the fields; possibly they have already been harvested. We do see white cotton fields ready to be harvested. At the Florida line we began to see palmetto and wax myrtle bushes as well as chinaberry and Cyprus trees. Gone are the hardwood forest we traveled through yesterday in South Carolina and Georgia. Pine trees are predominant now.
Magnolia Beach Campground on Panama City Beach is appropriately named. This particular area is covered with Magnolia trees. The campground is located on the St. Andrews Bay and has a boat ramp and dock on the premises. During the summer they cater to boaters and campers with jet skis. During the winter they fill up with snowbirds. It is early November and they are filling up with the early snowbirds.
Mike's parents live in Panama City and we are stopping by to visit with them before heading the last 100 miles to our home in Pensacola.
Wednesday November 7, 2001 Magnolia Beach RV-Park Panama City Beach, Florida 32408
We spent the day visiting with my folks.
Only one more night, then we head for Pensacola. We should be home by noon.
Thursday November 8, 2001 Home; Pensacola, Florida
It is only a hundred miles from Panama City, Florida to Pensacola, Florida and we make the final leg of our journey with no problem. It is great to be back home.
Until next time, have a good one. And remember, "It doesn't get any better".
We are home. This is the last travelogue until we head out again.
We hope that you have enjoyed this trip as much as we have.
Mike & Joyce Hendrix
Until next time remember how good life is.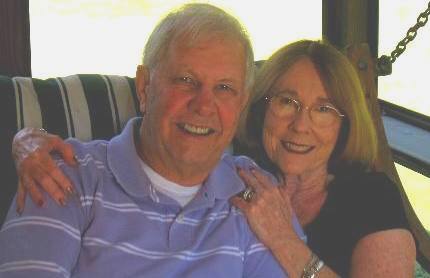 Mike & Joyce Hendrix who we are
We hope you liked this page. If you do you might be interested in some of our other Travel Adventures:
Mike & Joyce Hendrix's home page
Travel Adventures by Year ** Travel Adventures by State ** Plants ** Marine-Boats ** Geology ** Exciting Drives ** Cute Signs ** RV Subjects ** Miscellaneous Subjects
We would love to hear from you......just put "info" in the place of "FAKE" in this address: FAKE@travellogs.us
Until next time remember how good life is.