Clemson, Seneca, West Union, Lake Keowee & Lake Hartwell South Carolina
Places Visited: South Carolina: Clemson, Seneca, West Union, Lake Keowee & Lake Hartwell
Sunday October 21, 2001 Crooked Creek RV-Park - West Union, South Carolina (actually it is Seneca, SC.)
We woke to another beautiful day and spent the morning with Jeff and Kathryn before they headed back to Pensacola. Jeff drove us to the small South Carolina town of Walhalla where we had lunch at the Walhalla steak house. The Walhalla steak house is a local favorite. Locals will tell you they specialize in fried chicken not steaks.
Joyce and I spent the remainder of the day around the RV reading, sunning and listening to CNN describe how two Navy FA-18 aircraft "pounded" the Taliban front lines. Admittedly, I am not the sharpest pencil in the box, however, two Navy aircraft "pounding" the Taliban from the 4 aircraft carriers in the area seems a bit wimpy to me. In a 24 hour period 4 carriers delivering two aircraft seems to me like taking Sunday off rather than a "POUNDING". Oh well, like I said I am not the sharpest pencil.
Monday October 22, 2001 Crooked Creek RV-Park - West Union, South Carolina (actually it is Seneca, SC.)
This is another absolutely beautiful day. We decide to drive to Dahlonega, Georgia for lunch, shopping and leaf peeping. Dahlonega is a scenic 75-mile mile drive east of us. We did lunch at the Smith House in Dahlonega. The Smith House operates on the old southern boarding house concept. The rectangular table seated 6 couples with ease. Waiters put a variety of couples together until the table has a full-compliment. Our group consisted of couples from Georgia, Florida and Tennessee. Waiters bring bowls and bowls of chicken, ham and vegetables. They continued to bring these full bowls of super food until the last of us could hold no more, then they served desert. This is a restaurant that we hardily recommend. It should be a "must do" if and when you are in the Dahlonega area of north Georgia. After lunch Joyce shopped in some quaint shops on the town square.
After shopping we headed north of Dahlonega on Georgia highways 19 then 60 through foothills of the Great Smoky Mountains. The hardwood forest is ablaze with color. Fall colors at this elevation are at their height. We spent several hours leaf peeping. About 25 miles north of Dahlonega we arrive at Cooper Creek Scenic Area. This was our destination. We were looking for an old growth forest of giant tulip poplar trees. Closely following directions we followed a forestry service road to the end of the pavement then go 4 tenths of a mile farther and park. From there we take a one-mile hike back to the valley of the giants along a decades old logging road. When we finally arrived in the valley of the giants we found the tulip poplars with circumferences in excess of 17 feet. Storms through the ages have broken the tops out of most of these tremendous trees. Viewing these ancient giants is something that Joyce and I have looked forward to since learning about them. If anyone is interested in locating these old growth trees let me know and I will provide you with directions and information.
After we return to the motorhome CNN is reporting that those two navy FA-18 aircraft were "hammering" vice "pounding" the Taliban front line today. I suppose those four aircraft carriers were working overtime to get that many sorties over Afghanistan today. Certainly the aircraft carriers are launching more sorties that are not being reported. Possibly if the Pentagon were to release information concerning some other strikes CNN may report on it in place of the incessant anthrax story.
Seems to me that if we were going to "pound/hammer" Taliban front line positions the video would have shown a fleet of B-52's leaving some real destruction. For some reason I do not get excited watching a million dollar guided munition exploding on a 1930s era tank or jeep. Something tells me that's not a good trade, unless I own stock in the company manufacturing that million-dollar munition. My guess is that this silliness will be called into question before long. But, like I said earlier, I ain't the sharpest pencil in the box.
Tuesday October 23, 2001 Crooked Creek RV-Park - West Union, South Carolina (actually it is Seneca, SC.)
We wake to another beautiful day. The owner of the RV-Park took us for a scenic cruise of Lake Keowee on his pontoon boat. We were told that Duke power owns virtually all the unimproved land around lake Keowee and is in the process of selling it. He was telling us about and showing us lots selling for upwards of $250,000. Magnificent homes line the lower portion of the lake. Palatial would aptly describe many of the retirement homes we cruised past. He told us retirees that had moved south owned many of these awesome homes.
After our ride we spent the remainder of the day soaking up the warm sun and enjoying the wonderful view.
Wednesday October 24, 2001 Crooked Creek RV-Park - West Union, South Carolina (actually it is Seneca, SC.)
This is another beautiful day but the news says that tomorrow will bring rain and freezing temperatures over night. We take advantage of the weather and head north a few miles to North Carolina so we can view fall colors in the Cashiers, Sapphire and Lake Toxaway area. In the higher elevations leaves are past their peak. However, at lower elevations on the South Carolina side of Sassafras Mountain the leaves are at peak brilliance. While on this drive we pass over the "Eastern Continental Divide" several times. We both chuckle when we see these signs with elevations of 2,694'. Out west the Continental Divide was usually on a mountain range of 8,000' to 10,000'. We are not familiar with the term Eastern Continental Divide but suppose that it refers to the point where water either flows east to the Atlantic or west to the Mississippi River.
Back at the motorhome we took everything out of the basement, vacuumed and put everything back. This was a project I was planning to do upon returning to Pensacola now it is done.
Thursday October 25, 2001 Crooked Creek RV-Park - West Union, South Carolina (actually it is Seneca, SC.)
A violent cold front swept through the area just after midnight. Despite the heavy rain we wake to a clear blue sky. Temperatures reach the mid-70s today but will drop into the 30s tonight. We spent the day enjoying our waterfront view and listening to CNN's coverage of anthrax and the occasional prepared statement from our Secretary of Defense assuring us that those two aircraft are still hammering the Taliban front lines.
Reporters started asking Rumsfeld why we were not using B-52s on the Taliban front lines. Unlike the Persian Gulf War where Colin Powell told the American public that the military was going to cut off the enemy and KILL them we appear to be waging another Vietnam with politics dictating actions.
In my lifetime Israel defeated Egypt in 7-days in what has become known as the 7-day war. About 10-years ago the United States led coalition defeated the Iraqi's in short order. Iraq, at the time, had one of the largest; best equipped and trained military organizations in existence. Now two weeks into waging war against a group of terrorist we hold press conferences to describe how we are tank plinking. After this war is over some organization is going to examine these tanks and determine that they have not been operable for over 10-years (since the Russian war with Afghanistan). Rumsfeld again explains that there are not many good targets. I think that even the slowest amongst us knows that Afghanistan has never had any "good" targets. The northern alliance knows where Taliban troops are because they are shooting at them. Will someone explain to me why Taliban troops are not "good" targets? Excuse me but the "suits" spouting this information must be expecting the public to be dumb as rocks. They are probably correct.
Friday October 26, 2001 Crooked Creek RV-Park - West Union, South Carolina (actually it is Seneca, SC.)
This is another beautiful day with nothing but clear blue sky from horizon to horizon.
CNN is reporting that the military hit a fuel depot in Kabul over night in "massive" new air attacks. Excuse me but did this fuel depot just pop up last night? Do you suspect that our satellites with cameras that can read the surgeon generals warning on a pack of cigarettes and the super duper unmanned spy/surveillance aircraft has just been able to locate this fuel depot/"target"? Possibly those sneaky Taliban were able to camouflage the fuel tanks from all those sophisticated surveillance resources. Possibly a fuel depot was not considered to be a "GOOD" target. Yea RIGHT! I smell a 3-day-old anchovy! How many more days are we going to be happy to bomb the 6 or 8 airfields?
Rumsfeld just opened his mid-day briefing by assuring reporters that the USA was doing all that it can do. We need to keep a close watch on Rumsfeld's nose, if it reacts like Pinocchio's he will surely need an aid to hold it shortly.
Although the RV is in Crooked Creek RV-Park near Seneca, SC we met Les and Macklyn Fairchild at their 2nd home on Lake Hartwell around 5:00 pm. They drove up from Atlanta and we drove 24 miles due south. The Fairchild's are old friends that we have traditionally rented a condo with every summer for years and years. Now that we have the motorhome and they have the Lake house it seems we will have to visit them at the lake house. :-)
As we arrive at yet another palatial estate Joyce and I feel compelled to name it. We are mulling over several possibilities. Some of you can help us choose between the two names we have chosen: The Taj II would be appropriate however; equally as appealing is Fairchild B&B. Come on group; let us know which one is best.
Saturday October 27, 2001 Crooked Creek RV-Park - West Union, South Carolina (actually it is Seneca, SC.)
We are still at the Fairchild's lake house (AKA Taj II or Fairchild B&B). Les and I spent the morning working on several small repair jobs. Then we settled in to watch two BIG football games on TV at the same time. The Florida Gators were playing the Georgia Bulldogs and the Florida State Seminoles were playing Maryland, all at the same time 3:30pm. Les is a die-hard Gator fan, it is his lake house and his TV and he controlled the remote. In all fairness Les, flipped back and forth between the two games in an admirable manner. Both Florida and Florida State won their games in a BIG way over 15th ranked Georgia and 10th ranked Maryland. This was a good day at: (Taj II/Fairchild B&B)
Sunday October 28, 2001 Crooked Creek RV-Park - West Union, South Carolina (actually it is Seneca, SC.)
We are still at the Fairchild's lake house (AKA Taj II or Fairchild B&B). At one time we had planned to attend church in Hartwell, Georgia where we have friends on the staff. Time got away from us and we did not make it to church. Instead Macklyn fixed breakfast and we enjoyed it from their dining room table watching mist rise from lake Hartwell.
We returned to the motorhome in Seneca and the Fairchild's returned to their home in the Atlanta suburb of Lawrenceville. It is 6-days until Jeff and Kathryn return to watch the football game between Clemson and FSU. Several weeks ago it appeared that Clemson was going to take it to FSU. After events of the past two weeks it appears that the tables have turned. I suspect that FSU will no longer enter Death Valley as an underdog. Time will tell, 6-days and counting.
Mike & Joyce Hendrix
Until next time remember how good life is.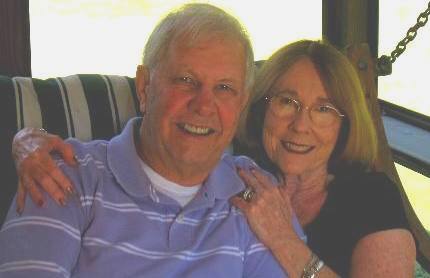 Mike & Joyce Hendrix who we are
We hope you liked this page. If you do you might be interested in some of our other Travel Adventures:
Mike & Joyce Hendrix's home page
Travel Adventures by Year ** Travel Adventures by State ** Plants ** Marine-Boats ** Geology ** Exciting Drives ** Cute Signs ** RV Subjects ** Miscellaneous Subjects
We would love to hear from you......just put "info" in the place of "FAKE" in this address: FAKE@travellogs.us
Until next time remember how good life is.