Hot Springs & Lake Village, Arkansas Calera, Alabama
Places Visited: Arkansas: Hot Springs & Lake Village, Arkansas. Alabama: Calera, Alabama.
Sunday October 7, 2001 J&J RV-Park, Hot Springs, Arkansas--- Boyhood home of Bill Clinton
Last night we ate at a Cajun seafood place. This is the closest thing we have seen to a restaurant serving fresh seafood in almost 6-months. We had fried shrimp and oysters. They also had boiled and fried crawfish, boudin, etouffee, gumbo and boiled shrimp on the menu. It is good to be getting close to home and finding familiar food.
We had our choice between two nice size Baptist Churches to worship with this morning. Both had auditoriums large enough to seat around 500 comfortably. We chose the one that appeared to have the largest congregation based on the number of automobiles in the parking lots just before the morning service. Both were anemic. The one we chose actually had about 100 in attendance. We were shocked; the average age of the congregation had to be in the mid-to-late 70s. It was like at the Lawrence Welk show. It does not appear that this church will be around in a few years.
After church Joyce and I scouted out an RV-Park and found it to be acceptable. Then we spotted a Popeye's fried chicken place. This was not what we were looking for but could not let it pass. It had been so long since we have had that good spicy fried chicken with a side of their awesome red beans and rice. Oh how wonderful it is to be able to get good food!
After eating lunch we moved our motorhome to J&J's RV-Park before heading out for the afternoon. While setting up the motorhome we learn that bombs are falling in Afghanistan.
Ignoring the bombing news we head to downtown Hot Springs, Arkansas. Neither of us was familiar with Hot Baths so we were having a hard time determining what the big deal was. We now have a better understanding. It seems that through the ages hot springs around the world were thought to have healing qualities. Individuals with a variety of ailments came to bathe it the warm water. From the 1850s to the 1950s grand bathhouses were constructed over these "hot springs". From what we read it appears that individuals in bad health were flocking to these baths as a last resort. By the 1950s the therapeutic value was being downplayed and the invigorating lavish good feeling of the warm mineral water in concert with a good massage was being pushed. Several places continue to offer public baths.
Others think the water is good to drink. The thermal water is certified sterile and contains copious amounts of minerals. It is the mineral content of the waters that make it so attractive. Each spring in the area produces water with very different mineral content. The mineral content of each spring is published so that individuals can obtain drinking water from the spring containing minerals they are looking for. We saw individuals with water jugs visiting various springs to get water for personal use.
Hot Springs sports about eight opulent bathhouses in a row, all left over from the 1920s, when bathhouses were in their golden years. In addition to the lavish bathhouses equally impressive hotels are in evidence also from the 1920s. The entire town is a testimony to bygone times.
Monday October 8, 2001 Pecan Grove RV-Park Lake Village, Arkansas
We continued on our journey to Alabama today. As we continued south on Scenic Arkansas highway 7 we quickly ran out of the mountains and hardwood forest. As the land leveled pine forest began to be prevalent. Another sign that we are in the south again is the log trucks delivering huge trees to lumber mills. As we turn east on highway 82 the land continues to get flatter and flatter as we near the Mississippi River.
First soybeans then rice fields appear. We have reached the delta area adjacent to the Mississippi River. Near the river cotton is in the fields and acres and acres of catfish ponds dot the landscape. We watch catfish farmers on tractors feeding catfish. Tractors pull huge trailers of feed with a mechanism literally raining feed in the ponds as they drive along the dikes. Each pond is outfitted with mechanical aerators. Without mechanical aerators the fish would die for lack of oxygen. Locals tell me that sensors in the pond detect the oxygen level and automatically start the aerators as well as sound an alarm in the farmer's home. We also see tractors with aerator attachments on the ready.
For the first time in 6-months we see great egrets. As we near the Mississippi River where catfish ponds dot the countryside these huge white wading birds line select ponds. We wonder if they are feeding on fingerling catfish.
The RV-Park Joyce has selected is located in a mature pecan grove. As we drove in we noticed screech owl boxes on many of the trees. Pecan groves are another indication we are indeed back in the south. Lake Chicot is an ancient oxbow lake now cut off from the Mississippi River by levies. Nice homes have secured waterfront views on both sides of the old riverbed. Centuries old cypress trees line the lake and low-lying areas around the lake. These cypress trees are signaling autumn in their annual fashion by turning rusty golden. The County operates an RV- Park on the island across the lake from where we are staying. Like the RV-Park we are in it is located in a pecan grove. The county RV-Park looks like a super place to visit in the summer especially if you have a fishing boat.
I received an e-mail communication from another friend today that identifies the trees we were seeing in southern Kansas as Osage orange trees. Now I am wondering if the hedge apple and Osage orange is the same tree? These trees had lime green fruit the size of apples.
Tuesday October 9, 2001 Pecan Grove RV-Park Lake Village, Arkansas
We are ahead of schedule. My sister is planning on us arriving at her house in Calera, Alabama on Friday. We are only 300-miles from Calera now so we need to goof off for a day or so.
After sleeping late we took a leisurely drive around this area. Not far down the road we pulled over to watch a crew harvesting cotton. As luck would have it I made friends with them and actually took a ride on the cotton harvester while they made a few rounds. After that experience the owner said that they were also harvesting soybeans in another field several miles down the road. We followed him to that field and also rode the soybean harvester for a few rounds in the soybean field. Everyone was extremely helpful as I asked dozens and dozens of questions. The harvested soybeans were being trucked about 10-miles to a silo on the Mississippi River where they would be loaded on a barge and delivered to customers downriver or overseas. The cotton was being compressed into a cube resembling the trailer pulled by an 18-wheeler. A LARGE truck would back up to these "compressed bales" and winch them on a bed. The operation reminded me of the large garbage/refuse dumpsters that are winched onto a flatbed.
I learned that rice would be planted in the soybean field next year. The farmer said that all he had to do was construct a small dike around the field and flood it. Since the fields are essentially flat the dikes only have to be about 12" high in order to hold water. When the pumps are turned off these fields are firm enough to plant with tractors. In southern Louisiana flooded rice fields are seeded from aircraft flying over the fields. Stubble from the recent rice harvest is being burned in the fields. Last November we saw sugar cane, in southern Louisiana, being burned in the field prior to harvest. The farmer told me that the rice stubble would not decompose over the winter. The way they handled that problem was to burn then plow it under.
Wednesday October 10, 2001 Mike's sisters yard, Calera, Alabama
We are driving 300-miles to Calera, Alabama and my sister's driveway. Immediately upon getting on the road finds us on the highway 82 bridge over the Mississippi River. The first thing both of us vocalized as we headed up the approach was "gosh, I hope we do not meet any 18-wheelers on this narrow thing". The second thing we said was " look at all of those 18-wheelers heading our way". What a hoot! I am not sure that either of us breathed until on solid land again.
As we exit the bridge litter blights the roadside. This is the first roadside litter we have seen in months. A mile or so into Mississippi we see the first live oak tree we have seen since leaving the south months ago. Pecan groves dot the landscape like cotton fields. Diesel is $1.18. Out west we saw diesel for $1.75. It is nice to be back to reasonable fuel prices. The Mississippi delta area east of the Mississippi River is flat farmland. Cotton and soybeans fields spread out to the horizon. This flat farmland extends about a 100-miles to the east of the river then all of a sudden the elevation increases several hundred feet and we are in rolling hills. The first thing we notice in the rolling hills is the ubiquitous kudzu vine. Immediately upon leaving the delta hundreds and hundreds of roadside acres are being choked by this vine. Pine forests have replaced cotton fields. Lumber mills and 18-wheelers hauling logs to them become common sights along highway 82.
Entering Alabama we are greeted by a mile long wildflower display in the median. The state can be proud of this achievement. These purple flowers were in full bloom. A few miles down the road we passed another wildflower patch also provided by the state.
About 5-miles from our destination we call my sister on the cell phone to let her know we are arriving. To get to my sister's palatial estate we have to exit the paved road and drive about a half-mile down their gravel driveway. Just as we exit the paved road we have to cross over a rural railroad track. The hump over the track looked precarious. It looked to be very steep on both sides of the track and I am hesitant to attempt the crossing for fear I might get hung up. Knowing that construction vehicles and concrete mixer trucks had crossed to deliver supplies to their home made me go for it, but slowly. If I felt we were going to get hung up I was going to unhook my tow car and back the motorhome off. I eased slowly across the tracks. All of a sudden we here a train whistle. The train is coming around a corner several hundred yards away. They do not usually blow their whistle in this area because only private driveways are crossing the tracks not streets or highways. The conductor was blowing because they see us on the tracks as they rounded that corner. Thankfully, the motorhome and tow car crossed the track just as the train whizzed by. He was going so fast there was no way he could have stopped. Joyce and I are still looking for two seat cushions. As we pull up into my sister's yard they greet us. When they heard the train whistle they knew the train had to be blowing at us. Like us they were afraid that we might have gotten hung on the tracks. They were almost as relieved to see us, as we were to have escaped that train.
I have never understood how trains run over people. Why don't the people just get off the track? DA! Can't they see or hear something as big as a train. After this experience I have a whole new perspective on how easy it can be to get run over by a train. We did not see or hear a thing until that whistle and we were in the middle of the tracks. I do not know to this day if I ever saw that train since it was essentially behind my field of view when we heard the whistle. I knew what that sound was. I did know that it was LOUD and very close. If the motorhome was going to scrape going across the track it was now going to do it under full power. Miraculously, we hear the train whizzing past and it does not appear that the rear of our motorhome is mounted on the train.
It was 5:30 when we pulled into my sister's yard and started searching for those seat cushions.
Thursday October 11, 2001 Mike's sisters yard, Calera, Alabama
My sister and her family headed off to work while we got up and washed the motorhome. I have not been able to get on top of the motorhome for over 6-months. Dirt, grime and mildew have taken over. Any moisture dripping off the roof is now creating those dreaded black streaks down the side. My brother-in-law fixed me up with a pressure washer and a ladder to reach the roof. The pressure washer is the perfect solution to getting dirt out of cracks and crevices around grills and radiator openings but the roof required a scrub brush and muscle.
Friday October 12, 2001 Mike's sisters yard, Calera, Alabama
This was another day of leisure at my sister's home. They both took the day off to be with us. We ate good and had a good time.
Saturday October 13, 2001 Mike's sisters yard, Calera, Alabama
Saturday is college football day in the Deep South and we are in the Deep South. Florida State University FSU is playing Miami and the University of Alabama is playing Old Miss. I was glued to the FSU game while my sister's family was engrossed in the Alabama game. Miami showed FSU and the country why they are ranked 1 or 2 depending upon the pole. One thing is for sure; FSU is not going to play in the National Championship game this year. It looks like Miami and the University of Florida have a good chance to be in that game against each other. As luck would have it FSU gets to play both of those teams every year.
Mike & Joyce Hendrix
Until next time remember how good life is.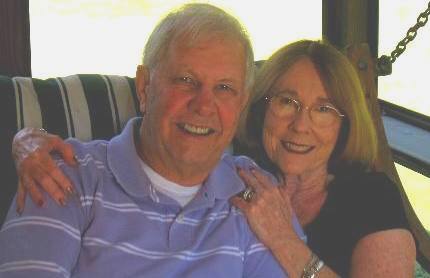 Mike & Joyce Hendrix who we are
We hope you liked this page. If you do you might be interested in some of our other Travel Adventures:
Mike & Joyce Hendrix's home page
Travel Adventures by Year ** Travel Adventures by State ** Plants ** Marine-Boats ** Geology ** Exciting Drives ** Cute Signs ** RV Subjects ** Miscellaneous Subjects
We would love to hear from you......just put "info" in the place of "FAKE" in this address: FAKE@travellogs.us
Until next time remember how good life is.