Branson, Missouri & Hot Springs, Arkansas
Places Visited: Missouri: Branson, Missouri. Arkansas: Hot Springs, Arkansas.
Monday October 1, 2001 ABC AMERICA'S BEST CAMPGROUND: Branson, Missouri
We arose to a beautiful day clear blue sky and temperatures in the low-70s. It has been days since we have seen a cloud. How wonderful can it get?
Our friends Vern and Elaine went to Springfield today and left us to do some shows on our own. At 2:00pm we took in the Country Tonight show. This show did not feature any recording stars. However, it was one of the best we have seen. They have assembled a very talented group of "almost stars" that put on a superb show.
After dinner we headed to Andy William's Moon River Theater to see Andy and Glen Campbell. This was another excellent show. Andy was a bit before our time but Glen Campbell is another story. We were around for all of Glen's hit records and he had a list of them. Glen performed Lee Greenwood's God Bless America every bit as good as Lee Greenwood. I am not sure how old Andy William's is, but he can still sing. They may have to roll him out on a stretcher next year or find a way to prop him up; the old boy has been around for ages, AMEN!
Branson is a place that is much different from most American cities. The average age walking the streets must be in the 70s. In front of each Theatre are 30 or 40 handicap parking spots. It is absolutely amazing how many handicap spots there are and a car is in every one. We all hear so much about the "baby boomers" well; Branson appears to be catering to the group that spawned the baby boomers.
Tuesday October 2, 2001 ABC AMERICA'S BEST CAMPGROUND: Branson, Missouri
This was a full day. We met Stan & Carol Riley around 10:30 this morning and socialized for an hour or so before going to Mcfarlan's for lunch. Stan has been reading the travelogue and commenting from time to time. They are fulltimers. Stan retired from the IRS the last day of January where he was working in the Virginia area of Washington DC. They sold their home and are happily experiencing the good old USA. Stan and I have crossed paths several times this summer, once in Las Cruces, New Mexico then again recently in Cody, Wyoming. Both times we missed each other by a day, sometimes even staying in the same RV-Park. This time we communicated enough to finally meet.
After lunch Joyce and I went to the "50s at the Hop" show. This show did not have any "stars" but it had some of the best talent yet. This group of young people put on a super show. The audience in this show consisted of 5 or 6 busloads of geezers in tour groups. The music "50s" was high energy and of such quality that it DEMANDED applause. The old geezers would not clap or show any signs of life. It amazed us to see entire rows (complete tour groups) that were just sitting there like in the middle of a boring sermon. These folks won't be able to stay awake during the Andy Williams or Lawrence Welk shows.
We took in the Mickey Gilley show for their evening performance. Mickey has 39 hits that made the top 10 Country List with 17 of them making # 1. I guess you can say he is a STAR! Mickey put on a good performance with his singing but the best part of the show was the comedy. I think the banter between Mickey and his comedian was the best comedy so far. Many of you will remember the film "Urban Cowboy" with John Travolta filmed in Mickey Gilley's bar in Pasadena, Texas. That bar has the distinction of being in Ripley's Believe it or Not as the world's largest Honky Tonk. Mickey sang several songs in that movie. Can you believe that "Urban Cowboy" hit the big screen 21-years ago? It seems like yesterday.
Wednesday October 3, 2001 ABC AMERICA'S BEST CAMPGROUND: Branson, Missouri
Last week I described a fruit we were seeing from the highway when traveling through southern Kansas. Phil Penner, a friend, living in Wichita, Kansas has provided the answer to what we were seeing. Here is what he has told me: "Mike, that green fruit you saw in Kansas was not fruit! They are called "hedge apples" and are poisonous to eat. The squirrels eat em but they are not for humans. They grow on the hedge trees that were planted during the dust bowl days to try to keep the dirt from blowing from county to county. The trees are hard wood and pretty good firewood but they do really throw off the sparks, so you'd better have the screen or doors closed if you burn it."
Thanks to Phil we all know about "hedge apples". We also know not to eat them.
We ate lunch with friends Stan & Carol Riley. They are the friends we have been crossing paths with for several months. We are looking forward to seeing them again in March when they pass through Pensacola.
For the evenings entertainment we did the Pierce Arrow show. Pierce Arrow is a group of professional singers and musicians that have all performed with big name groups. The base singer in the group has the distinction of having the "lowest" voice according to Ripley's Believe it or Not. He has held that honor for several years. He can hit notes 8-notes lower than the lowest note on a piano. He vocalized with the piano as the piano player kept going down one key at a time. When the piano stopped this guy kept going. Incredible! In addition to the musicians they had an outstanding comedian. This guy is as good as a comedian gets. The comedian working with Mickey Gilley was good also but I might have to give this character the nod.
Thursday October 4, 2001 ABC AMERICA'S BEST CAMPGROUND: Branson, Missouri
Vern and Elaine called this morning and we arranged for them to stop by our place. We talked for hours then went to the afternoon Mel Tillis show. This was another good show although not at the top of our list.
After the show all of us went to B.T. Bones for dinner.
Friday October 5, 2001 ABC AMERICA'S BEST CAMPGROUND: Branson, Missouri
Our plan was to leave Branson this morning but the weather changed overnight. A cold front came through the area around daylight this morning. The front brought rain and thunderstorms with temperatures dropping drastically. Joyce decided she did not want to travel with the front all day. Our plan was to head south on Arkansas highway 7 one of the most scenic drives in the USA. She just did not think we would enjoy the drive through windshield wipers.
With that said we are staying in Branson another day. Joyce did laundry while I performed housecleaning chores.
We decided to return to the 50s at the Hop Theatre for the evening show. They were the best show in town, in our opinion, and the same cast puts on two completely different shows, one performance in the afternoon the other in the evening. For this performance the crowd was much younger and loved the music. They were LOUD! And the musicians played to them. These young people were unbelievable.
Saturday October 6, 2001 Wal-Mart Super Center, Hot Springs, Arkansas--- Boyhood home of Bill Clinton
We left Branson on highway 65 headed south. In a few minutes we were in Arkansas. A little farther south on highway 65, in Harrison, is an Arkansas tourist information center and picnic area. For those of you interested they allow boondocking in their parking area for one night. This would be a good CHEAP place to stay overnight on the way to and from Branson if you are approaching from the south. The GPS location is 36° 16.78056 and -93° 09.78291. If you do not have GPS the tourist information center is located on the outskirts of Harrison, Arkansas on highway 65.
We drove south through the Ozark Mountains of Arkansas on scenic state highway 7. The hardwoods are changing color but will be better in a few weeks. This drive reminds us of Smoky Mountains of western North Carolina except the road cuts exposed 300-million year old sandstone and shale instead of granite. The vegetation is similar and the gently sloping mountains are similar.
By late afternoon we are in Hot Springs, Arkansas the boyhood home of Bill Clinton. After giving a cursory "look see" at two local RV-Parks we pulled into Wal-Mart for the night.
Mike & Joyce Hendrix
Until next time remember how good life is.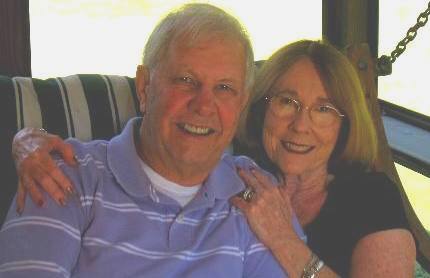 Mike & Joyce Hendrix who we are
We hope you liked this page. If you do you might be interested in some of our other Travel Adventures:
Mike & Joyce Hendrix's home page
Travel Adventures by Year ** Travel Adventures by State ** Plants ** Marine-Boats ** Geology ** Exciting Drives ** Cute Signs ** RV Subjects ** Miscellaneous Subjects
We would love to hear from you......just put "info" in the place of "FAKE" in this address: FAKE@travellogs.us
Until next time remember how good life is.