Colorado: Loveland, Estes Park, Rocky Mountain NP & Golden
Kansas: Dodge City
Places Visited: Colorado: Loveland, Estes Park, Rocky Mountain NP & Golden. Kansas: Dodge City
Saturday, September 15, 2001 Loveland RV Village: Loveland, Colorado. Elevation: 5,000'
We wanted to see Mount Rushmore but the weather was not cooperating. We have not seen the sun in three days. The weather report is predicting more of the same through the weekend. We give up on the idea of seeing Mount Rushmore and head 293-miles south to Loveland, Colorado. We chose Loveland because of its proximity to the east entrance to Rocky Mountain National Park.
The drive from the Black Hills of South Dakota to Loveland, Colorado was mostly through open prairie. Corn and sunflower fields began to appear. Large ranches with cattle were in evidence along the way. In Cheyenne, Wyoming we saw a huge sugar refinery that reminds me of the sugar beets the book CENTENIAL described so eloquently. We were looking for sugar beet fields but did not recognize any. Possibly they have been harvested. Although we did not see any deer or buffalo, antelope were plentiful.
Sunday, September 16, 2001 Loveland RV Village: Loveland, Colorado. Elevation: 5,000'
We got up dressed and headed to church, but did not find it. Our directions did not include an address. The advertisement gave a phone number and said to go west on highway 34 to Morning Street then north to 27th. We drove up and down highway 34 looking for Morning Street with no success. We could not find it on our city map either. We did see 27th on the map. We drove up and down it with no success. The phone number only had a recorded message. Frustrated, we gave up and returned to the motorhome and dressed to tour Rocky Mountain National Park. Later we learned that Morning Street and the church we were looking for was located just outside map coverage.
The drive from Loveland to Estes Park was almost as exciting as the drive through Rocky Mountain National Park. Colorado highway 34 from Loveland to Estes Park follows Big Thompson River through Big Thompson Canyon. Recently, we have driven through a number of spectacular canyons. Big Thompson Canyon is, in my opinion, one of the top canyon drives anywhere.
The circular drive through Rocky Mountain National Park takes us through alpine forest then above tree line into artic tundra. Around 11,000 feet in altitude it began to snow. Elk are readily visible both in the tundra and down in Estes Park. On several occasions we stop to witness bull elk in rut rounding up cows and defending them from intruders. It was exciting to see them bugle and chase off other males. In a residential area of Estes Park we watched a large bull defend his harem of approximately 20 cows in the front yard of several residences. Roads were lined with automobiles filled with people watching the action.
Monday, September 17, 2001 Loveland RV Village: Loveland, Colorado. Elevation: 5,000'
This was a day to catch up on chores. We took the Saturn to Fort Collins to have it serviced by a Saturn dealer. We had to shop for groceries, do laundry and clean the motorhome. It was hard but we got it done.
Tuesday, September 18, 2001 Golden Clear Creek RV Park: Golden, Colorado. Elevation: 5,600'
It was time to move. We headed south to Golden Colorado, a suburb of Denver, where we met friends Dave and Helen Damouth. Dave and Helen arrived at our place shortly after we got set up. We spent several hours chatting then walked to a local historical museum. The evening was capped off with dinner. It is hard to beat a day with good friends! Dave and Helen have been traveling in an RV and writing travelogues for a number of years. Their travelogues are available on Dave's home page: http://home.sprynet.com/~damouth/ Golden Clear Creek RV Park is on Clear Creek flowing through Golden. The city of Golden has a super nice paved walking path that follows Clear Creek for miles through Golden including through the RV-Park.
Wednesday, September 19, 2001 Golden Clear Creek RV Park: Golden, Colorado. Elevation: 5,600'
Joyce and I spent the morning walking the wonderful walking path following Clear Creek for miles and miles. Once in downtown Golden we spent an hour or so strolling through the center of town before walking down to the Coors Brewery. Coors offers a tour of the brewery. Even though we do not drink, viewing the manufacture of Coors Beer was something we wanted to experience. If in the Denver/Golden area a tour of the Coors Brewery in Golden is something you should include.
Thursday, September 20, 2001 Wal-Mart Super Center: Garden City, Kansas. Elevation: 2,824'
After taking another walk along the cities Clear Creek walking path we downloaded e-mail and headed east. Thank goodness the morning rush of traffic had subsided somewhat by the time we headed out (11:00am). The traffic was bad enough at that time. As soon as we cleared Denver International Airport, east of town, the traffic disappeared as we continued east on I-70. The blood returned to Joyce's knuckles and she started breathing again. Actually she is a very good navigator, but driving through the big city traffic isn't her cup of tea. We are headed to Branson, Missouri but are looking for things to do on this 900-mile leg of our journey. Two cities in Kansas, Dodge City and Wichita, are famous towns from frontier days and we think they may have some historical things to see and do. Joyce plotted us a route on state roads that will take us to these towns.
Heading east out of Denver we are losing altitude fast. By the time we arrive in Garden City, Kansas we have lost almost 3,000' in altitude. Eastern Colorado is rangeland and grain fields. Stacks and stacks of hay are everywhere waiting for winter. Eastern Colorado grows a lot of sunflowers, thousands and thousands of acres. Sunflowers and grain appear to be on unirrigated land while other crops; mainly hay and sugar beets are on irrigated plots. By the time we reach Kansas big time irrigation is a way of life. Eighteen-wheelers loaded with onions are heading to market. Grain and alfalfa fields cover the landscape. This is wide-open farmland, with no apparent industry.
Friday, September 21, 2001 Gunsmoke RV-Park: Dodge City, Kansas. Elevation: 2,800'
Our destination today is Dodge City, Kansas approximately 50-miles east. Along the way scenery is changing. Irrigated fields dot the landscape. As we near Dodge City gigantic feedlots began to appear. These feedlots cover hundreds and hundreds of acres. Individual pens within each feedlot are filled with cattle. Each feedlot has a series of huge silos holding grain and other feed. Railroad tracks run through the silos to give you an idea of how much feed is being stored. Feedlot stench is in the air for miles and miles. I am sure that it smells like money to those in the business.
We stopped at a roadside pullout where actual tracks of the Santa Fe Trail are still visible crossing the open prairie. What a sight! The ruts are still there over a hundred and 25-years later. Before the railroad connected the east and west coast, trade was conducted over the Santa Fe Trail. Wagons pulled by oxen carried goods between Missouri and Santa Fe New Mexico. We can just visualize the wagons moving across the land and only imagine the struggles those people encountered.
In Dodge we head to the Boot Hill Museum in Old Dodge City. Dodge City was the destination for the old cattle drives. Cattle from as far away as south of the Rio Grande were delivered to Dodge City for shipment east. Dodge City was also the headquarters for large numbers of buffalo hunters. Dodge City in those days was a recipe for trouble. Cowboys arrived in town after months on the trail with pockets full of money. The same can be said for the buffalo hunters. Mix this with an ample supply of alcohol and women and surely there is going to be trouble. The TV show Gun smoke was based on Dodge City in those days. However, Matt Dillon and the cast were not real heroes. Wyatt Earp and Bat Masterson were deputy sheriffs for short periods of time in Dodge as well as other western towns.
For dinner we went to Marchell Family Ranch for a good meal and western show complete with a variety of singers, buffalo, cattle drive, barrel racing, roping, covered wagon, horses and chorus girls. They provided a tremendous amount of entertainment plus a good dinner.
Saturday, September 22, 2001 Gunsmoke RV-Park: Dodge City, Kansas. Elevation: 2,800'
This turned out to be a BAD day! Florida State's football team was crushed by North Carolina. How bad can it get? Jeff called as soon as the game was over and Joyce assured him that his father was still breathing.
We were planning to take a slaughterhouse tour today but something went wrong. They had given us a phone number to call but we only got a recording. Joyce was so disappointed! This slaughterhouse is supposed to butcher 3 head of cattle per-minute. There are two large slaughterhouses in Dodge. Dodge's highways are alive with 18-wheel cattle trucks, full when entering town and empty on the way out.
We are staying in town through the weekend just to do this slaughterhouse tour. Joyce said it better be worth it.
Sunday September 23,2001 Gunsmoke RV_Park, Dodge City Kansas Elevation 2,800'
We went to First Baptist Church this morning. It is a very small church, but probably one of the larger churches we have visited this summer. The fellowship was sweet and it was good to be in the house of the Lord. The ceremony was on giving, not only of our money, but of our time and talents. The pastor recognized a member of the congregation who goes to the local soup kitchen several times a week to cook for and feed the homeless.
We will on the road again on Monday after the tour. As we make our way to Branson Mo. I am sure we will be making several other stops to experience small town America. We hope that each of you will have a safe and happy week.
Mike & Joyce Hendrix
Until next time remember how good life is.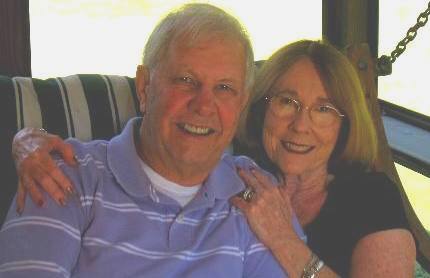 Mike & Joyce Hendrix who we are
We hope you liked this page. If you do you might be interested in some of our other Travel Adventures:
Mike & Joyce Hendrix's home page
Travel Adventures by Year ** Travel Adventures by State ** Plants ** Marine-Boats ** Geology ** Exciting Drives ** Cute Signs ** RV Subjects ** Miscellaneous Subjects
We would love to hear from you......just put "info" in the place of "FAKE" in this address: FAKE@travellogs.us
Until next time remember how good life is.