Canada: Pincher Creek & Waterton NP, all in Alberta
Saturday, August 25, 2001 Diesel Repair shop parking lot, Pincher Creek, Alberta, Canada:
We spent a leisurely day driving the motorhome from Banff to Calgary where we planned to get the oil changed at a Wal-Mart. The drive from Banff to Calgary took us east out of the Rocky Mountains. Within 30-minutes of leaving Banff we were in plains with wheat fields as far as the eye can see. The conifer forest, prevalent in the Rockies, was no longer. This area is a treeless expanse of open prairie.
When we got to Calgary the Wal-Mart would not do an oil change on the motorhome. We laughed it off and continued on our journey toward Waterton Lakes and the Canadian portion of Glacier National Park.
Around 5:00 we spotted a diesel and auto repair facility. OK Tire and Auto Service was a mom and popshop on the edge of town (Pincher Creek, Alberta) with a large parking area. We stopped and made arrangements for them to do the oil change and some other minor repairs. The radiator for the diesel and the transmission has gotten dirty and is not cooling as efficiently as I would like. These fine folks are going to pressure wash the radiators. That should help the radiators transfer heat better. With arrangements made for the repair work tomorrow morning they invited us to stay the night in their parking lot. What mind readers these folks are. It was perfect. Now all we had to do was make plans for the nights entertainment and food. Joyce had already hinted that she was not cooking and I was getting hungry.
The owners and mechanics told me about The Great Canadian Barn Dance around 20 miles south of here where we can eat and dance tonight. Joyce already had her eye on the same place from advertisements but the local GOB (Good Old Boy) input cinched it. We were off to the Great Canadian Barn Dance and Dinner.
The Great Canadian Barn Dance is smack in the middle of 20-miles of wheat fields. In this area on the east side of the Rockies wheat fields cover every inch of ground that is not highway. Farmers are frantically harvesting wheat along the way. The proprietors of this place have converted an 80-year old two-story barn into a dining facility and dance hall. We really did not know what to expect but they quickly explained that for one fee they would feed and entertain us. We joined over 200 folks in the activities and food. Two busloads of college kids, studying English, from a University in Calgary were in here for a sleep over. Most of these were Orientals with a smattering of French. There was a wedding party that was the remnants of a noon wedding down the road. The remainder was couples that just wandered in off the street like we did.
They started us off with dinner featuring 12 to 14 ounces of simply scrumptious tender roast beef. We ate dinner outside enjoying the blazing red sunset. After dinner most people took advantage of a hayride featuring a wagon pulled by two draft horses that rode you around a 20-acre lake adjoining the barn. We did not do this, because it was chilly, but watched everyone else. The view was awesome with the sun setting over the Rocky Mountains to the west while wheat fields surround us. Simultaneously the band started playing and dance instructors started giving dance lessons in the warm barn.
The band played all types of music in an attempt to keep the diverse audience happy. The Orientals had a ball with the line dancing with all participating. They particularly got into the Macarena. Older folks preferred to waltz and polka. The Orientals and old folks had fun with the 50/60s hip hop music. That type music was close enough to what the majority was familiar with and the majority would dance to these numbers. Everyone was having fun.
During one of the intermissions they had everyone tell where they were from. Joyce and I came the longest distance (from Florida). They gave us a prize to remember them by.
During one of the bands intermissions we noticed a large group sitting outside around a fire. We were impressed with the number of activities available. Individuals and groups were wandering from one activity to the other.
The proprietors of the Great Canadian Barn Dance "DELIVERED" what they promised. They had good food and plenty of entertainment. If you visit Waterton Lakes National Park (Canadian Glacier NP) you should try to fit this in. They also have a small RV-Park.
Sunday, August 26, 2001
Waterton NP, Alberta, Canada: Elevation: 4,300'
The mechanic met us around 11:00. Normally we would be in church at this time but we have been trying hard to get this work done for several weeks and are tickled pink that this place has agreed to do it. After getting the oil changed and radiators pressure washed we connected up and headed south about 30-miles to Waterton National Park. The remainder of our day was spent resting and walking around the RV-Park. We love to walk around RV-Parks striking up conversations. Today we met two couples from nearby towns and spent several hours sharing experiences.
Monday, August 27, 2001
Waterton NP, Alberta, Canada: Elevation: 4,300'
We spent the entire day in Waterton NP. On one drive we visited a large Alpine Lake that was part in the US and Canada. Since the road came in on the Canadian side we could only view the US at the south end on the lake. Information at the site told us that the Continental Divide straddled that mountain. The US Canadian border is the 49th Parallel or 49 degrees from the equator. Not long ago in Yellowstone NP we crossed over the 45th Parallel (45 degrees from the equator and ½ way from the equator to the North Pole) it was the border of Wyoming and Montana. Now we are 4 degrees north of that. How is that for a piece of trivia?
Prince of Wales Hotel
This park is utilized almost exclusively by Albertans, at least that is what the tags on the vehicles tell us. Many families are vacationing here. The weather is so nice (high of 80 and low of 40) and everything in the village is within easy walking distance of the RV-Park. Deer and mountain goats are grazing throughout the RV-Park. Snow is visible on the mountains out our front windows. Boats with fishermen and skiers are running around the lake. We had intended to eat lunch at the Prince of Wales Hotel, but they were a bit too proud of their lunch selections. The Prince of Wales Hotel stands on a prominence of land overlooking a majestic sweep of Waterton Lake. Waterton Lake is billed as one of Canada's finest alpine splendors. Joyce and I toured the lobby and admired the view of Waterton Lake before returning to the village and more reasonably priced vittles. Now can we say we have been there and done that?
Since we are returning to the United States tomorrow we had to go by the money exchange and convert $25 of Canadian currency back into $16.00 US currency. We also had $4.26 in Canadian coins. The currency exchange only exchanges bills and the smallest Canadian bill is $5.00. What are we going to do with $4.26 in Canadian Change? After a bit of thought we stopped by the service station and purchased------you guessed it $4.26 worth of gasoline. We thought that was a clever way of using every penny.
We have been in Canada for 9 days and have not been able to download e-mail the entire time. Tomorrow we will stop in an RV-Park that is modem friendly. The primary reason we were not able to download in Canada was because we were staying in National Parks. We have found all National Parks, Canadian & US, to be virtually impossible to get modem connections in. National Parks do not have to be concerned with customer satisfaction.
Montana: Great Falls, Montana.
Tuesday, August 28, 2001
Dick's RV-Park Great Falls, Montana. Elevation: 4,000'
We left Canada this morning heading to Great Falls, Montana and the good old USA. As we left Waterton NP in the Canadian Rockies we were surrounded by alpine forest. Soon we were leaving the conifers behind, trading them for wheat fields and prairie. The Rocky Mountains wring all of the moisture out of moist Pacific air flowing over the Rockies. It is warm dry air that heads east across the prairies. The conifer forest literally stops at the eastern foot of the Rockies.
The hi-light of our morning had to be the border crossing. Customs was a piece of cake. The "Agricultural Officer" was another matter. This "Jackie Gleason" individual had a form to fill out and fill it out he did. Why he picked us out for the big questionnaire I will never know. His quick look in the refrigerator and subsequent giggle should have been enough to send him packing. I really did not think that an "Agriculture Officer" would be interested in canned cokes. Little did I know that he had that ubiquitous government form. He asked question after question, each time we would try to give him a well thought out honest answer. Each time he would say it did not really matter. After 20-minutes of answering dumb questions I was about to scream. Just when I was at my wits end, it was over. We had answered all of the agricultural questions. Glory Halleluiah!!!! We were on our way and "Jackie" was off to entertain another lucky vehicle with one of his blank forms.
The landscape north of Great Falls is wheat fields and open range. We passed one place in the middle of all those wheat fields that sported a sign on multiple grain bins stating they were the malt capital of the world. I suppose that means that the wheat we have been seeing might be barley. In any event it was amber fields of grain about 14 to 16 inches tall.
Wednesday, August 29, 2001
Dick's RV-Park Great Falls, Montana. Elevation: 4,000'
This is a day that we have to visit Wal-Mart to get prescriptions filled (that usually means two visits) plus some serious grocery shopping. While in Wal-Mart we met a couple from the RV-Park that has just returned from a 50-day trip to Alaska. They had been in the same RV-Park in Waterton that we were in and had driven the same route down to Great Falls that we had. The husband was a retired mid-west farmer. I took the opportunity to ask him if that was wheat we had been driving through. He said that it was. When I asked him if he had seen the sign on the grain bins about 50-miles up the road. He had. Then he said that you could not tell barley from wheat, so some of the wheat must have been barley.
Joyce and I visited the Louis and Clark museum in Great Falls. It is an excellent museum. We spent 3-hours completely absorbed in the exhibits. The town of Great Falls, Montana got its name from a series of 5-falls in the Missouri River that the expedition had to portage their canoes around. Louis and Clark had planned on spending one day on the portage around one fall. When they scouted the river upstream of the first fall there were 5-falls instead of one. It took the exploration party over one month to portage the
Thursday, August 30, 2001 Dick's RV-Park Great Falls, Montana. Elevation: 4,000'
Joyce and I got up early to have the motorhome at FMS Fleet Maintenance Service by 8:00 am. Ouch! We are not used to that. Anyway, we spent the day with some of the nicest people on earth. The mechanics and owner were wonderful. My transmission that had been running 150 degrees all trip long has now decided to start running 200 to 210 degrees. The mechanics were trying to determine why. There was/is nothing wrong with the transmission, the fluid level was correct, the color and clarity indicated that it had not overheated. The temperature gauge was checked and was right on. Allison (it is an Allison Transmission) representatives told the mechanics that 200 to 250 was normal operating temperature for the transmission. What no one understands is why it was running 150 and now runs 200. That concerns the mechanics, the Allison representative and me. At my insistence they serviced the transmission changing both filters, internal & external and checked for any abnormal wear like filings or whatever in the pan and or filters. There was none. I am somewhat relived, but at the same time perplexed. Most knowledgeable mechanics say that the transmission temp should mirror the engine temperature, which it is doing now. However, for the first 5 months of this trip it was running 150 while the engine was running 200. What changed? Two possibilities exist: First the temperature gauge may have been reading inaccurately when it was showing 150 and for some reason is now operating properly. (This is certainly possible since just before it started reading 200 it started fluttering like a butterfly). When we shut down the diesel for several hours and started it again the temperature gauge rose in a normal manner until it reached 200 then stayed there. The second thing that could have caused the temperature to run 150 would be a valve that senses the temperature and diverts the fluid back into the transmission without going through the radiator until the proper operating temperature has been reached. This valve could have been stuck thus always allowing the fluid to circulate through the radiator and never reaching "operating" temperature.
In total I did 4-test drives down the highway to see what the temperature would do after we had tried one thing or the other. Nothing we did seemed to have any effect.
Joyce was patient through the entire process alternating between reading, preparing lunch, tagging along on test drives and playing on her computer. Thank goodness because it was a long day. We arrived before 8:00 and left after 5:00.
Friday, August 31, 2001 Dick's RV-Park Great Falls, Montana. Elevation: 4,000'
We have been looking forward to this day for some time. It is our 5th month anniversary (on the road) and it is the day Joyce's Sister and our Brother-in-Law leave on their two-week vacation out west. They will be visiting Jackson, Wyoming, the Tetons, Yellowstone, Cody, Wyoming, Great Falls and Glacier, NP in addition to flying into and out of Salt Lake City, Utah. We are excited for them and the possibility that we may actually get to see them in Cody, Wyoming.
That was what we woke to but things would change as the day wore on. With assurances that the temperatures we were experiencing in the transmission were within Allison "specs" we decided to head south to Billings, Montana and from there into Cody, Wyoming.
As we drove from Great Falls to Billings we were traversing open "short grass" prairie and undulating hills. The elevation climbed a thousand feet or more then dropped a thousand feet. The transmission generally ran between 220 and 245. I did not like it but have been assured that it is "operating range" for my Allison transmission. My cell phone did not have a signal between Great Falls and Billings. Those 200-miles are not through a metropolitan area if you get my drift. When we get to Billings I contact the mechanics back in Great Falls to see what they have learned when they again contacted Allison technical support. Things are changing. My temperature reading is coming from the pan after the fluid has been COOLED. Allison's "operating range" temperatures are the temperatures exiting the torque converter (the hottest place) not the temperature of the fluid after it has been COOLED. I am advised to immediately stop driving the motorhome and get to an authorized repair facility. Oh Boy! It is 5:00 Friday afternoon with Labor Day on Monday following the weekend. On top of that we had wanted to meet Joyce's sister and our Brother-In-Law in Cody on Tuesday. All of our plans for the next week are a-changin fast.
The mechanics and Allison technical people still think I have a good transmission. They now believe that the temperature sensing valve may be malfunctioning and not sending the hot fluid to the cooler in sufficient volume. Or something is obstructing one of the tubes transporting fluid from the transmission to the cooler. Or the transmission radiator is clogged (or something). None of these are easy to find. From now on nothing will be simple.
Joyce found us a suitable RV-Park in Billings to spend the next three days waiting for Tuesday when mechanics will return to work after the Labor Day weekend. Oh well! When lemons start falling you find some sugar and make lemonade don't you? We are looking for some sugar. J
FSU Florida State University is playing Duke this weekend. That will be a football game for those of you that are not sports fans. Missing FSU Football is not one of the positive things about this trip. I want to see that game!! Out here it will not even be on the radio. These folks do not even know that FSU exist. (That is a sin isn't it?)
Saturday, September 1, 2001 Yellowstone River Campground, Billings, Montana. Elevation: 3,160'
note: be aware that Yellowstone River Campground became active in the campaign to have city fathers prohibit RV's from overnighting at Wall-Mart in Billings. Because of this we will not stay with them again.
Saturday was a day to relax and wait for Tuesday. Joyce got her hair fixed and we got some prescriptions filled at Wal-Mart. It was nice to relax. As dusk approached we watched as a number of deer came out of the woods to feed in the field next to the RV-Park. I saw on television that FSU pulled out their game with Duke in a 55 to 13 squeaker.
Mike & Joyce Hendrix
Until next time remember how good life is.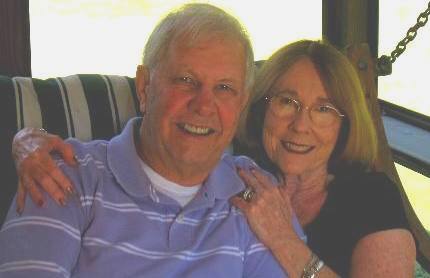 Mike & Joyce Hendrix who we are
We hope you liked this page. If you do you might be interested in some of our other Travel Adventures:
Mike & Joyce Hendrix's home page
Travel Adventures by Year ** Travel Adventures by State ** Plants ** Marine-Boats ** Geology ** Exciting Drives ** Cute Signs ** RV Subjects ** Miscellaneous Subjects
We would love to hear from you......just put "info" in the place of "FAKE" in this address: FAKE@travellogs.us
Until next time remember how good life is.