Radium Hot Springs, Banff, Lake Louise & Jasper in Canada
Places Visited: Canada: British Columbia: Radium Hot Springs.Alberta: Banff, Lake Louise & Jasper, Canada.
Saturday, August 18, 2001 The Canyon RV Resort on Sinclair Creek. Radium Hot Springs, B.C. 250-347-9564: Elevation 2,700'
Today we were in the motorhome driving from northern Montana into British Columbia along the western side of the Canadian Rockies. Although we were in a lush valley all the way the Rocky Mountains were clearly visible to the east of us. The entire drive was extremely scenic. We had been expecting the border crossing to an event. It wasn't!! In fact it was a pleasant surprise. We have heard so many stories about RV's with Florida and Texas tags being thoroughly searched (these states have reputations for carrying guns in their vehicles) that we were prepared. We did not even have to get out of the motorhome. In fact we did not even have to show any ID. We have passports and had them ready. This really cute girl asked where we were from and we said Florida. She asked if we had any guns with us. I responded with a no. She asked if I left it at home, to which I replied that I was one of the few that did not own one. She gigged and asked where we were going and I said Banff, Lake Louise and the Ice fields near Jasper. She then told us to have a nice day. And away we went.
Road signs in Canada are metric (every place on earth is except the US) and I was thankful that my speedometer gave speeds in KMH as well as MPH. Most of Canadian highway speeds are between 80 kmh to 100 kmh. Check your speedometer to see how fast that is in MPHs.
On one stretch of Canadian highway 93/95 we stopped at a roadside pullout "viewpoint" overlooking a large beautiful lake. An interpretive sign informed us that this was Columbia Lake the birthplace of the mighty Columbia River that makes its way to the Pacific Ocean at Astoria Oregon. A few miles farther and we are able to see the first few miles of that great river as it meanders through a wide valley near Radium Hot Springs, British Columbia. That valley is advertised as the largest preserved wetland on the North American continent.
Before we left this morning Joyce prepared a meal and put it in the crock-pot then let it cook while we were traveling. How is that for a hard day of cooking? We had planned to do this more often but until now it was just plain easier to eat out. We knew that the section of highway we were going to travel was sparsely populated and the chance of finding a restaurant would not be good.
Sunday, August 19, 2001 The Canyon RV Resort on Sinclair Creek. Radium Hot Springs, B.C. 250-347-9564: Elevation 2,700'
The RV-Park and weather are so nice that we decide to take a day off and just relax.
Radium Hot Springs is located on the west side of the Rocky Mountains just outside Banff NP. The campground we are staying in is a popular destination and is almost full. Canadian highway 93 from Radium Hot Springs east to Banff was closed when we arrived yesterday. It seems that a forest fire has the road closed and they do not know when it will reopen. Our plan was to stay in Banff. With the road closure, that plan has changed. It now looks like we will have to continue north an hour or so to Golden, BC then turn east to Lake Louise where we will look for a campground. Lake Louise appears to be centrally located so that we can take day trips in the Saturn to the Ice Fields about an hour north and Banff about a half-hour to the south.
Monday, August 20, 2001 Tunnel Mountain Campground Banff NP Alberta Canada: Elevation 4,760'
Surprise, surprise Canadian authorities have opened highway 93 east to Banff. We did not have to go out of our way to get to Banff after all. When it was announced that they were opening the road this morning we packed up and headed out. It was just a 60-mile drive across the continental divide and into Banff. Less than halfway through we encountered the thick smoke. Because of the very thick smoke we could not see the awesome mountains surrounding us except through the haze. On occasions we could see the shapes of mountains but could not distinguish trees or any detailed features. When we arrived in Banff it too was shrouded in a thick layer of smoke. Around 4:00pm the wind shifted and we were surrounded by the majestic Canadian Rocky Mountains. Banff is situated at around 4,700 feet in altitude and is surrounded by glacially carved mountains.
I took Joyce to town (Banff). How beautiful can a little town be? Banff looks like a city right out of the Bavarian Alps. Flower baskets adorn windows with awesome cascades of color. Everyone gets in the act with brightly colored hanging baskets or window boxes. Businesses have well tended flower gardens. The town is ablaze with color. All buildings are constructed with that quaint chateau "mountain village" motif.
Shopping is not my bag but I hang in there like a champ. I need Macklyn or Brenda to accompany Joyce on these shopping experiences.
After hours of wandering through all manner of boutiques and specialty shops we headed back to the RV to fix dinner then run to a dramatic reading on the history of Banff NP. We really enjoyed this professionally done history lesson given from a variety of perspectives. I am not much on "dramatic readings" but this husband and wife team has been performing this presentation weekly for over 20-years. Around 300 visitors to Banff National Park were treated to this "cultural" and educational event.
After the presentation Joyce and I went looking for Bill and Frana, our friends from Atlanta that we had met back in Glacier NP and dined with at Polebridge. They were tentatively scheduled to arrive in Banff today or tomorrow. We had looked for their motorhome several times today but the RV-Park in Banff has over 400 full hook-ups and probably that many with just electricity. It would just be blind luck with that many RV's and both of our unpredictable schedules that we would actually see each other again. Luck was with us. We spotted them and had a grand reunion. As it turned out they were on the front row of the dramatic reading while we were on the back row.
Plans were made to experience Lake Louise together in the morning.
Tuesday, August 21, 2001 Tunnel Mountain Campground Banff NP Alberta Canada: Elevation 4,760'
Bill and Frannie picked us around 9:30 and we headed to Lake Louise. Lake Louise is a 30-minute drive north of Banff through simply gorgeous mountains. Lake Louise is arguably the most scenic vista on the North American Continent. The lake itself is situated at around 5,300 feet at the foot of several large glaciers and numerous glacially carved mountains rising to over 10,000 feet. The view of the mountains and glaciers across the lake and reflecting in the lake will take your breath away. The ragged snow-capped peaks perched atop this tranquil aquamarine lake surrounded by alpine forest together with 50 degree air falling off the glaciers is more than the senses can handle. After soaking up this experience from every angle imaginable we entered the Fairmont Chateau Lodge at Lake Louise for lunch. We settled on an elegant buffet that featured several items neither couple had experienced. Several of us started with a cold fruit soup. None of us had ever experienced "cold fruit soup". It is something I will do again if given a chance. I have no idea what fruits were used but the consistency reminded us of thin applesauce. Bill liked the fruit soup so much he immediately went back for seconds. As for me, I loved the "cold fruit soup" but the prime rib was beckoning. The next item than none of us were familiar with was Saskatoon pie. We all got a slice of Saskatoon berry pie. It was ok but nothing any of us would go out of our way for. It goes without saying we all consumed numerous other deserts. However, now we can all raise our hands when someone asks us if we have ever sampled "Saskatoon" pie. At the restaurant an employee said the pie was made with Saskatoon berries. After I started writing this Microsoft Word would "automatically" capitalize Saskatoon. Saskatoon is a major Canadian city located in Saskatchewan so this explains the capitalization. World book, like me, did not recognize Saskatoon berry. Now I suspect that the pie may NOT have been named for a "Saskatoon berry", but for the city instead.
The next stop was Moraine Lake about 10-miles away. This is another awesomely beautiful glacier lake complete with mountains and glacier reflecting in the water.
>From Moraine Lake we head to the Ski Lodge at Lake Louise. They have a gondola ride that we had contemplated taking but it did not go to the top of the mountain so we just toured the restaurant. They can't charge us $17.00 each for a ride halfway up the mountain. We are not the sharpest pencil in the box but___ you get the idea.
Bill drove us back to Banff along scenic Canada 1-A instead of the Trans-Canadian Highway. On the way we were looking for moose but stumbled upon several bull elk beside the road. These bulls were very large and very close to the road. Both had huge racks with dangling velvet. Cars and tourist lined the road while these bulls ran their antlers through the underbrush in an attempt to dislodge the dangling velvet. For over 30-minutes these large bulls put on a show for all who happened along.
It was decided that tomorrow we would meet at 9:00am and do Banff.
Wednesday, August 22, 2001 Tunnel Mountain Campground Banff NP Alberta Canada: Elevation 4,760'
Bill ended up driving again. Our first stop was the Banff Park Museum. It is Western Canada's oldest natural history museum. This museum preserves a unique atmosphere through its Edwardian Architecture and original displays of wildlife taxidermy and park artifacts. This museum was most notable for the superb collection of wildlife. Wonderfully displays contained small mammals and birds all the way up to the forest giants like elk, grizzly and bison. The building was classified as Edwardian Architecture, whatever that is; to me it looked like a Japanese pagoda and American train station wrapped into one.
After doing the museum it was time for today's BIG event. Our big event was dining at the "Castle in the Rockies". The Castle is the Banff Springs Fairmont Hotel. Built in the 1920s by the Canadian railroad as a tourist destination it was patterned after the chateaus found in the Loire Valley of Central France. They did a good job, it looks every bit like a castle. In its day it was one of the most elegant hotels anywhere. In my opinion it still is. Many individuals have insisted that the "historic" lunch buffet was a must do. At $28.00 apiece this buffet best be GOOD, REAL GOOD. As it turned out the buffet price included a guided tour of the "Castle". I thought the buffet yesterday was "upscale", na! After today the buffet yesterday has been relegated to "mid-scale". This buffet did not have room for ground meat, if you get my drift. This was another chance to "taste test" a host of new dishes. How many exotic sauces can you put on prime rib? How many scallops, oysters and shrimp baked in heavy cream and exotic cheese can one individual consume? Each of us tried a large variety of exquisite dishes being prepared by a battalion of chefs. Vegetables with shrimp and mussels are my idea of GOOD vegetables. How about it guys, cannon ball peas and buttered scallops. Even kids would eat snow peas and shrimp or mushrooms and oysters sautéed in butter. I could go on and on. Words will never adequately describe this spread. It was mind-boggling.
This place also offered Saskatoon pie so Bill and I discussed the Saskatoon berry with the chef in charge of desserts. A group of chefs took the matter under consideration and finally decided that a Saskatoon berry was just a LARGE blueberry. I guess that would make it something like a "Key Lime" as used in key lime pie. The LARGE blueberry definition may explain the difference between blueberry pie and Saskatoon pie. Large blueberries are not nearly as sweet as the smaller ones. That may explain why the Saskatoon pie did not stand out. It was not sweet at all.
After nearly two hours of gorging ourselves it was time for the guided castle tour. For the next hour or so we were led from one elegant ballroom to another. In the "million dollar" room we were treated to the view of a lifetime. The room was named for the "Million Dollar" VIEW of the valley from this room. We did not have to ask why. That is what we would have named the room if we had been asked. It would be virtually impossible to find a more beautiful view anywhere on this earth. Each room reeked of majestic opulence all the way from the crystal chandeliers to the brass doors, (not door knobs) to gold leaf ceiling work. Enough of that, the place is an elegant castle and looks the part.
Next we took the Banff gondola to the top of Sulphur Mountain. The view from the top of Sulphur Mountain is not describable with mere words. The town of Banff and several surrounding valleys and multiple mountains and rivers are visible from an eagle's perspective. Visual overload is the best way to describe the view from the observation station atop the 12-minute gondola ride. The Banff gondola ride to the summit of Sulphur Mountain is another strongly recommended thing to do if visiting Banff.
It is just 5:00 but we have experienced all our systems could take in one day. We agree that it can't get any better.
Tomorrow we have decided to drive to the Ice Fields about an hours drive north of Banff with our friends. We are all going to read up and see what other things we might to on the ride to and from the Ice Fields.
Thursday, August 23, 2001 Tunnel Mountain Campground Banff NP Alberta Canada: Elevation 4,760'
Arguably the most beautiful road in the world, that's what many seasoned travelers have said, and they have a point. How many highways can claim 135 miles of continuous World Heritage Site scenery completely protected in national parks? I am talking about the road between Lake Louise and Jasper. Individuals are enjoying this world-class scenery in every conveyance imaginable: cars, trucks, RVs, busses, bicycles, motorcycles, roller blades and, hiking to name a few.
From the beginning this parkway has been intended to commemorate Canada's powerful natural landscape. It's a scenic drive, not a transportation corridor. That's why you need a park pass to drive the parkway. Large trucks are banned. The speed limit is leisurely. Pull-offs and picnic areas are many. This ride is the perfect place to tune in to nature, appreciate it, respect it and pledge to protect it.
In 1931, the government of Canada put hundreds of unemployed men to work in building this "wonder trail" through the heart of the Canadian Rockies. The men were paid twenty cents a day. Using picks shovels and horses-for mechanized equipment the crews had only a few small tractors-these hardy folks hacked a single-lane gravel track from Lake Louise to Jasper. With the auto-tourist boom of the 1950s and 1960s came widening, paving and realignment. The official name is now "Icefields Parkway."
The Icefields Parkway is aptly named, as the Parkway passes within viewing distance of seven icefields (large upland glaciers) and about 25 smaller but notable glaciers. The centerpiece is the Columbia Icefield, largest in the Rocky Mountains.
Glaciers form from layers of snow that remains after each summer's melt. The delicate snowflakes gradually change to hard, interlocking ice crystals as the snow becomes compacted under hundreds and hundreds of feet of snow. At around 100 feet the layers of snow become pressurized into ice. As more snow falls on top and the depth of ice increases, it eventually overflows into surrounding valleys and starts flowing downhill-a glacier is born! Ice within the glacier moves at different speeds, similar to flows within a river. Ice layers at the bottom of the glacier are under intense pressure and become "plastic"-able to flow over bedrock irregularities without breaking or cracking. The upper layers are more brittle, and crack open into crevasses when subjected to stress. Some glacial ice in the Rockies is hundreds, possibly thousands, of years old.
As the glacier flows downhill, it carries a tremendous amount of rock and debris with it. The sides of the glacier undercut surrounding cliffs and severe temperature fluctuations loosen rock on the mountain sides which tumbles down onto the top of the glacier, while the bottom ice grinds and gouges the underlying bedrock. The glacier transports this material down the valley and deposits it along its sides and terminus as moraines (piles of rock rubble). At the lower end of a glacier, the ice melts back while the glacier moves forward. During hot, dry summers the rate of melting increases and the glacier melts back faster than the forward ice flow, so the toe of the glacier retreats. In a period of cool, cloudy summers, the rate of melting decreases and the toe gains ground. The glacier advances. Recently these glaciers are retreating rapidly, an indication that the earth's climate is warming. The park service has constructed concrete markers along our way to the toe of the Athabasca Glacier indicating where the glacier was in approximately 10-year increments. Viewing these markers vividly shows us the relentless retreat this particular glacier has made over the last 70-years.
Once we arrived at the Columbia Icefield and the Athebasca Glacier we boarded unique "Snocoaches", found no where else on earth. These 56-passenger busses mounted on a giant 6-wheel drive frame carried us out onto the glacier. Once we arrive at a safe place miles out on the glacier the driver stopped and allowed the adventuresome among us to disembark the "snocoach" and walk around on the glacier. Walking around on a glacier is a unique experience. There is around 1,000 feet of ice underneath the spot we are walking on. The ice is slippery as you might expect and the wind falling off the glacier stretching to the horizon above us is freezing cold. Twenty minutes is about all our ears and hands could take before retreating back to the "snocoach" for our ride back to pavement.
While on the Glacier tour our driver told us about the unique mountain to the north of us. It is a "Tri-Continental Divide". There are only two "Tri-Continental Divides on earth" this one and the other somewhere in the USSR. The drainage off this particular mountain has a river running to the Pacific Ocean through the Columbia River system. Another of its rivers drains to the Atlantic via Hudson Bay and the third river flows north to the Arctic Ocean. Back at the motorhome I tried to read up on this phenomena. The world book did not mention it, however, in reading up on the "Great Divide" along the crest of the Rocky Mountains, World Book describes a similar place located in Glacier National Park as follows: "On Cutbank Pass in Glacier National Park, there are three brooks so close together that a person can pour water into all three at the same time. One brook carries water to Hudson Bay, another to the Pacific Ocean, and the third to the Gulf of Mexico." I suppose this spot is not classified as a tri-continental divide spot because the water flowing to Hudson Bay and the Gulf of Mexico are technically both flowing into the Atlantic.
Our trip along the Icefields Parkway took us through three life zones: Mountain, Sub alpine and Alpine. All day long the tree line is visible just above us. At this latitude the tree line appears to be around 7,000 feet. Much farther south in southern Colorado the tree line was around 11,500 feet.
What a day! This was 13 hours of visual overload. Both couples decide that tomorrow has to be a day to sleep in and recuperate.
Friday, August 24, 2001 Tunnel Mountain Campground Banff NP Alberta Canada: Elevation 4,760'
Bob and Franna stopped by to see us before heading out. They are heading for Radium Hot Springs and some golf before going back to the States. There is a chance that we will meet back up with them in Cody, Wyoming sometime around the 4th of September.
Joyce and I recuperated before touring Banff's historic cave and basin in the early afternoon. The Cave, and Hot Springs are historic because they are the beginning of Canada's National Park System.
We head for Calgary and an oil change for the motorhome in the morning.
Mike & Joyce Hendrix
Until next time remember how good life is.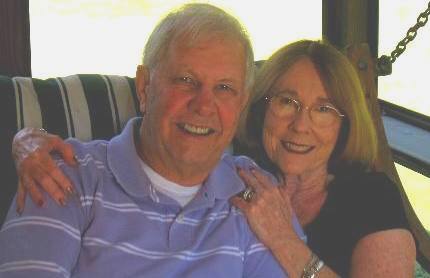 Mike & Joyce Hendrix who we are
We hope you liked this page. If you do you might be interested in some of our other Travel Adventures:
Mike & Joyce Hendrix's home page
Travel Adventures by Year ** Travel Adventures by State ** Plants ** Marine-Boats ** Geology ** Exciting Drives ** Cute Signs ** RV Subjects ** Miscellaneous Subjects
We would love to hear from you......just put "info" in the place of "FAKE" in this address: FAKE@travellogs.us
Until next time remember how good life is.