Butte, Missoula, Coram, Polebridge & Glacier NP Montana
Places Visited: Montana: Butte, Missoula, Coram (small city @ west entrance to Glacier NP, Polebridge & Glacier NP
Saturday, August 11, 2001 Wal-Mart Super Store: Butte, Montana. Elevation 5,484 feet
I got up bright and early and took the Saturn to get 4 new tires and an alignment. It was time for the new tires so this was nothing out of the ordinary. I took the laptop and cell phone with me while the Princess got an extra hour or so of beauty sleep.
After getting the Saturn taken care of we headed off to downtown Butte to tour the Copper King Mansion. This "palatial estate" was hardly fit for a man purported to have made 17-million per-day. It was opulent beyond imagination. However, with an income of $17-million PER-DAY it was only a couple of hour's worth of income. Later we walked into the lobby of the beautifully restored and historic Finlen Hotel. Then we ate Buttes famous pork chop sandwiches for lunch.
The rodeo arena two blocks down the road from our motorhome was featuring Saturday night bull riding with a dance following. You guessed it, so I want say any more.
Sunday, August 12, 2001 Wal-Mart Super Store: Missoula, Montana. Elevation 3,162 feet
We worshiped with the First Baptist Church in Butte. It was a grand old church from the 1880s. The building was 1907 vintage with a top of the line pipe organ that had recently been fully restored. Only 24 individuals were in attendance this morning, hardly a smattering of folks in this nice size church. The preacher delivered his message on "what counts". Christians know the message contained in John 3:16 but have a way of getting side tracked on other issues. His admonition to the congregation was to put aside the petty differences and concentrate on what really matters. Joyce and I do not know what strife had become this once grand old church but it certainly did give us a vivid picture of what can happen to a church when they relegate the teachings in John 3:16 to a back seat. The simple message in John 3:16 is that whosoever (ALL) believes will have everlasting life. The preacher's point was that ALL believers would have everlasting life not just those with a certain point of view or a particular dogma. A voice deep inside of me was shouting that this message needed to be delivered to FBC in Pensacola by none other than J.P.
After church we connected the Saturn to the motorhome and headed off to Missoula, Montana. Several locals have told us not to miss the scenic ride on Montana highway 1 starting just off I-90 at the town of Anaconda, Montana and ending at Drummond, Montana 49 miles to the west. What a beautiful and scenic drive through an awesome canyon. Anaconda is famous as the town that smelted much of the copper ore mined in Butte. The smokestack is all that remains of the old smelter that is visible to the public. That smokestack is enormous, 585 feet tall, with a 60' inside diameter at the top. They say that the Washington Monument can fit inside. This smokestack is billed as the largest freestanding masonry structure in the world. Montana highway 1 was a very scenic drive and only a short distance out of our way.
We descended over 2,000 feet in elevation today, and the temperature got higher, much higher. The temperature at night only got down into the 60s. Above 5,000' the temperature usually gets down to the mid-40s.
Monday, August 13, 2001 North American RV-Park Coram, Montana. (West gate to Glacier NP): Elevation 3,209'
For a change we got up early and took off to Glacier, NP. It was a beautiful drive. We did not go the most direct route because several people have encouraged us to drive up Montana 83. From Missoula we had to backtrack, to the east, a bit on Montana 200 until we could catch Montana 83 north. This route had it all, mountain lakes, alpine forest, lush hay fields, amber wheat fields, lumber mills, all located between two mountain ranges. Just after noon we got to the North American RV-Park and set up. Lucky Joyce got to do laundry. This was our first chance to download e-mail in several days an event both of us look forward to.
This is huckleberry country. Everyone is picking wild huckleberry. Roadside stands are peddling wild huckleberry jams, preserves, ice cream, milkshakes and a variety of other huckleberry items. We have been eating wild huckleberry jelly and it is wonderful. The huckleberry milkshakes and ice cream are super also.
This is also cherry country and the same stands that sell huckleberries are selling cherries. The area grows several kinds of cherries but the ones we like are the Rainer or Queen Ann cherry. They are a yellow cherry with a slight blush. To us these cherries taste like sweet candy. There is no tartness at all. At $4.00 a pound they better be sweet! AMEN! They are good and worth every penny.
Tuesday, August 14, 2001 North American RV-Park Coran, Montana. (West gate to Glacier NP): Elevation 3,209'
Joyce and I drove over the "Going to the Sun" highway in Glacier NP today. This is the most beautiful National Park and also the most awesome road we have experienced on our trip. We saw mountain goats and a single grizzly bear up close. The road cut through Glacier NP on the Going to the Sun highway is truly magnificent. The grades are pretty sporty (6%) for about 12 miles. We drove it in the Saturn and I had to use 2nd gear going up and down. Second gear usually holds our speed in check going down all but the steepest grades. Second gear would not hold our speed in check without frequent help from the breaks. This grade was not as steep as the Teton pass outside Jackson, Wyoming. However, this grade went on for 12 miles while the grade on the Teton pass, as I recall, was only about 5 miles. Twelve miles of 6% grade makes for a truly exciting ride. On the west side there are numerous narrow places where it is obvious the road was constructed in the 1920's. Many drivers are cheating on the yellow line if you get my drift.
Glacier NP is noted for several things other than the Going to the Sun highway. One of the unique things about this park is the glacial carving that makes up so much of the scenery. Large valley glaciers (10,000 years ago) altered the landscape in a magnificent way. In addition to the glacial aspect of the parks geology most of Glacier Park is an enormous slab of Precambrian Belt rocks (a BILLION or more years old,) that has been "overthrust" on top of Cretaceous sedimentary rocks only 65 to 100 million years old. The fault line instead of being vertical lies almost flat so that the older "Precambrian" rock is thrust over the much younger sedimentary rock. The Precambrian rock is very hard so it erodes slower. Much of the glacier action has been on these very hard billion-year-old rocks.
Wednesday, August 15, 2001 North American RV-Park Coram, Montana. (West gate to Glacier NP): Elevation 3,209'
We took a cruise on Lake McDonald in Glacier NP. It was a picturesque one-hour cruise that was ok but nothing special. At the west entrance to Glacier NP Alberta, Canada had a Welcome Center. We visited the welcome center and picked up several pounds of literature in preparation for the next leg of our journey. Joyce spent some time moseying through gift shops inside Glacier NP. So far, our day was certainly nothing "to write home about", just a casual day of low-key sightseeing. That would soon change.
Earlier in the week we met a wonderful couple in the RV-Park from Roswell, Georgia a bedroom community of Atlanta, Georgia. The more we talked the more it became apparent we had a lot in common. We made plans to eat dinner together tonight. The plan was to meet at 6:00 and drive about 25-miles to Polebridge, Montana and eat at the Northern Lights Saloon. The owners of the RV-Park and several others have told us the Northern Lights Saloon is a "must do". We have also heard park employees talking about the bread and other baked goods at Polebridge. It appears that Polebridge is "THE PLACE".
Joyce and I cleaned out our Saturn and wiped out the door jams (out west the inside of car doors gets dusty going down the gravel roads). At 6:00 sharp Joyce and I pick up our friends and we head off to Polebridge. The road to Polebridge begins inside Glacier NP a few miles north of the west entrance. About 5-miles down a nice paved road things change, the road becomes gravel. We are on a very wide gravel road but it has not been graded recently, possibly not in this century. Roads like this are where the term "washboard" originated. I slowed down, way down like 10-mph. Some Montana vehicles were driving slowly others were flying by like they were on the interstate. We are getting nowhere fast when the jokes started flying. It seems that the owner of our park had told both of us about another GOOD restaurant where we should eat lunch. As luck would have it both couples had followed his advice and eaten at the "Two Sisters Café" on the east side of Glacier NP near the entrance road to Many Glaciers. Neither couple was impressed with the "Two Sisters Café" and both of us were wondering why it had been recommended. We both laughed about shooing flies, the waitress that was virtually non-existent and a variety of other things that made the "Two Sisters Café" a place neither couple would recommend. As one couple would mention something like the flies the other couple would bust out laughing since their experience was identical. By now we were seriously out the boonies. When you are in the boonies in Montana, trust me, you are waaaaaaaaaaay out there. Electricity and lights are something that has been left waaaaaaaaaaay behind. At this time the jokes turn to whether the "Northern Lights Saloon" is going to be another "Two Sisters Café". We only see another car every 10-minutes or so. Another 30-minutes or so heading north on this road and we decide to flag down a car coming the other way to see if there really is a Polebridge somewhere up the road. The first pick-up we flagged down turned out to be a young tourist and his bride. When we asked if there was a Polebridge up the way we were heading they gave us a look like we were out of our minds, then the young man said they had passed it. We asked something about eating there and the look on the young woman's face was priceless. The mortified look on her face told us that she was certain we had lost our minds. Now we knew we were on the correct road, how comforting! The look on that girls face had all of us wondering what we were facing. More jokes and a few more miles up the road we spot another vehicle and flag it down. This time a native Montana man assures us that Polebridge was just 10-miles farther. TEN-MILES on this road! By this time we are committed. Our friends kept saying that the road looked paved at the top of the next hill. I agreed it would look paved. However, it was just a mirage. When we got to where it was supposed to be paved there it would be more of the same washboard. Somewhere along the way the road did become paved, in a sense. The pavement solved the washboard problem of the last 20-miles. However, with the pavement came "car-holes", potholes would not be descriptive of these holes. These holes were so large and deep that if a tire fell into one the car would get stuck on the frame. We laughed hysterically. The paved road was not an improvement. Someone, locals I presume, had spray painted orange florescent rings around the most dangerous "car-holes". Using both lanes and driving no faster than 10-miles per hour we continued north. Finally, one-hour and thirty minutes later we start seeing evidence of human habitation. Not much, mind you but we did see a fence here and there and on rare occasion we could see what might be classified as a residence. Sometimes it is hard to tell a house from a barn or outbuilding. At last we spot a small wooden sign proclaiming Polebridge with an arrow pointing east. Another sign pointing strait ahead says Canada 20-miles. At this point Canada was a serious option but we turn east, after all "the best food around" was supposed to be found at the "Northern Lights Café" in Polebridge. As we pull into Polebridge both couples are roaring with laughter. There are two buildings (the town consists of those two-buildings) that have NEVER seen a paintbrush much less been painted. Signs admonish drivers to slow down so as not to stir up dust. Both buildings are out of the 1800's. One is a mercantile store and bakery the other turns out to be the Northern Lights Cafe. Just stepping into the mercantile building swept us back to the turn of the LAST century. Memorabilia hung on walls. We have found the BAKERY that everyone in these parts has been raving about. Our friends stocked up on a variety of specialty bread. I was still looking for the restaurant everyone was raving about. It turned out to be the building next door. There was no sign just several large groups eating at wooden picnic tables scattered around the yard. We laughed some more and joked amongst our selves about what we had gotten ourselves into. Eventually we wander inside and get into a line where a man was taking orders. It was a SLOW process. No one was in a hurry. Eventually, we worked our way to the front of the line and got to order three prime rib dinners and one pork loin along with appetizer and drinks. One of our friends asked if she could substitute something. The man told her NO! Then quickly told her that she would love what she wanted to substitute. There was NO attempt at customer satisfaction. We now have something else to laugh about. By this time we are approaching the giddy stage. It was time to pick out one of the tables scattered outside. Lucky for us a group had departed while we were in line. We enjoyed our appetizer then in short order our dinners were delivered. This is where our luck changed. The steaks and pork loin were EXCELLENT. The accompanying side dishes were also excellent. The food was every bit as good as we had been told. For desert we each had a big piece of the chefs home made pie with a huge scoop of ice cream. What an experience! The drive is almost forgotten with the good food.
While we were eating we struck up a conversation with some locals. They told us that around 60 individuals lived in the area during the winter and around 80 in the summer. The area he was referring to included an area 20 plus miles to the north and south. From our conversation it appeared Canadians up the road also frequented the place. We asked if there was a better road we could use to get home. They laughed and asked if we came in on the GOOD road or the BAD road. We said the BAD one. They laughed again and wanted us to point to the way we came in. All of us pointed to the gravel road heading south. They laughed and laughed then informed us we had come in on the GOOD road. One of them told us that flat tires were a common occurrence. He related that one day earlier in the week he had passed four vehicles with flat tires. That comforts me.
We started home a little after 9:00 knowing that an hour and a half of rough road was ahead of us. Before loading up we knew that we had best visit the little boys and girls room because there was nothing but washboard and pine trees for the next several hours. The men's room did not have running water. What a hoot! The women's room had water running to the toilet but a large sign told the ladies not to put paper into the toilet. Here was another thing for us to laugh about. Where do you suppose they wanted them to put the paper?
The food and the experience is one none of us will ever forget. We all agreed that we would do it again in a heartbeat if we could talk someone with a big "bubba-truck" into doing the driving.
Thursday, August 16, 2001 North American RV-Park Coram, Montana. (West gate to Glacier NP): Elevation 3,209'
Joyce and I drove east on Montana 2 skirting the southern end of Glacier NP. All along Montana 2 there are mom & pop RV-Parks. The drive across the continental divide on Montana 2 is EASY. Any RV can make this passage with ease. There are no steep grades or switchbacks. We ate lunch in the Glacier NP Lodge. Our waiter told us that the Northern Lights Saloon was his favorite place to eat. We discussed our experience with him. He said that he did not think that Montana had graded the road this year.
The Lodge is a magnificent structure built by the Northern Pacific Rail Road. Lunch at the Lodge came with a wonderful view. If you are in the area walking through this lodge is a must. The main support beams in the Lodge are trees from Oregon with 50 to 60 inch diameters that the Rail Road brought in especially for the Lodge.
After lunch we drove around the small town of East Glacier. For RV'ers there are several small mom & pop parks a block east of the highway going through town. These parks were advertising full hook-ups for $15. You do not need directions, just drive your RV around and look for them. The streets are wide and only a few blocks long.
We drove the going to the sun highway back to west Glacier. This road is virtually indescribable you will just have to experience it for yourself.
Friday, August 17, 2001 North American RV-Park Coram, Montana. (West gate to Glacier NP): Elevation 3,209'
Today we hiked the trail of the Cedars and part way to a lake located on the west side of Glacier NP. The rest of our day was spent doing household chores prior to leaving for Canada tomorrow morning.
Mike & Joyce Hendrix
Until next time remember how good life is.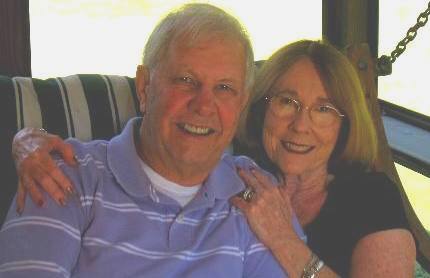 Mike & Joyce Hendrix who we are
We hope you liked this page. If you do you might be interested in some of our other Travel Adventures:
Mike & Joyce Hendrix's home page
Travel Adventures by Year ** Travel Adventures by State ** Plants ** Marine-Boats ** Geology ** Exciting Drives ** Cute Signs ** RV Subjects ** Miscellaneous Subjects
We would love to hear from you......just put "info" in the place of "FAKE" in this address: FAKE@travellogs.us
Until next time remember how good life is.