Jackson Hole, Grand Teton NP, Dubois, Yellowstone NP Wyoming
and West Yellowstone, Montana.
Places Visited: Wyoming: Jackson Hole, Grand Teton NP, Dubois, Yellowstone NP and West Yellowstone, Wyoming.
Saturday, July 28, 2001 Virginian RV Resort and Motel downtown Jackson, WY. Elevation: 6,200'
At 9:00 this morning we here the deep throaty sound of diesels cranking. This is much too early to hear noise after a night of dancing with a party animal. I knew that the Prevost were pulling out of the park this morning heading to Washington and Oregon. For the next 30 minutes they all lined up in the park and on the adjacent street. Only one poor sole connected up a Saturn for his tow car. The rest were connecting up SUV's mostly the Cadillac and Denali models. As they pulled out the park manager muttered that the value of the park was dropping around $20 million. I suppose he was in the ballpark. Twenty-seven Prevost many with slides and several of the new 14' tall models along with tow cars probably did represent about $20 million. They were having fun. Each was on their CB radio and cell phone as they jockeyed for their particular place in the convoy.
The BIG news in Jackson continues to be the wildfire south of town. This is a REAL fire. Homes are in jeopardy. Many locals have been evacuated. Everyone in town is talking about the fire. Every chance they get locals head south along the highway to watch the unbelievable activity surrounding the fire. It is an impressive sight to watch 12 helicopters dropping buckets of water on hot spots then dashing off to the river to get another load. At the same time 9 large tanker aircraft are swooping down and laying fire retardant in front of the fire. One spotter plane continuously circles above this activity while two smaller aircraft lead the big tankers in to make their precision strikes with the red retardant.
Joyce shopped in Jackson while I toured the local museum. Anyone interested in Boone & Crocket records should visit the local museum in Jackson where they display several record elk and mule deer mounts. After several more hours of shopping we took a ride across Teton Pass. Locals say the road across this pass is the steepest "legal" road in America. I am not sure about this claim. The signs on the road, Arizona 22, say 10% grade next 5 & ½ miles. The grade starts around 6,200' and ends at 8,429'. Our Saturn had had to climb the grade in 2nd gear with the heater on and still it barely controlled the heat. At the summit we pulled over to talk with several female forest service fire fighters stationed at a trailhead. They were there to assure hikers did not enter the trail and into harms way (the trail leads toward the BIG fire). From the summit we can see the constant flow of tanker aircraft delivering fire retardant in pinpoint strikes. At the summit a good size gas powered motorhome arrived with steam boiling out every crevice. The thing looked to be on fire. To return to the small town of Wilson at the bottom required 2nd gear and breaks. The 10% grade is so steep that 2nd gear alone will not hold our speed in check. Locals say they regularly see 18-wheel rigs up to their axles in the runaway truck ramp on the way down. This ramp is the first we have seen where the ramp was located on the opposite side of the road. That is to say, in order to utilize the runaway ramp the 18-wheeler in trouble must cross over the oncoming lane of traffic to reach the ramp. This looks to be a dicey maneuver on the part of the driver of an out of control rig.
Jackson is a "Class" little town. I say that when contrasting it to the small tourist town of Durango, Colorado. The prices are about the same for virtually everything, EXPENSIVE! With that one similarity the two towns are markedly different. There are no parking meters in Jackson. Plenty of parking is available around the square in the middle of town. Free city provided overflow parking is available in huge parking lots two blocks from the center of town complete with 30 or more spots reserved for RV's and other large vehicles. Jackson also provides several very nice and clean public restrooms. These public restrooms are a contrast to the tacky signs in each of the businesses in Durango stating something to the effect that this business does not have public restrooms. In Durango the only "public" restroom was a McDonalds. Jackson also sports a rather unique city park that occupies an entire city block smack in the middle of downtown action. At each corner the city has constructed elk antler arches. No they do not kill elk to get the antlers. Elk shed their antlers every spring. Area boy scouts gather the antlers from the National Elk Refuge south of town and sell them. Others are gathered to make these impressive arches. Every tourist has to get obligatory pictures made under these arches.
Later we drove into Teton National Park. The Tetons are beautiful and different. The east side of the Teton Range where we are was created by the collision of two continental plates. The collision occurs along what is called a fault line. In the Tetons the fault line follows the eastern edge of the mountain range that runs in a north/south direction. Geologist say the eastern side, the valley, of the fault has dropped around 28,000' while the western side, the mountains, has risen.
As dark approached we were faced with a monumental decision. A pro-rodeo is in town tonight, Roy Jones Jr. has a pay-per-view fight and the band is still playing at the Million Dollar Cowboy Bar. Sports fans will lament the outcome but "dancing" was the order of the night. Joyce and I normally like to watch Roy Jones fights. He is a home town (Pensacola) product along with Emmit Smith. Both have been good role models and spokesman for Pensacola. It is hard not to pull for good guys. Besides that Roy's CPA is one of our best friends. Joyce informed me real quick that the rodeo was not even in the running. Her logic was that a pro-rodeo is an every weekend event in this part of the country, a fact that I had to agree with. She was torn between Roy Jones and the opportunity to dance. My sad eyes and whining were not enough. I was directed to get my dancing shoes on.
Sunday, July 29, 2001 Elk Country Motel and RV-Park, downtown Jackson, WY. Elevation: 6,200'
We should be in church this morning but a multitude of things have conspired to make it very difficult. We have to be out of the RV-Park by Noon. Washing must be done; it has been put off and put off until there is no more putting it off. On top of that the party animal had us out until the wee hours last night. There is just no way for us to move the RV to another park and get to church by 11:00.
We accomplished everything but church. Joyce even cooked then we took a short ride to see how the fire that has made national news every day this week was coming along. It was still burning, and inside a subdivision. Fire crews have cut vegetation around these homes and trimmed trees. Residents have been warned that things will look different when they return home. Structures are being sprayed with new fire-resistant foam. Firefighters are now going around and rehydrating the foam. Fire has burned to within feet of many structures but ground crews have saved the building. Everyone wonders how much longer can this last?
From the fire we drove to Teton Village and walked through an art show then drove through the southern part of Grand Teton National Park looking for moose. On this excursion we did not see any animals to speak of.
Around 7:00 we headed to the Stagecoach grill in downtown Wilson, Wyoming. The Stagecoach has a house band on Sunday nights and we were told it was the place to be. The place was packed with locals. If you are in the Jackson, Wyoming area on a Sunday night you may try the Stagecoach grill in Wilson. Remember that "Wilson" is the town national news was reporting to be in a direct line for the big fire southwest of Jackson. Just before the fire reached downtown Wilson (Wilson is not large enough for a stop sign or traffic signal) the firefighters got it under control. One of the handful of commercial buildings making up "downtown" Wilson is the Stagecoach grill. Many of the locals evacuated from their homes on the hill where the fire is were in the Stagecoach trying to do something other than stand on the road in front of the Stagecoach and watch the fire. After all that is what they had been doing all week. Across the street from the Stagecoach is the road leading to the subdivisions that have been evacuated. Fire crews and tanker trucks are constantly on the move. A sheriff and highway patrol officer stand guard over access to the road. As far as the fire is concerned this spot is action central.
After eating and listening to the band for a while we decided to see if we could spot moose once again. From Wilson we take the "Wilson" road by Teton Village & the Mangy Moose and head through the southeastern portion of Grand Teton National Park looking for Moose in the twilight. We did not see moose but heard after heard of elk were visible. Several males had huge racks. Many cars were flying down the road; all looking for wildlife, however, most were going so fast that they never saw any of the elk. Moose were probably nearby we were just not savvy enough to spot them.
Monday, July 30, 2001 Elk Country Motel and RV-Park, downtown Jackson, WY. Elevation: 6,200'
We took the Saturn and experienced every roadside pullout in Grand Teton National Park. For eleven hours we read each of the National Park displays at each stop, listened to and toured each of the visitors centers in the park, walked many trails and generally did the Grand Teton overview. Joyce purchased a book that explains in some detail mile by mile what you are seeing in Grand Teton Park. We have now seen the Tetons from every imaginable angle except climbing them, and that ain't going to happen. A float trip down the Snake River may be possible. The only "new" wildlife we saw today was bison or buffalo. Several were grazing in a valley below one of the pull offs. Moose have evaded us even though we have put some effort into spotting one. Flocks of Canada geese are visible in pastures along side cattle and horses. Trumpeter Swans can be seen in many of the mid-size ponds. White pelicans were visible at many of the lookouts around Jackson Lake. Along the way we spot a coyote loping along. Tourists were everywhere, dashing from turn out to turn out.
Tuesday, July 31, 2001 Colter Bay, WY in the Grand Teton National Park. Elevation: 6,730'
We slept late then moved the motorhome 40-miles north to Colter Bay a National Park campground in Grand Teton N P located about 15-miles from the south entrance to Yellowstone, NP. There were two options available for camping. A full hookup campground operated by a private concessionaire for $37 or the NP campground with no hookups at $12 per-night. That was an easy decision. The temperature mid-day is in the mid 60s with a low predicted tonight around 34-degrees. There should be no need for air conditioning. We have paid for two nights but may stay more since this is such a tranquil place. Thirteen miles up the road, is Flag Ranch, offering "full-hookups" for $37 per-night with only 20-amp electricity.
Most of our day was spent reading up on Yellowstone. The only wildlife we saw today was a lone coyote on our way to Colter Bay.
Wednesday, August 1, 2001 Colter Bay, WY in the Grand Teton National Park. Elevation: 6,730'
This was a day of sleeping late and talking long walks along the banks of Colter Bay and Jackson Lake. The shoreline of the lake is river rock (rounded rocks) of all descriptions that were deposited when the glaciers retreated. Geologists say that this debris is 23,000' deep. Yes that is 23-thousand feet deep and the deposit stretches all along the eastern side of the Teton Mountain range. It is extremely hard to fathom a pile of river rocks that deep stretching for nearly a hundred miles from north to south.
We drove down to Jackson Lake Lodge about 6 miles south of Colter Bay to look for moose. Jackson Lake Lodge is situated on a ridge overlooking the valley that follows the Snake River. This floodplain is prime moose habitat and the Lodge is one of the better places in the area to spot them in the late afternoon. We were rewarded with several moose. The Lodge itself is spectacular. Huge plate glass windows overlooking the Tetons and a massive fireplace complete with piano music. Even a red neck can admire that kind of ambience. J
Thursday, August 2, 2001 Colter Bay, WY in the Grand Teton National Park. Elevation: 6,730'
We took the scenic drive to Dubois, Wyoming today. It is about 65-miles east of Colter Bay. The drive took us across the Continental Divide. The entire drive was along a valley that was lush and green. The river flowing from the Continental Divide to the East is the Wind River. Dubois is located in the Wind River Valley. This area is noted for having one of the largest concentrations of Big Horn Sheep in the United States. In Dubois we went to the National Big Horn Sheep Interpretive Center, a "world class" exhibit. Everything you ever wanted to know about Big Horn Sheep is presented in a first class manner. It is a "must-see" when visiting the Tetons. Next-door was the Wind River Historical Museum. It is another small town museum that had a good collection of memorabilia from the early settlement era. The Dubois area supplied railroad ties. They have a very good exhibit showing how these people harvested the trees and made them into railroad ties with nothing but an axe and hand saw.
For my boondocking RV friends there is a free dump station at the city park/rodeo arena in Dubois. Both are located next to the National Big Horn Sheep Interpretive Center. We have noticed that most if not all small western towns have rodeo arenas with dump stations on the premises. If you are a boondocker in need of a dump station look for the local rodeo arena.
Just for fun someone that has internet access could research which engineering/architectural firm designed the RV facilities at Colter Bay. My bet is they are the same firm that set the standard for women's restroom facilities in public places. If you get my drift it was not someone who has ever used any of the facilities. In the Colter Bay RV-Park they have the dump station on the "wrong side" of the street. If you own an RV you know what side you dump on. Because there is only one dump station for the 350 sites and that one is located on the "wrong side" you can imagine the circus around that place. In addition to the dump station, the propane sales equipment/facility is also on the "wrong side" of a one-way road. Getting propane is almost as much fun as dumping. If someone with internet access could determine the firm responsible for the design of these facilities we could give them some kudos in some free advertising.
Although we were driving through excellent wildlife habitat we only saw a lone moose and several deer. It is hard to spot wildlife in the middle of the day.
On the recommendation of friends we ate lunch at the Cowboy Café in downtown Dubois. It was great and we recommend it. Save room for the homemade deserts, they are to die for. On a second thought the deserts are so BIG and GOOD you may consider just doing something like blueberry cobbler and ice cream for lunch.
Friday, August 3, 2001 Grizzly RV-Park West Yellowstone Montana.
We drove from Colter Bay in the Tetons to the Old Faithful area of Yellowstone where we contacted our friends Buddy and Suzie Kisner who are expecting us. Our plan was to get a spot in the RV-Park at Madison campground 14 miles from Old Faithful. Buddy and Suzie followed us there where we learned that they did not have a spot for a 33' motorhome. That left us no choice but to head for West Yellowstone, Montana with the motorhome where we found a spot at the Grizzly RV-Park. We quickly parked the motorhome and headed back into Yellowstone with Buddy and Suzie where we do a grand tour until around 9:00pm.
There is way too much in Yellowstone to discuss in a travelogue. It would take the rest of the week to put today in writing. Sorry.
Saturday, August 4, 2001 Grizzly RV-Park West Yellowstone Montana.
We spent the entire day touring Yellowstone with our friends Buddy and Suzie. We saw countless geological phenomenon along with bison, elk, coyote, eagles and ospreys. To finish off the day we watched "Old Faithful" and toured the Old Faithful Inn. Old Faithful Inn is the most spectacular of the "Inns & Lodges" we have seen. We ate dinner in West Yellowstone and did not get back to the motorhome until after 10:00pm.
It has been two days of "too much fun". I sense some time to recuperate. Like yesterday it would take "way too long" to write about what we saw today. Sorry.
Mike & Joyce Hendrix
Until next time remember how good life is.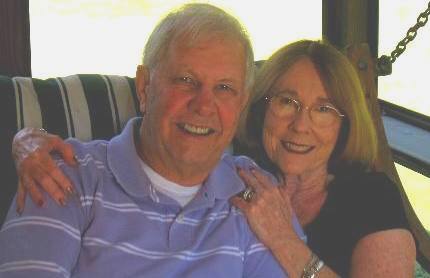 Mike & Joyce Hendrix who we are
We hope you liked this page. If you do you might be interested in some of our other Travel Adventures:
Mike & Joyce Hendrix's home page
Travel Adventures by Year ** Travel Adventures by State ** Plants ** Marine-Boats ** Geology ** Exciting Drives ** Cute Signs ** RV Subjects ** Miscellaneous Subjects
We would love to hear from you......just put "info" in the place of "FAKE" in this address: FAKE@travellogs.us
Until next time remember how good life is.