Craig, Steamboat Springs, Mayberry & Irish Canyon, Colorado
Rock Springs, Green River, Pinedale & Jackson Hole, Wyoming
Places Visited: Colorado: Craig, Steamboat Springs, Mayberry & Irish Canyon, Colorado.
Wyoming: Rock Springs, Green River, Pinedale & Jackson Hole, Wyoming.
Utah: Manila, Sheep Creek Geological Loop, Flaming Gorge both the gorge plus the dam & spillway & Red Canyon Lodge, Utah.
Saturday, July 21, 2001 KOA in Craig, Colorado. Elevation 6.300'
After the rodeo and associated side shows last night I do not know how we can top that much fun and entertainment today. Thank goodness the second night of the rodeo is tonight. Usually I love to watch bull riding, however, last night was a two-ring circus, women wrestling greased-pigs in one arena with men riding bulls in the other. It was extremely difficult to watch both. The rodeo does not start until 7:00pm. Until then we decide to drive 42 miles east to Steamboat Springs, Colorado. Most people know Steamboat Springs as a winter ski resort. It is also a summer activity place. Mountain biking, hiking, the ubiquitous shopping areas, tubing, horseback riding and other outdoor activities abound in the area. While in Steamboat Springs we had to experience the Continental Divide located about 12-miles east of town. It was a steady 7% grade from the outskirts of town to the summit of Rabbit Ears Pass. The views from the road are worth the ride up. We ate at Johnny B. Good's Diner in downtown Steamboat. It was great! Locals had recommended it and we agree.
Sunday, July 22, 2001 Wal-Mart, Rock Springs, Wyoming. Elevation: 6,275'
Our drive to Rocksprings was through desolate country. A sign outside of Mayberry stated "no services next 50-miles". Mayberry, Colorado had one service station and no traffic light. However, Mayberry did have a very nice city park set up for RV's. Craig had one RV-Park. It was a KOA at $33 per-night. If we are in the area again we will stay in the city park in Mayberry. We were traveling west on Colorado 318 then turned north on county road 10north to the Wyoming border where it connects with Wyoming 430. Twenty-two miles of this route was on a graded dirt road. The graded dirt road was just as good as Colorado 318. All of this was through high desert BLM property. On County Road 10north we went through Irish Canyon, a very scenic canyon miles and miles from civilization. There was a nice BLM campground in Irish Canyon with no facilities that we could see. Along the way we were able to see several bands of wild horses and a solitary antelope.
In Rock Springs we stopped by their Super Wal-Mart to shop. Two other motorhomes from Florida were there and spending the night. We made friends and decided to stay the night with them and 10 to 12 other RV'ers sharing the parking lot. Out west Wal-Marts are few and far between. What we take for granted back east is a WELCOME sight when we occasionally stumble on one out here. Our refrigerator and freezer took a shoehorn to load.
Monday, July 23, 2001 Tex's, Green River, Wyoming. Elevation 6,100'
We moved the RV from the Wal-Mart in Rock Springs to Tex's RV-Park in Green River, Wyoming then took off on another adventure. We have been told that the drive along the western side of Flaming Gorge is a "must see" on our trip out west. Everyone that told us this was CORRECT. We are traveling Wyoming 530 south to Manila, then Utah 44 south then US 191 to the Flaming Gorge Dam/Spillway. The first 30 miles south out of Green River is typical high plains desert. In the middle of this desert we turn east on the road leading to Buckboard Marina that provides excellent facilities for boaters, fishermen and RV'ers. Full hook-up RV spots are available in the blazing sun for $22 per night along with free boondocking sites. Several groups of fishermen were cleaning limits of fish. I was impressed. They had coolers full of good size fish.
Continuing south on Wyoming 530 another 20 miles we get to Lucerne Valley Marina located on the Utah/Wyoming border. What a wonderful marina. The marina store had local mounts of trophy fish, mostly trout. Many of the mounts were in excess of 20 pounds with several in the 50-pound range. Impressive! Again fishermen were cleaning limits of good size fish. Facilities for RV's were available but these did not have hookups. Deer and antelope were grazing along the river and in the RV-Park. We turn off 530 on to Utah 44 in Manila. Less than a block from THE stop sign in Manila we see two deer grazing in a pasture.
A few miles south of Manila we take the 17-mile Sheep Creek Geological Loop. Several friends have told us this is a "must see". Now that we have done it we both think this 17-mile loop is as scenic as any we have seen. According to information posted along the way the area contained in and around this loop has gone through some unique geological events. The first geologic event was the separating of tectonic plates. When the two plates separated it left a valley. Over the next several hundred million years the sea filled the valley and layers of sediment filled the valley. Then volcanic activity uplifted the entire area before actually punching through the sedimentary layers. A tremendous variety of sedimentary rock is visible on the 17-mile loop. Virtually all of the sedimentary layers are contorted, broken, and in unusual angles. It was not uncommon to see the sedimentary rock as 60 to 80 degree angles then down the road seeing it angled in the opposite direction. Volcanic plugs were evident throughout the area. The cliffs in the area were supposed to contain big horn sheep. We did not see any. The ride around the 17-mile loop was taxing on our Saturn. I had to drop back into 2nd and turn on the heater to control heat. We climbed to over 9,000 feet. Sheep Creek Geological loop is a "MUST DO" for anyone in the general area. We just might come back and take the loop again except from the opposite direction. There is just so much to see along the 17-miles that it is impossible to soak it all in.
Our next stop is around Flaming Gorge Dam & Spillway. We took the Dam tour and watched several of their excellent videos on the Dam and Reservoir. Like all of the dams along the Green and Colorado Rivers they were constructed for water containment and flood control purposes. Electric generation was a by-product. The Dam has created a world-class fishery. Below the dam they have created a blue ribbon trout fishery by maintaining the optimum water temperature for trophy trout. On the dam tour we went to the area where water exits the turbines and fed trophy trout. As individuals threw handfuls of fish food hundreds of 20 pound trout would boil the water. This dam tour was OK not great. We got very close to the generators but the information was sparse. Feeding fish seemed to be the major attraction.
Below the dam is an area where fishermen and rafters could launch to float downstream.
On the way back we stopped at the Red Canyon Lodge for dinner. We ate outside with a raucous group of hummingbirds. We were close to three large feeders that were being frequented by large numbers of humming birds that were flying between the feeders and two large evergreen trees located nearby. These humming birds obviously had nests in the evergreens and were making constant trips to the feeders. The ruby throats were constantly fighting, while the others just went about their business. A small bunny rabbit was feeding about 5' away while a large variety of wild ducks and birds fed at one of the bird feeders. Chipmunks and other small chipmunk like mammals scampered around providing entertainment.
After dining we stop by the Red Canyon Visitors center for our best view yet of the Flaming Gorge. From atop 2,000' cliffs we are able to see why George Wesley Powell on his historic trip down the Green and Colorado Rivers named this the Flaming Gorge. This is another "must see" spot.
As we continue our way back to Green River we are treated to 45-minutes of spectacular sunset. It was after 10:00 before we got home.
This was one of those "Too-Much-Fun" days.
Tuesday, July 24, 2001 Tex's, Green River, Wyoming. Elevation 6,100'
We spent the day recuperating from yesterday. After sleeping late we moseyed down to the local Museum. As usual this town of 12,000 had a super museum. This museum had several upscale dioramas that rival those sponsored by the Federal Government. They had a very good sequence that explained in detail the exodus of Mormons from the northeast to Utah. Even though Mormons are Christians they were not enough like the other "Christians" in the northeast and were literally driven out of those communities. Once the Mormons arrived in Utah they were not moving again. Like the Jews in Israel they fiercely stood their ground, and even resorted to mass murder and church sponsored militia that wrecked havoc on non-Mormons attempting to settle in the area.
A good friend of mine sent me the following this morning. I would say it is a joke but there is too much truth to it for it to be a joke.
There are three religious truths: 1. Jews do not recognize Jesus as the Messiah. 2. Protestants do not recognize the Pope as the leader of the Christian faith. 3. Baptists do not recognize each other in the liquor store or at Hooters.
It was just too good not to include in this travelogue since I had just read about the Mormons being driven out of the northeast because of religious differences.
In the museum we also learned about Trona. Stop laughing, what do you know about trona? Trona is a mineral that looks like quartz, however, it is something entirely different. Trona is refined into a white powder called soda ash. Soda ash is used to make glass, detergent, paper, water softeners, drugs, cleaning compounds, and baking soda. The worlds largest deposit of trona, over 100 billion tons, are located just west of Green River, Wyoming where we are staying. Over 90% of the soda ash produced in the United States and about 25% of the world's supply is mined in this area. Trona was discovered here in 1938 during oil and gas explorations. Up until that time all soda ash in the United States was produced synthetically by combining ammonia, limestone and coal. I know each of you want to know where this trona came from don't you? Well, about fifty million years ago a basin trapped all of the water from surrounding areas. As the water evaporated it left behind beds of trona. Layers of shale and limestone subsequently covered the trona. Today the trona is located from 800 to 3500 feet below the surface in beds that are eight to ten feet thick. Someday, millions and millions of years from now a similar seam of "salt" will be mined from the Great Salt Lake near Salt Lake City, Utah where that basin is trapping a salt solution that remains after the evaporation process. The visitor's center in Green River gives each visitor a small box of Arm & Hammer baking soda in an effort to make the connection between trona and baking soda. Now you know the "rest of the story" as Paul Harvey would say.
The towns of Rock Springs and Green River were both pony Express and stage stations. When the Union Pacific Railroad came through in the late 1860's they became important towns and flourished. John Wesley Powell and his party began their historic exploration of the Green and Colorado Rivers right here in Green River.
Quoting Powell: "May 24, 1869-The good people of Green River City turn out to see us start. We raise our little flag; push the boat from shore, and the swift current carries us down. Our Boats are four in number. Three are built of oak; staunch and firm; double-ribbed, with double stem and stern posts, and further strengthened by bulkheads, dividing each into three compartments_The fourth boat is made of pine, very light, but 16 feet in length_. We take with us rations deemed necessary to last ten months_For scientific work, we have two sextants, four chronometers, a number of barometers, thermometers, compasses, and other instruments."
For those of you that may have forgotten who John Wesley Powell was I will help you. Powell was one of several geologists who helped to map and open the west in the 1860s and 70s. Powell and other geologist-explorers named many of the mountains, rivers, canyons and formations.
Wednesday, July 25, 2001 Pinedale Campground. Pinedale, WY. Elevation: 7,200'
When we downloaded e-mail this morning there was an emergency message from my sister saying that my Dad had fallen and broken his wrist in three places. My sister and her husband have been so good looking after Mom and Dad while we are gone. Actually, my parents live alone and get along just fine. My sister and her husband are just "THERE" when things arise. We offer our heartfelt thanks to them. Our cell phone was in a dead zone but we were able to reach Mom a few miles down the road and found out that the hand had been set and they were moving on with life.
We are heading to Rock Springs, Wyoming about 10-miles from where we have been staying the past two days. We have a few things to pick up in the Super Wal-Mart and we want to leave the motorhome there while we drive to the local museum. Rock Springs was a "Company Town". Union Pacific was that company. Union Pacific mined coal in the area. Rock Springs prides itself in being home to 56 different nationalities. The mines needed manpower and Union Pacific was interested in obtaining the cheapest labor possible. Miners were brought to the mines from all over Europe, South America, Mexico, China and Japan to name the major sources. Unlike most communities these nationalities took pride in their heritage and diversity. The community banded together to keep any group from being persecuted. One particularly poignant story told of three brothers from a Japanese background that enlisted and served in the army while their Cousin in California was sent to a detention camp. Each of the Japanese families in town had to register with the local Sheriff at the breakout of the war but were not sent to detention camps.
After several hours in their very good museum we headed north to Pinedale, Wyoming. The drive from Rock Springs to Pinedale is "typically Wyoming" high desert, surrounded by snowy mountain peaks. The "high desert" we were traversing on Wyoming 191 lies in a basin. We climbed from 6,175' elevation in Rock Springs to 7,200' elevation in Pinedale. There is virtually no plant life along the way other than knee high sagebrush.
Pinedale is home to the Mountain Man Museum. Until this Museum I had no idea what a "Mountain Man" was or what made him/them important enough to have a museum in their honor. Now we know. The Mountain Men were the Beaver trappers of the early 1800's. They went into the wilderness trapping beaver for the beaver hat craze that was sweeping Europe. The Mountain Men either lived by themselves or took Indian women as wives. Mountain Men were a special breed of individuals. Trappers had to adapt to the ways of the wilderness and develop a complex set of skills necessary for survival. Their mountain craft was unsurpassed, even by their Native American counterpart. His sense of direction was uncanny, and his remarkable endurance kept him going through incredible ordeals. In the hey-day of the Mountain Men 100,000 beaver were consumed in the production of hats. By 1840 the beaver fur trade had collapsed. The streams had been hunted to exhaustion and the South American Nutria pelt had replaced the beaver as a cheaper source of quality fur. Silk hats also became the rage about this time.
The Mountain Man has long symbolized the true American frontier hero. They became an emblem for what was considered to be the ultimate western experience. Adventurous, hardy and self-reliant, they were agents of expansionism. Most of them wore buckskin clothes acquired by trading with Indian women.
The fur trade was at the cutting edge of the frontier process. It opened to the world knowledge of the geography of the area, which in turn led to the agricultural settlement of the Far West by Americans.
One exhibit in the museum had to do with the early industry of logging the surrounding forest for railroad ties. They must have done a good job since there are few if any pines left. Our RV-Park does not have any trees much less pine trees. They advertise the park as surrounded by snow-capped mountains. Technically they are correct. When standing outside you can see snow-capped mountains but in reality we are next to a power company's storage yard. We are laughing about the difference between advertising hype and reality. The other reality is that the park is full and they are the only park in town.
The Mountain Man museum in Pinedale, Wyoming had put together a "world class" museum and is well worth a visit when in the area.
Thursday, July 26, 2001 Virginian RV Resort and Motel downtown Jackson, WY. Elevation: 6,200'
We moved 100 miles north to Jackson, Wyoming. We have always heard of Jackson Hole. Now that we are here it is just Jackson. It seems that the broad valley is called Jackson Hole. Fur trappers who frequented the area in the early 1800s used the word "hole" to describe a valley surrounded by mountains. One of the early "mountain men" William Sublette is thought to have named this valley after his partner, David Jackson, around 1829.
We were having trouble finding an RV-Park near Jackson. Twelve miles south of Jackson we passed one at $22 per-night, but decided that it was not close enough to the action in Jackson. In Jackson we found the Virginian RV Resort. We are staying here for three nights. We are sharing the park with a group of 27 Prevost. I am glad they let us stay here. This "RV Resort" has displaced the KOA in Craig, Colorado as the most expensive park we have stayed in. The Virginian RV Resort is $42 per-night. We will party while we are here but will continue the party back at the $22 per-night park and drive the 12 miles back to Jackson.
Jackson has a multi-agency visitors center that is a "must see" for all visitors. They display a multitude of world-class animal mounts, in addition to a full-length movie on the area. Outside is a walkway into a marsh area set aside as a waterfowl nesting area.
Many individuals, locals as well as internet friends have recommended that we dine at Bubba's Bar-B-Que. They were correct. The price is right and the food is great. If you are looking for a good salad bar they feature one of the better ones you will find. There is NO WAY you can leave hungry.
As we got within several miles of Jackson this morning we could see the forest fire that is receiving national attention. It is very close to Jackson. As night approached we took a drive out highway 22 located on the south end of town. The road is lined for miles with cars watching the fire on the side of a mountain directly to the south of us. Today the fire was upgraded to the number one priority wildfire in the country. An additional 450 fire fighters were added today with more on the way. As we watch, a steady succession of helicopters are dropping water on the fire. The helicopters are in formation like 18-wheelers on the interstate. It is difficult to tell how many helicopters are in the formation but 20 may be a good guess. It is easy to see upwards of 10 in line to drop water at any one time. The others have to fly out of sight to get another supply of water. This is an all out effort, on the Federal Governments part, to save the houses that are being threatened. Nine large air tanker airplanes, which dump fire retardant, are in a constant pattern on the leading edge of the fire. The nine air tankers represent 25% of the nations inventory of these tankers. We are able to see multi-million dollar homes in harms way. Helicopters are dropping water on and around them. Locals are saying that Dick Cheney has a palatial estate on the mountain that is burning. They all say that is why the Federal Government has poured the resources into this effort. A fleet of tanker trucks are refilling tanks at the highway 22 Snake River Bridge. Not far away a pasture on highway 22, no more than 3 miles out of Jackson, has been converted into headquarters for the firefighters. The pasture is covered with tents, cooking facilities, old school busses, tanker trucks, fire trucks and a host of other fire fighting paraphernalia. After watching the intense action for about 45 minutes we head back into Jackson where Joyce has plans for us to go dancing.
The rustic yet classy Million Dollar Cowboy Bar, located across from the Jackson Town Square was our destination. The bar features saddle barstools at the bar. No Joyce did not belly up to the bar here either. Animal mounts; western antiques and knobbed pine architecture festoon the interior. Country western dance bands play six nights a week to a packed dance floor. We danced until the "midnight hour" before retiring. Joyce is becoming a party animal.
Needless to say we are sleeping in tomorrow.
Friday, July 27, 2001 Virginian RV Resort and Motel downtown Jackson, WY. Elevation: 6,200'
As promised we sleep late then I took Joyce to Jackson Square for a day of shopping. Around 4:30 she was shopped out. From there we headed out to get a close up view of the fire that is the talk of the town and continues to make national news. The firefighters do not have this thing under control. Tremendous resources are being used to slow it down. We are totally amazed at the aircraft and helicopters hammering the edges of this fire. Over a thousand firefighters are on the ground and still the fire marches on.
Tonight was another night of dancing at the Million Dollar Cowboy Bar. We will be sleeping late again tomorrow.
Mike & Joyce Hendrix
Until next time remember how good life is.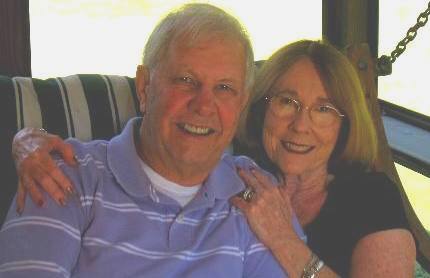 Mike & Joyce Hendrix who we are
We hope you liked this page. If you do you might be interested in some of our other Travel Adventures:
Mike & Joyce Hendrix's home page
Travel Adventures by Year ** Travel Adventures by State ** Plants ** Marine-Boats ** Geology ** Exciting Drives ** Cute Signs ** RV Subjects ** Miscellaneous Subjects
We would love to hear from you......just put "info" in the place of "FAKE" in this address: FAKE@travellogs.us
Until next time remember how good life is.