Arizona: Flagstaff, Sedona & Jerome
Places visited:
Arizona: Flagstaff, Sedona & Jerome
Friday, June 8, 2001 Woody Mountain Campground, Flagstaff, AZ (7,300')
My first glimpse outside this morning was to see what all the commotion was about. An abert or kaibab squirrel was teasing a cat in the motorhome next to us. An abert squirrel is a bit larger than the gray squirrels back east. Aberts are truly gray on top with a white belly. They also have distinctive tuffs of hair on very large ears. This squirrel was stationed just out of reach and taunting our neighbor's cat for all he was worth.
We have a full schedule planned for today. We headed north out of Flagstaff on highway 180 with the Museum of Northern Arizona as our first stop. This Museum is first class. It mainly deals with the cultures that have inhabited the Colorado Plateau. The museum staff has done an excellent job of presenting their information. This Museum is a "must see". An excellent and enthusiastic docent is on hand to walk small groups through this museum. We spent several hours getting immersed in the Native Cultures that inhabited the area from the time humans migrated across the land bridge from Asia to today's Native Americans. Another display painstakingly explained the formation of different geographic and topographic features of the area.
Next on our agenda is the North Arizona Snow Bowl. We have their advertisement with us and are looking forward to taking the ski lift to the top where hiking trails lead are supposed to lead to super vistas. When we arrive at the lift station, some 9,000 feet up the mountain, there was a sign saying that it was closed.
Don't you hate to follow the directions on someone's advertisement and then them not be open? This is one of those times! Out comes our cell phone so I can blow off some steam. Of course all I got was a recording saying that they would be open starting Saturday, June 9. In other words tomorrow!!!!! Their advertisement said open 7 days a week after Labor Day. Oh well, it was a pretty drive. We will drive back up here tomorrow since it is only a few miles from the RV Park. On our way up the mountain to the lift station we went through several different forests. Gamble's oak was present along the streambeds around 7,000 feet. These are the same oak's that Oak Creek canyon is named for, I think. Oak Creek Canyon ranged in elevation from 5,000' to around 6,500'. Also prevalent at the 7,000' level were a profusion of beautiful blooming woods rose patches. The woods rose from a distance reminded us of our eastern azalea bushes. However, when you get close enough you can see the distinctive leaf and thorns of a rose.
We are on the western side of San Francisco Peaks and our next destination is Sunset Crater Volcano and Wupatki Pueblo National Monuments located on the eastern side of San Francisco Peaks. In order to get there we have to go back through Flagstaff located on the southern border of the San Francisco Peaks. Sunset Crater was the "youngest" volcano in the continental United States until Mt. St. Helens. Sunset Crater was active 900 years ago. It spread a deep layer of ash "porous lava rock" over a 100 square mile area extending to the northeast. The "cinder cone" on Sunset Crater is over 1,000 feet high. Cinder cones are formed during early explosive stages of an eruption. Magma, a mixture of molten rock and highly compressed gasses, rises upward from its underground source. As the magma ascends, the extreme pressure drops and gasses are released. The high percentage of gas in the magma causes an explosion out of the central vent creating the ash. Extremely porous "lava rock" rock pieces of various sizes fall around the vent, creating that 1,000-foot tall cone. Magma with less gas content produces lava flows. The active Sunset volcano 900 years ago created both ash and molten magma. Sunset Crater produced a tremendous volume of ash the size of marbles. In one area about a mile across all of the ash is the size of potatoes. Molten magma poured out one side of the Crater and ran several miles down hill. This magma field for the most part still does not have any vegetation on it 900 years later. To me this magma field looks like a 300-yard wide swath of molten black plastic that oozed downhill then cooled and solidified. Unlike the molten magma that ran down hill and solidified as solid rock the ash "lava rocks" fell everywhere.
Ash that we are viewing is the same volcanic rock we all use in our gas grills the only difference is size. A demonstration in the Visitors center at Sunset Crater has pumice rocks floating in a tub of water. Yes, some of these rocks are lighter than water.
In and around Flagstaff mining companies are reducing volcanic craters to flat ground. Around here they use the ash for myriad purposes. In the winter they spread it on the streets instead of salt. It is used for roadbeds, to create parking lots, even for unpaved roads. Woody Mountain RV-Park is entirely covered with this ash. Huge trucks deliver it as marble size lava rocks. When vehicles travel over the marble sized rocks it turns them into sand and dust. All of us are familiar with the dust created by limestone. The difference with limestone dust and lava rock dust is the abrasiveness. The abrasive substance in lava soap is lava rock. Dusting the motorhome up here is like wiping up a dusting of Ajax cleanser.
Leaving Sunset Crater we head 20 miles farther north to Wupatki Pueblo a multi-level, 900 year old, high-rise. The main dwelling had about 100 rooms. This structure was constructed of stonewalls with clay mortar. Entrance was through the roof. Roofs were wood poles covered by shakes, grass and clay or adobe. The people were farmers. In order to be successful they had to post 24-hour guards on their crops to them safe from rabbits, deer and mice.
We ate at Tia Juanita's a Mexican place on 4th street in Flagstaff that had been recommended to us by locals. As is our custom we ordered several dishes that were new to us and indigenous to the area. Our two "new" dishes were "Calabacitasy Queso Con Chile Verde" and "Menudo". You do not see these dishes at regular Mexican restaurants but they are traditional "Mexican" dishes. The Calabacitasy Queso Con Chile Verde consists of crookneck and Italian squash smothered with green chili, cheese and corn, sautéed in garlic butter. This dish was great. We both thought it was out of the world and will look for it again. Our other dish was their special of the day "Menudo". Several Mexican Americans were eating large bowls of the menudo which is a soup made with hominy, tripe and pig's feet in a red sauce. Both of us tasted it. GROSS, GROSS and DOUBLE GROSS. Been there tasted that! Never again will we order Menudo. This restaurant has several other traditional Mexican dishes we will try on another occasion. None of these will contain either tripe or pigs feet.
Saturday, June 9, 2001 Woody Mountain Campground, Flagstaff, AZ (7,300')
We enjoyed Arizona's Snow Bowl today. Arizona's Snow Bowl is about 20-miles North of Flagstaff and is "THE" ski area in Arizona. It is located on the slopes of the San Francisco Peaks, the highest mountain in Arizona. The "Snow Bowl" operates a summer business in their Lodge and utilizes the Ski life to take passengers close to the summit. The actual ride up the mountain in our Saturn was exciting as we pass through several climate zones each with different plant life. Flagstaff at 7,000' is located in the largest ponderosa pine forest in the world. Ponderosa pine dominates the zone from 6,500' to 8,200'. Flagstaff is literally clothed in a forest of ponderosa pine. As we start to climb to the ski lift area we immediately ran into aspens that occupy the niche between 7,500' and 9,500'. Farther up was the area dominated by spruce and fir trees that occupy heights from 9,200' to 10,500'. The ski lift took us from 9'500' to 11,500'. From there we took a hiking trail up several hundred more feet. Did I mention that OXYGEN is scarce up there? The hike was a slow hike. No running around and horseplay. Snow was still present and yes we did throw some snowballs on the 9th day of June, hard to believe but true. The temperature in Flagstaff may have gotten into the 80s today. At 11,500' it was in the 50s or 60s. From the top we were supposed to be able to see the Grand Canyon 60 miles to the north. We were not able to see that far today because the wind was blowing from the west and Los Angeles smog obscured our view. On a clear day it would easily be possible to see 70-miles. Snow on top of the San Francisco Peaks was visible to us from the south rim of the Grand Canyon last week. We were wearing shorts today and got a LOT of sun. We may even have sunburn in some places.
While at the top we met a delightful couple from Wichita Kansas and talked with them for the longest time. He is a railroad engineer and had honchoed trains over the Rockies for years.
Once at the bottom of the ski lift we did lunch at the Lodge and watched a wedding. Our waitress told us they have weddings scheduled for every Friday, Saturday and Sunday all summer long. Joyce and I got a kick out of this wedding. Some of the guests were in shorts and sandals, others in suits and ties. The wedding party was eating outside at tables all around us. The fair was hamburgers, hotdogs and beer. A couple of grandmothers were dressed up like you might expect at a wedding. Others looked as though they may be going to a dogfight or mud wrestling. Many of the wedding party, the bride included, were taking the ski lift to the top. Let me tell you, a bride on a ski lift is a HOOT! If we have not seen it ALL by today one thing is certain: We got very close today.
Does it get any better?
Sunday, June 10, 2001 Woody Mountain Campground, Flagstaff, AZ (7,300')
Today is Joyce's birthday and she is over 11 years old so we are not making a big deal over it. We returned to the First Southern Baptist Church of Flagstaff this morning and were greeted like new members. They remembered us from two weeks ago. The pastor and several others led the congregation in a series of praise songs with a piano and several guitars providing the instrumentation. The message was on fear. Fear is a mental attitude and is usually unfounded. He left us with a good thought to contemplate. "Would we question the Lord for putting thorns on a rose bush or praise him for putting the beautiful rose in the midst of all those thorns?" Your answer will go a long way toward revealing how you look at life.
Since we were downtown we stopped by the information center and downloaded e-mail on the way to lunch. I do not think that we have mentioned it before but the phone lines are so bad at our RV Park that we can't make a good e-mail connection. The RV-Park allows us to use their lines they just are not good enough for us to make a satisfactory connection. However, the information center in downtown Flagstaff has a phone jack in the northeast corner of the room that we have been using for e-mail. The building is open most of the time. It may not be manned after 5:00pm but the door is open and we have used the phone jack late at night. Most of the individuals working the desk do not even know about the phone jack so just go looking for it. Take matters into your own hands and teach them something.
After lunch we returned to the RV to take care of those dreaded chores that even retired folks have to take care of. (Note that cooking was not one of those "chores" J.)
Monday, June 11, 2001 Woody Mountain Campground, Flagstaff, AZ (7,300')
The news this morning announced that the high temperature today would barely reach 80 degrees and a cold front would reach the area by Wednesday. All this when I thought it couldn't get any better. Saturday we get to play in snow and now this. Our friends Buddy and Suzie Kisner are working in Yellowstone this summer. We spoke with them the other night and they said it had snowed on them twice this week. We will spend time with them later this summer.
Joyce and I headed back to the Sedona, Jerome area today.
After resting yesterday we were determined to put in a full day today. When Jeff and Kathryn were here we had driven through Oak Creek Canyon but had not taken time to really explore it. Today Joyce and I experienced it on a deeper level. At the north end of Oak Creek Canyon there is a scenic overlook that views the Canyon from the top of the Canyon Rim. When we were here with Jeff and Kathryn we did look over the top of the cliff, however, we missed the best part. Joyce and I walked around the trail along the top of the cliff to where we could view the road as it wound it's way through switchback after switchback to the canyon floor. What an awesome sight the road makes as it drops over 1,000'. Joyce just loves switchbacks!
As we take the road through the canyon we pull over from time to time just to experience the scenery that changes by the second. The ride is a dichotomy of sights ranging from the small creek, to the canopy of trees covering the road then the quick glimpse of sheer canyon walls that turn bright red by the time we get to the mouth of the canyon in Sedona. Along the way we stop and tour the siding rock area. Sliding rock state park is an old homestead and apple orchard. What a beautiful respite in the middle of this canyon area. Young folks were having a grand time sliding down the creek on the slick rock face. Older folks were sunbathing along the bank on the large flat rocks.
Several stops later we reach Sedona where we decide to push on to Jerome 20 more miles down the road. So many people have told us about Jerome that we just had to experience it for ourselves. From Sedona at 5,000' altitude we drop 2,000' to Cottonwood then start our 2,000' ascent to Jerome a mere 4-miles away.
Jerome is the essence of an Old West Mining Town. In the late 1800s and early 1900s it was as big and boisterous as any. The town was built smack on top of one of the richest copper mines anywhere. The mountain has a 30-degree slope where the town is situated. Jerome is not like most towns with streets running at right angles to each other. In Jerome there is only one street and it is highway 89a. Main Street, highway 89a, is a series of super switchbacks that snake back and forth across the face of that 30-degree mountain. The terrain is so steep that entire buildings have slipped down the mountain face.
The most impressive section of highway 89a is on the west side of Jerome as it heads to Prescott. Joyce began hyperventilating on this road. No amount of reasoning on my part would assuage her fears. A few miles out of town we turned around and headed back. In the downtown area where the mountain is so steep there is NO space between the narrow road and the sheer rock walls and or buildings. Switchbacks were made for the small automobiles of the day not large motorhomes and RV's prevalent today. I wonder how many "macho-men" have gotten stuck in the one really stupendous downtown switchback? How embarrassing that must be since there are not any side streets to turn around in or for all the people you are holding up to detour around your predicament. Then imagine all of the embarrassment as you back down Main Street. You would certainly be the day's main attraction. I suppose some have made it while others did not.
Jerome became a real ghost town after the mine shut down in 1953. Then in the 60s hippies started homesteading the abandoned buildings. Many of the hippies were well-educated liberal arts graduates "artsy folks" from wealthy families. These hippies have grown up and made good businessmen and women. The town is now what could be described as an artist community. There are several high-end establishments selling beautiful furniture creations by local artists. Other establishments were peddling Navaho jewelry and pottery. Still others were peddling pure tourist trash. We purchased several small books about Jerome and the mines, men, moguls, mistresses, prostitutes, and others that made history so that I would have some interesting information for the travelogue. Joyce and I are reading the books at night.
The Jerome mine museum was interesting and thoroughly explained the copper mining and smelting process. The smelting process put so much acid into the air that NO plants lived within miles of the area. It actually killed every plant.
After a wonderful afternoon in Jerome we headed to Sedona for dinner at the Javelina Cantina where we had planned to experience the sun setting on the red rock canyons surrounding Sedona. The food was of good quality, but we were disappointed in the service. Joyce told the hostess that we wanted a table with a view. She said not a problem, but it will be a fifteen-minute wait. When your retired what's fifteen minutes. Fifteen minutes later she seated us in the middle of the restaurant. It did NOT have that view Joyce wanted and our waitress didn't have any personality. Don't ask Joyce about the Javelina Cantina unless you are ready to stand by for a small explosion.
We once again transit Oak Creek Canyon on our way back to Flagstaff. No mater how many times we drive through here it is a wonderful experience.
As we approach Flagstaff we can see smoke directly ahead of us. The closer we get the worse it is and the more it appears to be located where our RV-Park is. Thankfully, it was 10-miles north of us on the San Francisco Peaks where we had taken the ski lift ride on Saturday.
Tuesday, June 12, 2001 Woody Mountain Campground, Flagstaff, AZ (7,300')
The radio is talking about the "cold front" heading our way. Just when we think it can't get any better there is a cold front coming. How good can it get? The weather in Flagstaff is ideal. However we have experienced some windy days for example the day we went to Meteor Creator the wind was blowing 50 mph. Jeff and Kathryn were with us that day and we were almost blown away. The wind gusted to 50 mph today. Hold on to your hat! Joyce wore a long sleeve linen shirt today and was comfortable as we toured the shops in the historic district of Flagstaff. Joyce made a purchase of Native American Jewelry at Father Wolf Designs and Gallery located at 17 N. Leroux St. The shop had a nice selection of reasonably priced jewelry. Tomorrow we are returning to Sedona and Joyce is looking forward to a shopping spree! She has been so thrifty on this trip, but I have a feeling that will change with all the fine shops in Sedona. While in downtown Flagstaff we decided to ride out of town and see what is going on with the forest fire. Seven or eight miles out of town we can see where the fire is concentrated on the side of the mountain. It appears to us that the fire is contained to the under story. We see lots of smoke but no flames. The radio says over 450 men are fighting the fire around the clock.
We decide to return to the RV (our home away from home) around 4:30 after eating an early supper at Furrs', a local buffet, where we can get fresh vegetables and salads. We catch up on some correspondence and relax after putting in a twelve-hour day on Monday. We heard on a local weather report this morning that tropical storm Allison was moving into North Florida; hopefully Pensacola will get some much-needed rain.
Wednesday Monday, June 13, 2001 Woody Mountain Campground, Flagstaff, AZ (7,300')
It is getting colder, the wind continues to blow with a vengeance and the fire continues on the San Francisco Peaks. The fire fighting helicopters fly directly overhead with their water buckets. We head to Sedona to try and satiate Joyce's pent up shopping urges. This was our third trip through Oak Creek Canyon and we are becoming synthesized to that awesome drive. Today we zipped through the canyon like local folks. Joyce picked out Tlaquepaque (T-lockey-pockey) Village in Sedona as her prime playground. Macklyn should have been with her for a full day of "power shopping". Tlaquepaque Village is a unique shopping experience. Developers of the Village set out to replicate the village of Tlaquepaque an artsy suburb of Guadalajara, Mexico. As far as I can see they did a good job. There are around 150 upscale art studios, clothing boutiques, curio shops and restaurants to brows through. I hung in like a champ for several hours then retired to one of the courtyards and started making phone calls. There were enough interesting patios, courtyards, curtilages, porches, foyers and other open spaces abundantly appointed with all manner of blooming plants to keep my attention for several more hours. Where is my good friend Les when I need him? Some friends will let you down at the most critical of times.
>From Tlaquepaque we drove about 5 miles down the road to Oak Creek Village located on the other side of a series of red rock monoliths. Oak Creek Village is another shopping bonanza that also houses an I-Max theatre with "Sedona" as the feature movie. I liked this one better than the one at Grand Canyon. There were more of those awesome shots taken from aircraft flying perilously close to the cliffs and spires.
Back in Flagstaff the temperature is dropping like a rock while the wind continues to howl. There is a Pro-Rodeo in town this weekend and they are celebrating with a "Western Street Dance" at Heritage Square, in Historic Downtown Flagstaff. We bundle up and head to the dance. The band is good but the unexpected cold and vicious wind puts a damper on the event. We hung in there for several hours before heading home.
Thursday, June 14, 2001 Woody Mountain Campground, Flagstaff, AZ (7,300')
The temperature dropped to 34 degrees last night and the radio says the high today will approach 70. Needless to say shorts stayed in the drawer in favor of jeans and long sleeves as we ventured outside this morning. Today began as another chance to catch up on our sleep and do household chores and repairs. Mike made his way to Home Depot after breakfast to purchase a washer for our shower faucet. Mike had been putting this job off since Jeff and Kathryn were here. After changing that pesky washer we changed into shorts and headed to out to see the Montezuma's Castle and the Mogollon Rim. Montezuma's Castle is a National Park just outside of Camp Verde, Arizona. It is not a Castle and it had nothing to do with the Aztec ruler Montezuma. Early explorers upon seeing this structure high in the cliffs incorrectly attributed it to Montezuma. Sinagua farmers built the 20-room five-story dwelling in the early 12th century. It is built in a huge cliff recess a hundred or so feet above the valley floor. Joyce and I are not "into" the ancient cultures that inhabited the area but this is truly an impressive sight to see. To me it is just as awesome as some of the other "wonders" of the ancient world.
After touring Montezuma's Castle we stopped at an Apache Indian stand beside the road to sample some "fry-bread". We stood there as the lady dipped her hand into some dough and started fashioning in like you see the pizza cooks do when they are working a ball of pizza dough. After she gets it into a flat circle about a foot in diameter she throws it into a cast iron frying pan she has on top of an old Coleman stove. After we had doused the fry bread with powdered sugar and gobbled it down one of us laughed and ask the other where the woman had washed her hands. Of course we both knew the answer. For that matter so do you.
Our next stop was in the Chamber of Commerce / Visitors Information Center in Camp Verde. We interrupted a group of local women in a circle. It looked to me like they were dressed for an afternoon tea. They all stopped talking and held their breath while we were there. They must have been talking about SEX as we came in. I can't think of anything else that would have made them stare at us and hold their breath for that long. The lady that did get up to help us was no help at all. She was fairly sure that we were in Camp Verde but other than that we would have to go some place else to find out. She had to be related to the mayor or else she was the only one that applied for the job. Don't ask what color her hair was. The one thing she did know was what color to bleach it!
We found the forestry service office a few blocks down the road and obtained a map of the forestry service roads that offer access to the top of the Mogollon Rim. Joyce has been hyper all day thinking about driving on those gravel forestry service roads. The forestry service lady was very professional and did her best to allay Joyce's fear. The lady gave us a map and highlighted the best viewing areas for us. Joyce calmed down a bit since we would not have to go but about 6 miles down the unpaved forestry service roads to the best view points. The Mogollon Escarpment runs diagonally in a northwesterly direction across Arizona from the New Mexico border to around Lake Mead. It is not always visible as a true rim. But for one stretch, above Payson, Arizona it is a bold parapet, rising as much as 2,000 feet above the basin below. This escarpment separates the lofty plateau country of north Arizona from the desert lands of southern Arizona. Zane Gray called this escarpment Tonto Rim. This is Zane Gray country. He had a cabin in the shadow of the rim and wrote some of his most famous novels there. Forrest Road 300, the Rim Road, is how you gain access to the rim. It is about 45 miles of gravel road. To get to Rim Road (FR-300) Go north 27 miles from Payson on State Route 87, past Pine and Strawberry, to the Rim Road turnoff. It is marked and easy enough to find. Immediately after turning onto FR-300, FR-218A intersects and heads south down a peninsula of the rim to Milk Ranch Point. The Forestry Service lady told us to take FR-218A back a few miles and watch for vantage points. That is what we did. On almost every one of the exceptional vista points RV's and tenters from the Phoenix and Payson area had set up camp. There were 10 to 12 RV's boondocking in super sights along the short portion of FR-300 and FR-218A that we traveled. For diehard boondockers I can't think of a more beautiful site to set up camp for a few weeks. You are miles and miles from the nearest town, but the view from the top of the rim is awesome.
We took 473 back to Flagstaff. The entire length of this road from the rim all the way up to Flagstaff is very scenic and easily traveled by RV's. Most if it is in a mature Ponderosa Pine forest. There is very little traffic along the way. Every 10 or so miles along the road was another secluded RV park. As we neared Flagstaff the road passes high over and to the east of Mormon Lake then Lake Mary. Both of these bodies of water seem so strange. Mormon Lake appears to be a "part time" lake. Part-time in that it is a lake in the spring after the snow melts but shortly thereafter reverts into being a lush flat meadow. At the end of woody mountain road next to our RV-Park is lake Rogers. When we drove down to "Lake Rogers" all we saw was a lush meadow. Mormon Lake has some water in it but the vast majority of it was rapidly becoming a vibrant meadow. Lake Mary on the other-hand seemed to be a permanent lake with somewhat steeper banks. We could see where the water level had receded since the high water in the spring. However, fishermen adorned the entire length of this lake another indication that it was not about to dry up. We were able to spot elk on the far bank.
The temperature is falling again as the sun goes down. They are forecasting a low of 29 tonight. The temperature fluctuation here is wild.
Mike & Joyce Hendrix
Until next time remember how good life is.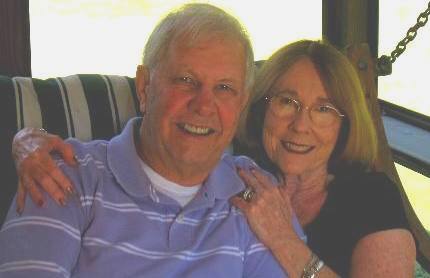 Mike & Joyce Hendrix who we are
We hope you liked this page. If you do you might be interested in some of our other Travel Adventures:
Mike & Joyce Hendrix's home page
Travel Adventures by Year ** Travel Adventures by State ** Plants ** Marine-Boats ** Geology ** Exciting Drives ** Cute Signs ** RV Subjects ** Miscellaneous Subjects
We would love to hear from you......just put "info" in the place of "FAKE" in this address: FAKE@travellogs.us
Until next time remember how good life is.